The injury list for the Tampa Bay Lightning seems to be growing every day. Injuries to key players are adding up. Steven Stamkos is out until at least mid-March. Nikita Kucherov, Ryan Callahan, Ondrej Palat, Ben Bishop are just some of the (big-time) names that are out of the lineup right now.
When any NHL team faces these types of injuries, it is incumbent upon the remaining players on the roster to step up. Players have to play a few extra shifts per game. They have to play in positions that they may not be accustomed to playing.
Another residual effect of nagging injuries piling up is that line changes are inevitable. Coaching staffs have to continually make adjustments when players go down. Mixing and matching players and their skills on the fly can lead to putting out a line that well, catches lightning in a bottle.
This Could Be Big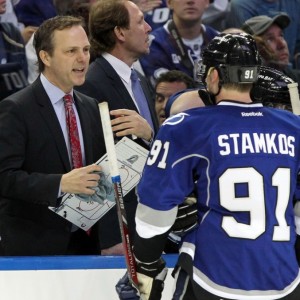 As the Lightning have experienced their recent rash of injured players, Coach Jon Cooper and his staff created a line that, using today's texting vernacular, that is a BFD.
Lining up Brian Boyle, Valtteri Filppula and Jonathan Drouin is helping the struggling Lightning team find some necessary offense. Boyle, Filppula and Drouin are playing like they are a 'Big Freakin' Deal'.
Since being thrown together six games ago, the BFD line has some outstanding numbers. Boyle has four goals, one assist and is a plus-four. Filppula hasn't scored a goal in this time but has dished out six assists and is a plus-five. Drouin is leading this new line with four goals and three assists. They are certainly playing like a big deal.
During their time together, this new line has helped the team earn seven points in six games. Four of those games were while the team was on the road. For a team that is currently looking up at the last playoff spot in the Eastern Conference, finding a line that can score like the BFD line is scoring could be the biggest deal of them all.
When a team loses its number one scorer as the Lighting did when Stamkos went down, it can be extremely challenging for any NHL team. If that same team then loses their number two scorer as Tampa did when Kucherov was injured, it can wreak havoc. When that same team loses their number one goalie along with two of their alternate captains in addition to all the aforementioned players then the team is half an AHL team.
Playing Big Time
This newly joined BFD line is doing its best to give the Lightning a decent chance to win games. As the season is already past the 40% mark and nearing the halfway point of the season, every point and every win is critical for the team to get back in the playoff hunt. The Lightning currently sit three points out of the last playoff spot.
Boyle is a ten-year NHL veteran center who has seemingly played every forward and defensive position during his career. Drafted as a defenseman, Boyle has gone to the D-line for Tampa on more than several occasions when injuries have plagued the team. Now, he finds himself on the wing for a line that has produced 18 points in the last six games.
Standing at 6' 7", Boyle blocks out the sun in front of opposing goalies. He has also become a tremendous net front presence for this line even deflecting in three of those four goals he has scored since joining his new line.
Filppula is another ten-year NHL veteran manages the center duties on this new line. He handles the puck as well as any Lightning player. On a team with names like Stamkos, Kucherov, Tyler Johnson and Alex Killorn, Filppula can hold his own with those players when it comes holding onto the puck. A critical point for a team that relies on puck possession as much as the Lighting does.
Filppula can stop on a dime and change directions in the blink of an eye. So, not only does he control the puck well but as one of the best passers on the team, it is no wonder that he is leading his new line in assists with six in those six games.
Drouin Far From Ruin
The other winger is previously enigmatic forward, Drouin. It was about this time last year that the bottom seemed to fall out of Drouin's career with the Lightning. Mired with nagging injuries, Drouin was about to be sent down to the Syracuse Crunch, the AHL affiliate of the Lightning.
The reaction from Drouin once this personnel move was announced was to sit out, leading to a suspension and a fan backlash of gigantic proportions. The future of the kid's time in Tampa was being counted down by an egg timer. Lightning GM, Steve Yzerman didn't panic, didn't trade the kid and Drouin has seven points in the six games in which he is leading the team's new top line.
Drouin is playing with such a high level of confidence that has been sporadic in the past. He no longer plays as if he is mulling his last shift but is so supremely focused that he's playing a step or two ahead of players defending him.
Will It Last?
The biggest problem for this line is this: Does Cooper keep this line intact once the walking wounded return? Arguments can be made both ways. On one hand, there is no question that the new BFD line is putting up numbers that can lead to victories. On the other hand, as guys like Palat, Callahan and Kucherov come back on the ice, can the BFD line morph into two or more scoring threat lines?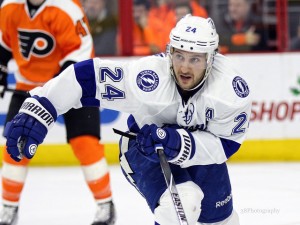 As the team looks to close out the 2016 calendar year this week, the BFD line is looking to lead the Lightning through its next three games, all at home against Atlantic Division foes, Montreal and Toronto, before the New Year's Eve game versus Carolina.
It is too soon for any games to be called a must-win. However, if the Lighting doesn't make up some ground in the division in the next few weeks, then things become a bit desperate. As long as the BFD line is producing and bringing in some wins, they should stay together. It'll be one way to mitigate the potential desperation.
Because if the team continues to struggle, making the playoffs would be difficult and for the Lightning and their fans, missing the playoffs would be a 'Big F***ing Deal'.