At this year's World Junior Hockey Championship, five Calgary Flames prospects will take to the ice, representing four countries. Among them, a Canadian forward, an American goaltender and three defencemen who will suit up for different teams.
Each prospect skates in a separate league, from the CHL all the way to Russia, and will bring something entirely different to their country at the tournament. Flames fans should take notice of the following players at the World Juniors before they hit the big leagues, which could come sooner rather than later.
Dillon Dube – Canada
At 5'10", Dillon Dube is Canada's smallest forward, being the only player under 6'0″ to crack the roster. A member of the Kelowna Rockets, one of the top teams in the WHL, he is one of five '98 born forwards on Team Canada.
Dube has 11 points in 10 games with the Rockets and will likely fit into more of a depth role with Canada this year, but will be eligible to return for next year's World Juniors as well. Watch for Dube's speed to be a key part of his game at the tournament.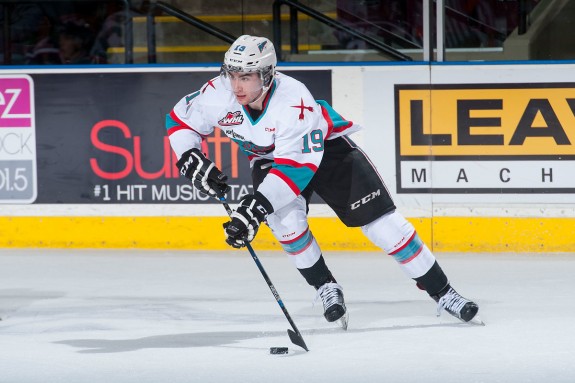 Pavel Karnaukhov – Russia
Pavel Karnaukhov comes into the tournament as one of Russia's better defenders, putting up great numbers this season in the VHL, the second-highest level of hockey in Russia. Karnaukhov spent last season with Calgary in the WHL, before returning to Russia this season, and in 18 VHL games, he has five goals and 11 assists to go along with a plus-7 rating.
Karnaukhov was Calgary's fifth-round pick in 2015, and at 6'3″ has all the potential to make the jump to the NHL in the coming years. With this year being his first time at the World Juniors, Karnaukhov will have a chance to stand out on the Russian blue line.
Oliver Kylington – Sweden
Oliver Kylington is one of the Flames' top defensive prospects, and also happens to be one of Sweden's best defencemen. A 2015 second-round pick, Kylington has shown tremendous improvement from last season, both offensively and defensively.
#Flames prospect Oliver Kylington and 🇸🇪 have their sights set on gold at the #WJC2017 ~ https://t.co/Hw372kMSfO pic.twitter.com/S8ykTYW5Gx

— Calgary Flames (@NHLFlames) December 11, 2016
Playing with Stockton in the AHL, Kylington has 13 points in 25 games this year, already surpassing last season's total of 12 points in 47 games. He sits at a plus-7 with the Heat, a large step forward from his minus-15 rating last season. The Flames are obviously serious about having Kylington on the main roster in the future, playing him in their final game last season. Of Calgary's three defensive prospects in the tournament, it's likely that Kylington will be the first player to make the leap to the NHL.
Adam Fox – United States
One of many American players from the NCAA, Adam Fox is the lone representative of Harvard University. In 11 games with Harvard he has 16 points, placing him second in team scoring as a defenceman. Fox also has a plus-12 rating and has represented the United States in both the U17 Championships and U18 Championships.
In the U18 Championships in April, Fox helped to lead the U.S. to a Bronze medal, scoring nine points, with an amazing plus-15 rating in just seven games. Despite Fox only standing at 5'10", his offensive production and defensive capability will be a major help to the United States in the World Juniors.
Tyler Parsons – United States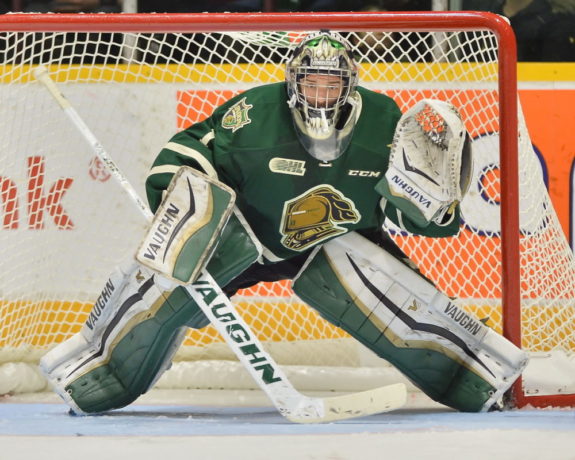 When people think of Flames goaltending prospects, the first name that comes to mind is Jon Gillies, while Tyler Parsons is just an afterthought. Parsons often doesn't get as much credit as he should, and could actually emerge as Calgary's next starter in the coming seasons.
Parsons was a second-round pick in this year's draft, and is the starting goalie for one of the OHL's top teams, the London Knights. Parsons already won a Memorial Cup last season with the Knights, and has once again established himself as one of the league's best goalies this year. Parsons holds a .916 save percentage, a 2.46 goals against average and a 11-2-3 record this season.
With so many Calgary prospects lacing up for the World Juniors, Flames fans should keep a close eye on the tournament. Between the five players, it certainly seems like the Flames have a bright future ahead of them.
Ben is a journalism student at Ryerson University and covers the Toronto Maple Leafs.