The Tampa Bay Lightning Mid-Season report starts today and will focus on offense first.
The Tampa Bay Lightning are a 4 line team that comes at you with speed and skill. Not many teams have been able to contain them. The Lightning can skate with any team in the Eastern Conference, and are going to be big time contenders in the East this spring. The offense is scary good and teams do not want to get into track meets with them.
Not to mention the Lightning lit up the New York Rangers this season for 15 goals in 3 games. They have beaten the best teams in the East and will look to carry that confidence into the season's second half.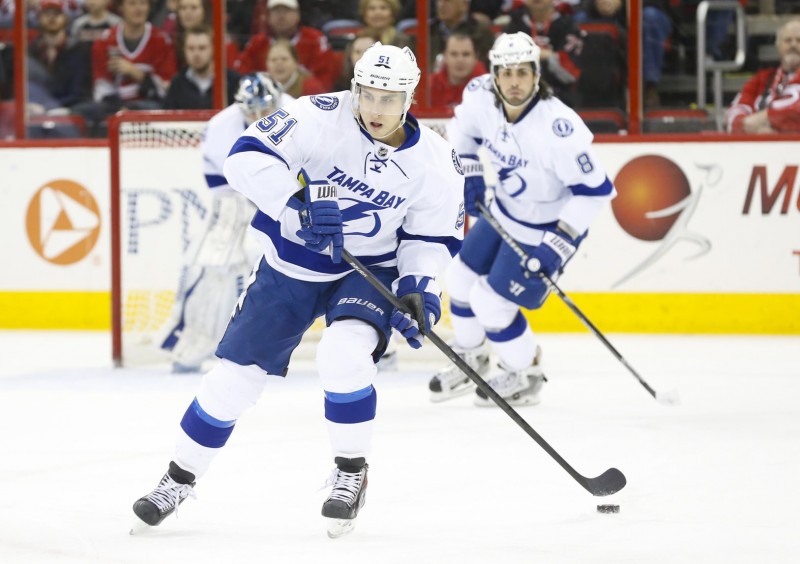 Offense Grade- A
The offense has to get an A right? They are first in the NHL in goal scoring with 3.22 goals per game heading into Thursday night's action. The Lightning have scored by far the most even strength goals this season with 107 goals.
The Lightning are getting contributions up and down the lineup this season and from the backend. Steven Stamkos leads the team in goals with 26 and according to teammates he has not played his best hockey yet. His teammate Alex Killorn (19 points this season) had a scary quote for all NHL goaltenders just recently.
 "It's funny. He hasn't been hot yet (Stamkos) and still has 22 goals (at the time). It's a different hot. He's lukewarm I guess," said Killorn.
Once Stamkos starts elevating his game even more, the Lightning will be even more difficult to contain for opposing defenses. They are matchup nightmares for opposing defenses. Teams are eventually going to figure out that 'The Triplets Line' are going to dominate most second and third defense pairings. They may starting choosing to matchup their top pairs against 'The Triplets' if their rapid scoring pace continues.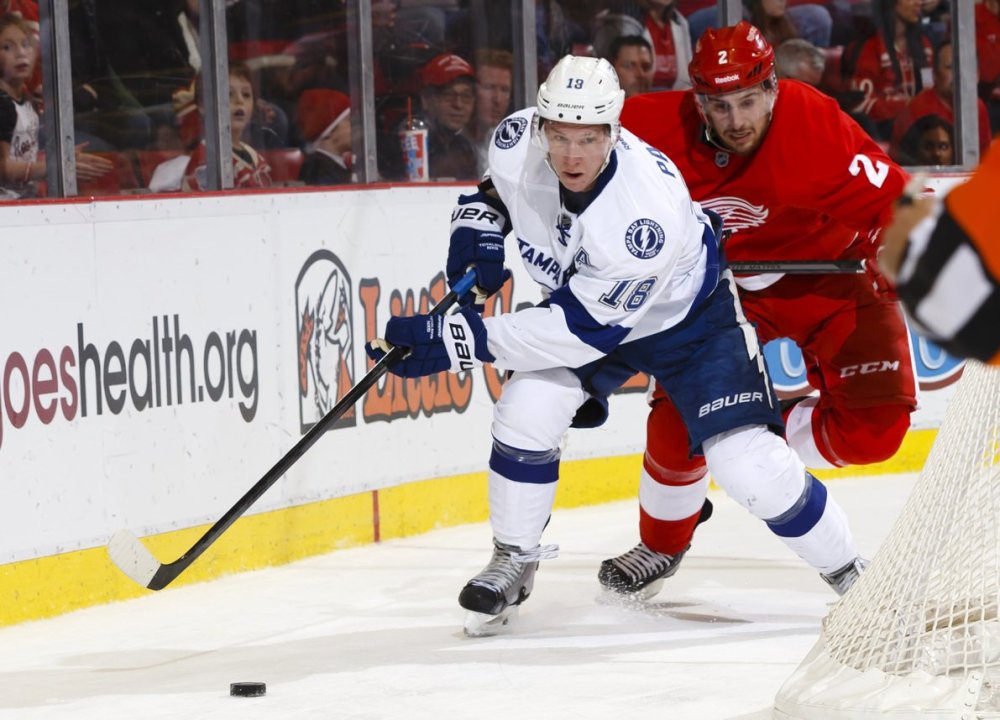 Most teams in the NHL do not have that luxury of a 25 goal scorer on their top line and two players with 40 plus points (Johnson and Kucherov) on their second. Stamkos has played with a lot of different wings this season and the team will continue to experiment with different players on his wing moving forward. In my opinion Ryan Callahan and Valtteri Filppula were the best fit. Stamkos has been heating up lately and appears poised for a hot streak with goals like this snipe for his 25th of the year.
The Triplets Line Dominates
Teams have had no answer for 'The Triplets Line' as they have dominated the league in the first half of 2014-2015. No team has a line as good as this trio and the numbers prove it. The chemistry is unreal and originates from Tyler Johnson and Ondrej Palat playing in the minors together for a few years before arriving in Tampa Bay last season. Knowing where your linemates are going to be can go a long way in a game that is so fast and requires quick decision making with the puck. Johnson and Palat obviously know how one another plays and thinks the game.
Cooper on the triplets line: "They've really learned how to play in this league…It's just a fun line to coach." #TBLightning #TBLvsMTL

— Bryan Burns (@BBurnsNHL) January 7, 2015
Nikita Kucherov fit right in with the two from day one. They will need to prepare for tighter checking against them in the spring, but so far teams have had no answer. The line currently leads the league in plus/minus. No that was not a typo. Nikita Kucherov (+28 -1st), Tyler Johnson (+26 – 2nd), and Ondrej Palat (+23- tied for 3rd).
Ryan Callahan on Pace for Career Highs
Ryan Callahan, who played on Stamkos's line for the first few months of the season before moving to the 3rd, has had a good season so far. He has slowed down a lot as of late, but was a force in the first 20-25 games. Callahan is the gritty player the Lightning will need come playoff time. He has 33 points in 40 games. He is on pace to score over 60 points this season which would be a career high. His career high was 54 points during his first season as Rangers Captain in 2011-2012 when the team finished 1st in the Eastern Conference. He even scored a few goals in his return to Madison Square Garden this season.
Rookie Scoring
While the rookies have not been lighting up the score sheet for  Tampa Bay, they have not been bad either. Jonathan Drouin is not scoring goals, but is at least getting some assists lately. He has played with a lot of different centers this season, including Steven Stamkos on the 1st and Brian Boyle on the 4th. He is still learning, and is going to be a very good player in the NHL. Patience is key with Drouin as we have to remember that he is the age of a college sophomore. Drouin has 2 goals and 16 assists this season. He scored his first NHL goal this season in Canada during a game against the Winnipeg Jets.
The other rookie that has been a regular all season is Cedric Paquette. Paquette has played well for the Lightning and has 10 points on the season (5G, 5A).
First Half Offensive MVP- Tyler Johnson
Tyler Johnson has to be the Lightning's first half offensive MVP because he is the catalyst of the best line in the NHL this season. Tyler Johnson leads the Lightning in points currently with 48. The speedy sophomore from Spokane, Washington is proving he belongs in the NHL. Johnson will also be making his first appearance in the All-Star game in a few weeks.
Thanks for Reading the Lightning Mid-Season Offense Report. Check back next week on THW for the Tampa Bay Lightning Defense Mid-Season Report.
Article Quote- Tampa Bay Times-http://www.tampabay.com/sports/hockey/lightning/steven-stamkos-i-have-a-lot-more-to-give/2213186