The Tampa Bay Lightning have been hit by the injury bug this season and hit hard. As of right now, the Lightning have four players listed out with injuries, though that list was longer just a short time ago and really hurt Tampa Bay in the standings. Luckily for the team, a number of players are crawling back into the lineup but it will take some time to get the full band back together and clicking again. From the team's starting goalie to their franchise player, the Bolts are experiencing one of the league's worst injury-plagued seasons.
Depleted Rearguard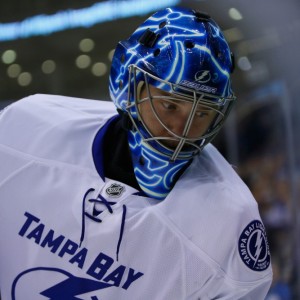 Six-foot-seven Ben Bishop has been the backbone of the Lightning for well over three seasons now and has received more than his fair share of injuries since joining the team back in 2013. After being removed from a game against the Detroit Red Wings on Dec 20th just 12 minutes into the first period, Bishop is reported to be out 3-4 weeks in order to recover from a lower-body injury.
Though it's a big loss for any team to lose their starting netminder, the loss of Bishop won't be that significant to the Lightning thanks to the strong play of backup Andrei Vasilevskiy so far this season. Vasilevskiy is set to take over the crease in Tampa after this season as Bishop will be an unrestricted free agent (UFA) at season's end. Now is Vasilevskiy's time to shine and prove to everyone that he's ready to take on the starting role.
Diminished Defense
The blueliners have been more fortunate in terms of avoiding the injury plague taking over the Sunshine State. Defensemen Anton Stralman and Jason Garrison have been the only two to miss any considerable time.
Stralman was out of action earlier in the year after suffering a torn muscle from blocking a Joe Thornton slapshot, forcing him out of the Lightning's lineup for seven games. Stralman plays on the top-pairing with partner Victor Hedman and though the Lightning were expecting to face harsher results with Stralman out they were able to perform well without his services.
Garrison missed a couple of games early in December thanks to a lower-body injury, but the veteran defenseman was able to battle his way back into the lineup without missing too much time. Garrison is a reliable shutdown D-man with offensive instincts that work well with the Lightning's style of play. They are happier with him in the lineup – especially after springing Tyler Johnson for an overtime winning goal Wednesday night against the Montreal Canadiens.
Fallen Forwards
Captain Stamkos
Out of all the injuries sustained, none is more heartbreaking to the team than that suffered by franchise center Steven Stamkos. Tampa just signed the Markham-Ontario native to an eight-year contract extension before free agency hit last summer in order to keep him with the team, as Stammer was set to be a UFA and test the open market.
Stamkos was on pace for a dominant 2016-17 season after recording nine goals and 11 assists for 20 points through his first 17 games. He was injured in mid-November against the Detroit Red Wings after falling awkwardly into the boards, tearing the lateral meniscus in his knee that required surgery and would keep him out for 4-6 months. Stamkos is reportedly mobile thanks to the help of his crutches and is said to be right on track with his recovery. Hopefully, he returns soon.
Bruisers Banged Up
Two gritty forwards in Ryan Callahan and Cedric Paquette have also been missing from the Bolts' lineup this season. While Callahan has been out since Nov. 29 with an apparent lower-body injury, Paquette has been listed as day-to-day with a lower-body injury dating back to Dec. 14. It will be nice to have these two back once they're ready to go as they allow the Lightning to play a quick transitional game and strike fear in the opposition.
Bolting Back to Life
Tampa Bay received their Holiday gifts a few days late when they got forwards Ondrej Palat, Jonathan Drouin and Nikita Kucherov back from injury against the Canadiens on Wednesday night. These three youngsters have proven that they are key pieces to Tampa's success with the skill they possess and the roles they have with the team, making their return that much more special.
Drouin missed time earlier in the year and was thought to be injured again in the Lightning's last game before the holidays against the Washington Capitals. Thanks to some rest over the break he's back and ready to go. The Bolts also plugged defenseman Braydon Coburn back into the lineup after he too left the game against the Capitals with an injury scare.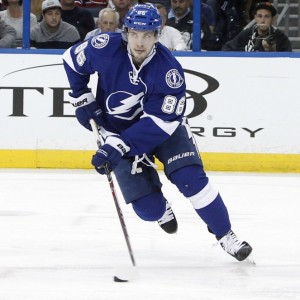 Kucherov is having a dominant first half to the season and has shown no signs of slowing down, recording 13 goals and 32 points in just 29 games – collecting two more assists on Wednesday in his first game back. Palat is a hard-working forward who can compliment just about any player that coach Jon Cooper pairs him with, showing his versatility and fit within the Bolts' locker room. Drouin, the youngest of the three returnees on forward, had a slow start to the season but is now rolling with 13 points in his last 11 games after a remarkable month of December. Look for all three to have an immediate impact with the team as they return to the lineup.
While Tampa is still missing some players that they would love to have back going into the New Year, a number of key ones will be able to make their return and work towards re-building what the team had at the start of the season. There's still time for the Lightning to catch up in the standings and make their push for a playoff spot, it's just a matter of pulling the pieces together and making do with what they have for now. They have the talent and they have the depth, maybe it's finally time to move past survival mode.