These days the thoughts of goalie Ben Bishop of the Tampa Bay Lightning must fluctuate between joy and panic. The joy comes from being the number one goaltender of one of a handful of serious Stanley Cup contenders in the NHL this season. The panic stems from what is around the corner — the unknown. This could very well be the toughest foe Bishop has ever had to face.
Sure most professional athletes deal with potential trades, possible injuries and other standard issues that can flip one's life completely upside down. This season, Bishop is dealing with the certainty that the Lightning can only protect one of their two goalies in the upcoming supplemental draft for the expansion Las Vegas team after this season.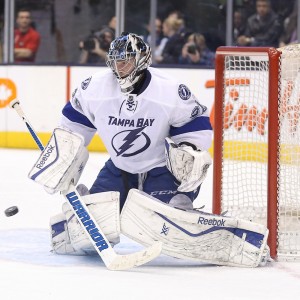 That fact is a tough one for any player to swallow. From Bishop's perspective, this cut might be deeper. When he arrived in Tampa from the Ottawa Senators in a deal for forward, Cory Conacher in April 2013, Bishop was not a number one goalie. In fact, in his first full season with the Lightning back in 2013-14, Bishop wasn't even named the starter but was in a battle with Anders Lindback.
Three-Year Reign
Lindback actually started the opening game that season. The battle, however, was not prolonged as Bishop took the top spot from Lindback in fairly short order and ended up playing in 63 out of the 82 regular season games during that campaign.
Beginning that season, Bishop is working a streak of starting over 60 games for three consecutive years. Over that span of time, Bishop is averaging 37 wins a season and saving over 92% of the shots he has faced. For three full seasons, playing over 185 regular season games.
Bishop has made the case for his being considered an elite NHL goalie. He's led his team to the playoffs in those three consecutive seasons. They have been in back-to-back Eastern Conference Finals and played in the Stanley Cup Final two years ago.
Safe to say that Bishop has more than done his part in the recent success enjoyed by this franchise. That must make the very idea that this could be your last few months with this team that you helped build, a hard one.
It isn't as if the team feels he has lost something in net. It isn't as if his understudy, Andrei Vasilevskiy, has outplayed Bishop by any stretch but the early season numbers have to cause at least mild concern.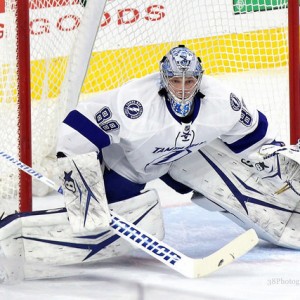 After the first five games of this season, both goalies have two wins, though Bishop has one loss. Bishop has seen 17 more shots than Vasilevskiy in that one extra game. Here is what may cause some dismay: Bishop has allowed 11 goals to Vasilevskiy's three goals.
Bishop's goals against is an enormous 3.69 per game to Vasy's 1.51 per game. The most glaring difference is in the save percentage. Vasilevskiy is standing on his head stopping 95.2% of the shots he has faced while Bishop is stumbling in at 86.1%. Clearly, un-Bishop like territory. The one area where Vasilevskiy crushes Bishop is on the calendar. Bishop will be 30 when the season ends, while his protégé will be 22 years-old.
If You Build It
Is it the inevitable fate that is messing with Bishop? Imagine how difficult it must be to know that all the fruits of your labor may be reaped by your team but you are no longer in that locker room. Try to put yourself in that position — that your stellar production earns you the starting goalie spot on a team that is beginning to see postseason success. How insane must it feel for Bishop to think even for a moment, that just when this team strikes paydirt, he will be putting on a different sweater.
The very young season is too small a sample size for anyone to put too much credence into any stats and call it a trend. That said, if Bishop were to continue this sluggish start, Lightning fans will see more of a 50-50 split between netminders. Unlike the 60-40 split that coach Jon Cooper has stated is his preference.
Whatever happens at or before the trade deadline, or even at or before the supplemental draft, it is all out of Bishop's control. It would definitely be harsh for the team to enjoy success, and perhaps even hoist the Cup, without Bishop on the roster.
---
Complete Lightning Coverage From THW
---
It is this business aspect that gnaws at some players and it is almost a certainty that it is chewing up some of Bishop's time. Frustrated that the NHL is expanding. Upset that teams can only protect one goalie with sufficient NHL ice time. Angry that in all likelihood, you are dressing for a team that is not considered a serious contender.
Who knows where this saga ends? Bishop is playing in the last year of his current contract that is paying him $5.95 million per year. He has the credentials over the last three years of being one of a handful of top-flight NHL goalies.
At 30 years of age, he is coming into his prime as an NHL goalie. He surely has five, six or even seven good to great years ahead of him. He gives any team the thing they crave most — a chance to win. Let's hope that he continues to do so for the Lightning for however long he wears the Lightning bolt on his chest.