There's been no shortage of blockbuster trades this offseason. The trade winds began to swirl in mid-June, with rumours Phil Kessel and Patrick Sharp dominating the market. Turn the page to about a month later and neither of those players remain on the market.
It began with a huge surprise on the day on the first round of the 2015 NHL Draft. The Bruins traded Dougie Hamilton to the Flames, and soon after shipped Milan Lucic out to Los Angeles. Boston received two 1st round picks, two 2nd round picks, Colin Miller and Martin Jones. Then, three days later, Jones was dealt to San Jose for a 2016 1st round pick. It seemed as if Boston was announcing they would take a quick rebuild.
Ryan O'Reilly was traded to Buffalo for a handful of very promising prospects. Cam Talbot was given his chance as a started in Edmonton, who gave a few picks back to the Rangers. Another huge surprise was the trade of Brandon Saad to the Columbus Blue Jackets. The Blackhawks received multiple round, strong players for someone who they had no cap space to re-sign.
The Toronto Maple Leafs stole the spotlight on day one of Free Agency when they dealt Phil Kessel to the Pittsburgh Penguins. The Leafs got back two very strong prospects in return. The next day, St. Louis traded T.J. Oshie to Washington in what most people thought was an absolute steal for the Capitals.
Finally, Patrick Sharp was traded to the offensive heavy Dallas Stars for Trevor Daley and Ryan Garbutt. Most fans were caught off guard by the inner-division trade.
Now, with a little less than three months until the 2015-16 season starts, you may be wondering, who is left on the trade market? Well, there are definitely still a few very valuable pieces available that could be traded before the start of the season. Here they are.
1: Jeff Skinner – Carolina Hurricanes
$5.725 million cap hit through 2018-19
Jeff Skinner has has a very inconsistent start to his NHL career. He began it by winning the Calder Trophy in 2010-11 with 31 goals and 63 points. The following two years he fell to 20 and 13 goals in 64 and 42 games, respectively. Then, he jumped to a career high 33 goals in 2013-14, and just as quickly fell back to 18 goals and just 31 points in 2014-15.
At just 23-years-old, he's a very tough player to analyze. As the Carolina Hurricanes enter a rebuild, Skinner could be the centrepiece, or could be dealt for multiple solid prospects. However, at this time, it seems there are no longer any takers that would be willing to give up what the Hurricanes expect in return. A strong 2015-16 showing could enhance his value and see a trade within a year.
The Pittsburgh Penguins reportedly had strong interest in the young winger, until a deal with Phil Kessel was struck instead. For now, Skinner's hometown Toronto Maple Leafs seem to be the only team with any interest.
2: Kyle Okposo – New York Islanders
$2.8 million cap hit through 2015-16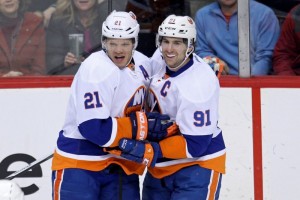 Kyle Okposo has finally become a consistent player over the past two seasons. Okposo has developed into a speedy winger who also as the intelligence to keep up with John Tavares. He had 45 goals and 120 points over 131 games in his last two seasons. The 27-year-old has the skills to be a first-line winger and be a point-per-game player with a strong playmaker.
The Islanders have Okposo at a great cap hit of just $2.8 million, but that won't last much longer as his contract expires after next season. General manager, Garth Snow, must figure out whether they will be able to re-sign Okposo or not. If they can't, they may look to deal him at the Trade Deadline, instead of letting him walk for nothing.
At the moment, the St. Louis Blues and Minnesota Wild have reportedly been in contact with the Isles, likely feeling out what a possible return would look like. Okposo has strong ties to the Wild, being born in St. Paul, Minnesota.
3: Tyler Bozak – Toronto Maple Leafs
$4.2 million cap hit through 2017-18
Tyler Bozak lost his best friend, roommate and line mate when the Maple Leafs traded Phil Kessel to the Pittsburgh Penguins. With Toronto in the early stages of a total rebuild, Bozak's name has been in trade talks for quite some time. The 29-year-old had career high 23 goals and 49 points last season, and would likely slot into a 2nd line center role.
At an acceptable $4.2 million cap hit for three more years, there would be many suitors calling on Bozak. With no real future in Toronto's vision, the Leafs would love to deal him for a draft pick and a prospect. Toronto has reportedly been trying to find a deal for Bozak since June, but have yet to find, what they feel is, an acceptable return.
The Arizoa Coyotes had interest in Bozak until they signed Antoine Vermette. That leaves Carolina, Florida and possibly New Jersey as possible trade partners. If need be, the Leafs are willing to have Bozak on their roster in 2015-16 and wait for the right trade.
4: Bryan Bickell – Chicago Blackhawks
$4 million cap hit through 2016-17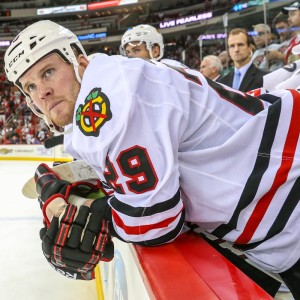 Bryan Bickell may have been overpaid for by the Blackhawks when they signed him following their 2013 Stanley Cup to a $4 million cap hit. The 29-year-old will score about 15 goals and 30 points each year, but his valuable role is as a 3rd line physical presence. Brickell sometimes fell out of Chicago's lineup in this year's playoffs, but can provide good possession, ranking 9th on Chicago in SAT with a 135 rating.
The Blackhawks have just under $600,000 left in cap space for 2015-16, and Bickell has often been viewed as a player they could trade to free up space. Chicago would likely settle for a draft pick or a prospect in return, as they are just looking to dump his salary. His physical presence could be very attractive to a few teams, but his cap hit make sit difficult.
The Boston Bruins had interest in Bickell, but have since acquired Jimmy Hayes to fill the spot. Carolina, Toronto and Montreal reportedly still have interest in acquiring Bickell, but are likely looking for the Blackhawks to retain some of his salary which would hold any possible deal back.
---
Who do you think will be traded before the 2015-16 season? Let us know in the comments below!