After a strong junior career, Anton Zlobin moved to pro hockey as a Penguins prospect, but thus far he didn't manage to have the same degree of success he had in his early career. In this translated interview, originally appearing on the popular Russian website sports.ru, Anton Zlobin recalled his career in the QMJHL, told about his hard injuries and tried to compare Sidney Crosby and Evgeny Malkin.
* For the original sports.ru article by Dmitri Groshev, click here.
– Anton, how did you start with hockey?
– I started playing hockey when I was five, it was generally a family decision. My father played hockey until he was 14, let's say that I embodied his dream. He is from Tver, when he was 14 he moved to Moscow alone, without his parents. But his family couldn't afford to buy him the equipment, therefore he had to stop and then he did everything so that I could play hockey.
– In your early career you played long time with Alexander Khokhlachev and Artyom Batrak as your line was one of the best in Russian junior hockey. Are you still in touch with them?
– I am always in touch with Alexander, we played pretty often against each other. I talk less often with Artyom, but we are still in contact. It was such a great time! You don't forget those times, that's for sure. I and Alexander played together on the National Team, both at U18 and U20 level.
– You haven't played much at the U20 level, but if I recall correctly, you skated for Team Russia at the Subway Super Series.
– Yes, I did, twice. Unfortunately I have never been called to the WJC, even if I made the training camp roster.
– It was back in 2010 Challenge Cup when the Zlobin – Khokhlachev duo gained much attention from scouts. Not much later you have been picked in the CHL Import Draft, correct?
– Yes, we played well at that tournament, we had a good understanding. I didn't know in what league and team I was going to play, but I never regretted that I have been picked by Shawinigan. Playing in the QMJHL was great. I have a lot of memories.
– Did you have any problem with the language?
– Yes, I did. At first it has been very hard, but after six months I could speak and understand pretty well in English and could also say some phrases in French. Now of course I don't have any problem anymore. But at first not being able to speak was an advantage too. During my first year in Canada all the young players had to help the assistants to gather sticks, skates, and other equipment on ice and then on the bus. So when it was my turn I just tried to say that I didn't understand anything of what they explained to me, therefore I was exonerated (laughs).
– What else do you remember from your early career in Canada?
– Of course hockey things: arenas, organization, games, practices, everything was new for me. But I also have a lot of non-hockey memories. I remember that the veterans chose hairstyle for us rookies. At one time I had a gorgeous white mohawk, too bad I don't have any picture. But I have been lucky! Some guys had a hairstyle that I would call "lake in the forest" (laughs).
– In your first year in Canada you scored 45 points in 59 games. Not bad.
– Not bad, but not great either. I had a lot of new things I needed to get used to. Especially that on ice I needed to do everything twice as fast. I needed to adapt outside of the rink too. Another mentality, different traditions and habits. I have been lucky that in Shawinigan played Kirill Kabanov, who helped me in everything. He's also a Spartak alumni, a year older than me, but I often played with the '92 birth year group, therefore we already knew each other.
– Your second year in the QMJHL was perhaps even better, you and Kirill were key players for the Cataractes.
– We played well that season. Unfortunately we didn't manage to make it past the second round in the President Cup playoffs, but then we had to play the Memorial Cup and everyone was only thinking about it. We were practicing all the time, we didn't have any time for anything else. Maybe we won because we were so focused on it. And also we were the Memorial Cup hosts and we wanted to make our fans happy.
– Tell us more about it.
– We had the third game in four days, because we had to play the quarterfinals too. London had a couple of days more than us to rest and get ready. But we had an incredible support from the fans. Our goalie, Gabriel Girard, played great and helped us a lot in winning the Cup. When we scored the second goal everything went through the roof and it's hard to remember the details now. You know, those things happen once in a lifetime!
– And you scored your team's both goals, with the GWG being an OT goal.
– The most important thing is that we won the Cup, which is the biggest win in my career so far. Winning the Memorial Cup is very hard and a true honor. Not every player has a chance even just to play for it. A lot of things went great that time, I even got the award for the best player of the Final Game.
– The top result from your QMJHL game has been to get drafted in the NHL, right?
– I don't know if it's connected to our Memorial Cup win, but I was very happy to be drafted by the Penguins. Playing in the NHL is every hockey player's dream. I don't even remember what overall pick I have been, 171st or 173rd, I remember that it was the sixth round. I don't pay any attention to it. There are a lot of examples of players who had a great career after being picked in a later round.
[…]
– Your junior career hasn't ended in the best way.
– No, I picked up a serious shoulder injury. The surgery was paid by the Penguins and I was out for about half a year. Then I played for the Wilkes-Barre Scranton Penguins in the AHL, and we went through the Conference Finals.
– You scored significantly less in the AHL than in the QMJHL. Was it due to your injury or because the AHL is on a higher level?
– AHL is pro hockey, players have other tasks, there is much more physical play and the level is higher. But of course the injury had its role too. When I was back to hockey, my team mates were in much better shape. And I didn't play in the "go-to" line as I did in Shawinigan, I mostly played in the third line. I was very optimistic towards the next season, which for me ended up pretty fast.
– Last year you played only six games.
– Yes, in the sixth game I was hit from behind and fallen against the board with my previously injured shoulder first. And another surgery. Of course my mood was as low as ever…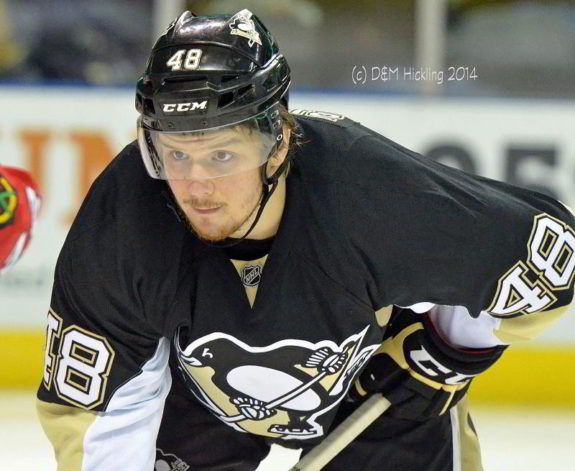 – Maybe you weren't fully healed?
– I don't know, I'm not sure. My relatives helped me a lot, as my team mates did. My neighbors also helped me a lot, Tom Kuhnhackl and Dominik Uher. But Lionel Messi helped me more than everyone.
– Lionel Messi? What do you mean?
– I played a lot of FIFA-15 on the console, mostly with Barcelona. This is how I fought depression.
– Frankly speaking, do you think you'll manage to get to the higher level in spite of those hard injuries?
– Of course I do. Otherways I should just retire. It wasn't easy to get back on shape, but I think that if it's hard, then usually it's right. Only this way you can get back on ice and achieve the biggest results. Moreover, next year it will be my last one of my Entry-Level contract with the Penguins and I hope I will be able to show everything I can. The board let me know that they count on me. I have to give them back.
[…]
– Didn't you get any offer from Russia?
– Neither me or my agent haven't received any offer. I am not going to plan a return in Russia. Playing in the NHL is my dream and I'm not ready to renounce yet. I am pretty much healed now, I'm loading the arm more and more and I'm doing my best not to think about the injury.
– In the meantime the Russian colony in Pittsburgh got bigger: Evgeny Malkin has been joined by Mikhail Plotnikov and the recently-drafted Nikita Pavlychev.
– Yes, Nikita is now practicing with me with Wilkes-Barre trainer. Of course I would love to play with other Russian guys. Malkin and Plotnikov are true masters already, I have something to achieve then.
– You practiced with both Malkin and Sidney Crosby. What kind of persons are they?
– We usually were in different locker rooms, but I can say that both are great guys. Everyone knows that they are super stars. But they are both very kind guys, they try to talk with you and explain as best as they can. They also talk each other in a very friendly way. They joke a lot, go after one another. Of course there is some kind of rivalry and competition between them, but it can't be otherwise.
– And who's a better player?
– Well, to be able to compare such great players you should be at their level or at least something similar. I can't really say anything about it. But I think that Crosby has a little bit more authority, after all he's the team's captain. A lot of things are up to him, to what he says in the locker room and how he leads the team.
– It won't be easy to get a spot in the Penguins lineup. What do you think you can give the Pens?
– The team's board feel that I can be a useful player for them with my goals and active play in the offensive zone. They said that they count on me as a goal-scoring forward. I only need to work.