Dustin Byfuglien's desire to stay in Winnipeg was evident as the four-time NHL All-Star probably left more money and years on the table when he signed his 5-year contract worth $38 million dollars.
Now that the "Big Buff" drama is over, The Jets can turn their attention to another defenseman's desire to be in Winnipeg, Islanders defenseman Travis Hamonic.
Hamonic requested a trade closer to his home in Western Canada due to family concerns prior to the season. General manager Garth Snow has tried to accommodate his request but on Snow's terms. He needs to get a young defenseman in return for Hamonic. The Islanders reportedly turned down a Byfuglien for Hamonic swap in November. Now that the Jets signed Byfuglien, one of their promising young defenseman could be on Snow's radar.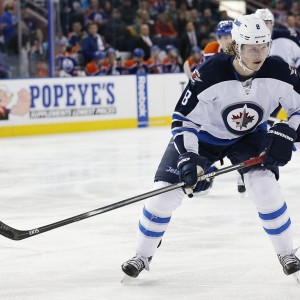 Jacob Trouba is the type of defenseman Snow craves. He's plays with an aggressive attitude and possesses physical toughness. You won't find too many two-way defensemen at 6-foot-3 and 205 pounds who are as talented as him. Trouba would certainly be an offensive upgrade to Hamonic. Trouba is in his final year of his entry-level contract, making $832,500 this year. There were reports that Trouba has asked for upwards of 7 million per year.  Now that the Jets are shelling out $38 million to the 30-year-old Byfuglien and have close to $11 million per year in salary for defensemen Tyler Myers and Tobias Enstrom, general manager Kevin Cheveldayoff would be unlikely to pay Trouba near the 7 million that he could be asking for. The team also has forwards Mark Scheifele and Adam Lowry in the final years of entry-level deals. Not to mention team captain Andrew Ladd, who is will be an unrestricted free agent in the summer.
The Jets selected Trouba ninth overall in the 2012 draft. The 19-year-old had a very solid rookie season. He scored 10 goals and 19 assists in 65 games. His numbers dipped a bit in his sophomore, scoring 7 goals in 65 games.
A Hamonic for Trouba deal makes too much sense for both teams. I still think Snow wants to get as much out of Hamonic before pulling the trigger. This trade would probably happen in the offseason, right around the draft. Hamonic is four years older than the 21-year-old Trouba. He is signed through the 2019-20 at a very team friendly $3.857 million dollar cap hit. Snow might not want to make Trouba the highest-paid defenseman, let alone player on the team. Johnny Boychuk and Nick Leddy both signed long-term deals last winter. Boychuk signed a 7-year, $42 million dollar contract while Leddy signed a 7-year, $38.5 million dollar contract. John Tavares is signed at a $5.5 million dollar cap hit through the 2017-18 season. Negotiations with Trouba's agent could be difficult. Remember the Islanders have a self-enforced no holdout policy when training camp opens.
https://twitter.com/NicholsOnHockey/status/696838029101522944
https://twitter.com/NHLbyMatty/status/696811856875253760
If the Isles land Trouba, Snow would have put together a formidable defensive corp. Trouba would join Boychuk and Leddy, 2009 first-round pick Calvin de Haan and youngster Adam Pelech and 2013 first-round pick Ryan Pulock.