No one is taking their talents to South Beach, but it was announced this week that 18-year-old Mikhail Grigorenko will not be taking his talents back to Quebec City of the QMJHL and will remain with the Sabres after playing his rookie maximum of five games. Grigorenko suited up on Jan. 29 against the Leafs for his sixth game, meaning that he will stick with the big club for the duration of the season.
What it means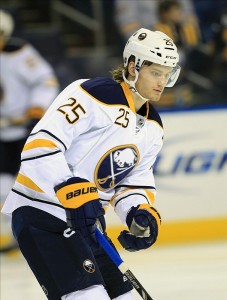 There are many ways to interpret the move. For one, it shows that the Sabres fancy themselves a contender because, if they did not think Grigorenko could help them win, they would not have wasted a year on his entry-level contract. They would have let him further his development by being a star in the QMJHL.
Grigorenko is still with the team because of his offensive abilities. The Sabres brass must believe that his offense can help the team. One thing to question here though, is has Grigorenko's offensive ability kept him on the team? Or is it the fact that secondary scoring, save for Tyler Ennis who has come on strong with four points (two goals, two assists) in his last three game, has been virtually non-existent this season. Could the lack of early production from guys like Drew Stafford, Marcus Folingo and Nathan Gerbe led to Grigorenko keeping a spot?
The numbers
Grigorenko has already dominated junior hockey. In 2011-12, he finished the season with 85 points (40 goals, 45 assists) good enough for eighth most in the league, despite playing only 59 games. This season, he was on a similar pace with 50 points (29 goals, 21 assists) through 32 games.
His coach from Quebec City, former NHL goaltending great Patrick Roy, began to wonder if he would get his star back after his third game. Roy was quoted stating "I am beginning to think Grigorenko will not return to us. He is doing well with the Sabres. And he behaves well defensively."
Junior experiences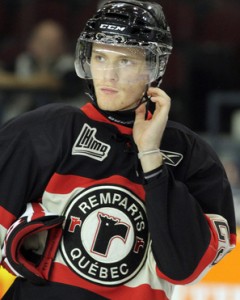 In addition to his dominance in league play, Grigorenko has had some big-game experiences. He attended a pair of IIHF World Junior Hockey Championships in 2012 and 2013 where he won silver and bronze respectively. Another thing that cannot be discounted is the fact that Grigorenko has learned from Roy about what it takes to make it in the NHL. Having that guidance no doubt helped Grigorenko earn his spot.
NHL ready
Analysts and scouts often talk about if a player is "NHL ready." One of the main factors in determining this is a player's size. The question becomes: is a kid physically ready to compete with men? In Grigorenko's case the answer is yes. At 6'3, 200lbs, he will be able to hold his own and not be pushed around.
So how has Grigorenko done in his brief NHL career? Through seven games, Grigorenko has two points (a goal and assist), eight shots, a 42.8 faceoff win percentage and is a minus three.
Grigorenko's time on the ice has been staggered. He has seen as many minutes as 17:10 and as low as 6:48. Overall he is averaging 11:17 minutes per game. That number needs to stay there or increase to around the 12-minute mark or else the young player will simply not be able to develop.
Role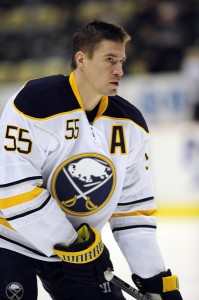 The Sabres have kept Grigorenko presumably for his offensive ability. Yet they have him playing mostly on the third line with Jochen Hecht, a 35-year-old veteran. The match is good for Grigorenko because he can learn the finer points of the pro game from Hecht. However, Hecht's role on this team is to be defensive and a penalty-killer so it is interesting to have Grigorenko matched with him. If he is there for his offense, he is going to have to get time on the second line and play with other offensive-minded players so that he can tap into his potential.
It is said that if a player can be a dominant offensive force in junior, which Grigorenko has been, it can translate into the pro game. The real thing to look at with young players is can they play without the puck in the NHL? It is easy for an offensive guy to be able to play pro offence but can he play defense? This is the area that Grigorenko needs to work on and could be the reason why he has started the year on the line he has. Perhaps coach Lindy Ruff wants to see him perfect his defensive game before unleashing him offensively and if that is the case can you blame him?
The one thing that everyone involved with the Sabres needs to remember is yes, it is ok to praise Grigorenko for his offensive talents, but don't let him off the hook when he drops the ball defensively. After the 4-3 overtime loss to Toronto, a great deal of attention was paid to his first goal of the season. Yet many failed to acknowledge he was on the ice for three Leaf goals.
It is still too early to tell if this decision will work out for Buffalo, but it has the potential to. If Grigorenko can learn the defensive part of the game, and get his opportunities in an offensive role, he could spark the answer to the secondary scoring problem. However, with a young player, patience is key and his development must be the top priority, especially in such a short season.