The stellar play of Nicklas Backstrom in these playoffs has tended to get lost in the shuffle, with media focusing about Ovechkin under-performing, Dale Hunter coaching against the grain, and Braden Holtby generally being glorious. Backstrom has had a strong and memorable round-and-a-half of playoffs so far. A crucial part of the Capitals' offense, he finished the regular season fifth on the team in points despite missing half the games with an injury.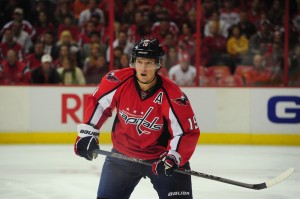 In the first round, Backstrom received his first NHL suspension in a five season career for a cross-check on Rich Peverley. Nevertheless, he still ended rallying his team from off the ice – the Capitals were inspired to win it for Nicky. Since he returned, Backstrom has slid back into his role as a clutch goal-scorer in these playoffs.
Skip ahead to round two and the Caps were down 2-1 in the series – but this time Backstrom was on the ice. Watch Backstrom destroy Artem Anisimov and score all in one breath.
It's become abundantly clear that the days of complaints about the Caps not playing defense are over. Hunter has recalibrated this team to play mistake-free hockey, but long before Hunter, Backstrom was still making big defensive plays. Watch Backstrom stop a goal in the '10 playoffs that would have put the game away for Montreal.
Again in the '10 playoffs, Backstrom scored two goals to help bring the Caps to overtime, and eventually finished his hat trick with an OT game-winning goal.
Back to this year's playoffs. To even up the series in Game Two of their first round matchup with the defending Stanley Cup champion Boston Bruins, Nicky brought familiar OT heroics.
In what's been a challenging regular sesaon for both Backstrom and his team they've managed a playoff run beyond expectations and Backstrom been a big reason why. In the highly contentious area of ice time under Dale Hunter, in which the teams captain has seen diminished ice time, Backstrom leads all forwards in that category, a sure nod of confidence from his coach. We are just begining to see what Nicklas Backstrom is capable of in these playoffs and good news, there's more in the tank.
Matt Stephen is a writer, not a fighter. He is both a beer and fantasy league veteran and has written about hockey online and in print for The Hockey News. He now covers the spectrum from the White House to Mike Green. He carries a picture of Ovechkin in his wallet.