The Montreal Canadiens are very sound defensively and generally don't mind playing a boxing match style of game, meaning they are comfortable with opening up the game and trading chances with their opponents. With Carey Price in net, a speedy offence and a mobile defensive core, why not?
The Habs have a very diverse defensive roster that's equipped with size and physicality, experience, mobility and also a healthy amount of young talent. With Shea Weber and Andrei Markov holding down the first and second roster spots, it leaves the bottom four open for fluctuation and moving pieces and the Canadiens have no shortage of movable pieces.
With the recent signing of former KHL defenceman, Jakub Jerabek, the Habs have added even more offensive power to their blue line and added even more depth. Also, with Mikhail Sergachev developing and getting closer to being NHL-ready, the Canadiens are going to have to make room and most likely deal some expendable assets.
The Core
Aside from Carey Price, the Habs' defensive backbone is composed of Shea Weber, Andrei Markov and Alexei Emelin, who all bring their own specialty to the table.
Shea Weber
Weber is the number one defenceman for the Canadiens and one of the best in the entirety of the NHL. When he came over from Nashville in a trade for P.K. Subban last season, there were a lot of critics — mostly those concerned with the loss of Subban's offensive production and addition of a shutdown D-man.
Weber silenced the critics with an impressive 17 goals and 25 helpers all while carrying a +20 rating — Subban finished with 10 goals and 30 assists while dragging along a -8 rating. With his offensive production and shutdown abilities, he's certainly gained a lot of respect and trust from the Canadiens.
Andrei Markov
Markov is the most seasoned veteran of the Canadiens and if you cut him open, I'm sure he'd bleed blue, blanc et rouge. The 38-year-old has played all of his 16 NHL seasons in Montreal and been the go-to offensive defenceman for pretty much his entire career. Equipped with smooth skating and good puck management skills, Markov has cemented himself as the power play quarterback and a reliable breakout specialist. Despite his age, Markov is still capable of contributing 40-50 points but I'd only expect one or two more seasons out of the Russian veteran.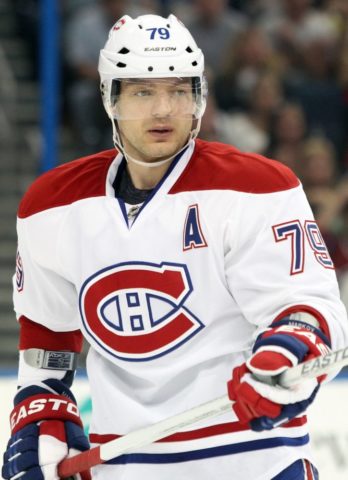 Alexei Emelin
Emelin plays a much different game than his counterparts, Weber and Markov — he specializes in physicality and intimidation. Emelin has only recorded 72 points in his career 380 games but makes up for it with his bone-crushing hits. The 31-year-old Russian has come to be known as one of the most physical and intimidating players in the NHL, which does wonders for the rest of his team in terms of creating open ice and causing mistakes.
The Sixth Spot
The Canadiens have a lot of depth throughout their defensive roster and that creates a lot of competition for the sixth and final defensive spot. Last season alone saw to the addition of Jordie Benn, Brandon Davidson and Nikita Nesterov, who are all now competing for the sixth spot. Jordie Benn has made himself a front-runner with his simple, fundamentally sound and reliable play, which is what you want from your bottom pairing.
However, with the addition of the aforementioned Jerabek and the come-up of Sergachev, it also puts either Nathan Beaulieu or Jeff Petry into that battle or on the trade block. It's going to be interesting to see how this 2017-18 season pans out for the Canadiens' defence.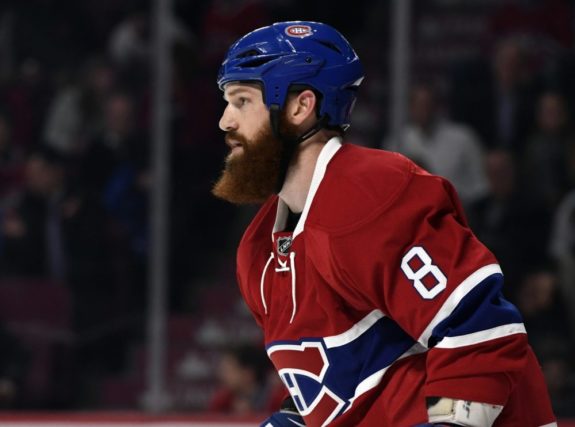 The Young Guns
The Canadiens have a pretty strong pool of young talent that is on the rise and led by Beaulieu.
Nathan Beaulieu
Beaulieu was selected 17th overall by the Canadiens in the 2011 NHL Entry Draft and has constantly been improving and showcasing his potential throughout his young career. Beaulieu is a smooth skating two-way defenceman that will most likely notch 30-40 points next season, if he stays on track with his development. With the addition of Jerabek, Beaulieu will need to play his best hockey to ensure his role isn't replaced.
ICYMI: Jakub Jerabek's signing may mean Nathan Beaulieu's on the way out of Montreal. (@EricEngels)https://t.co/dcGoeUQQGh pic.twitter.com/Drz5YHMzBy

— Sportsnet (@Sportsnet) May 2, 2017
Jakub Jerabek
The Habs have recently signed Jerabek to a one-year deal and hope the 25-year-old can add some offensive flare to their back-end. Jerabek is coming off of a 34-point, 59-game season in the KHL with the Vityaz Podolsk and has the Canadiens' brass hopeful for an equally productive season over in North America. However, with his offensive prowess also comes a concern with his defensive play that has been unreliable in the past.
Mikhail Sergachev
Sergachev is an extremely talented defenceman that is coming off of a 50-game season with the Windsor Spitfires that saw to him tallying 43 points — he went on to hoist the Memorial Cup with the Spitfires. The 18-year-old Russian is a very smooth puck-moving D-man whose skating ability gives him the ability to patrol large portions of the ice with ease. The Habs selected Sergachev ninth overall in the 2016 NHL Entry Draft and have high hopes of the youngster blossoming into a number one or two defenceman one day.
#Habs Top 25 Under 25: Mikhail Sergachev's huge potential earned him the number three spot https://t.co/2AI3IujX5x pic.twitter.com/rSDvSEOikG

— Eyes on the Prize (@HabsEOTP) September 7, 2016