Welcome to the first edition of The Grind Line Mailbag where the contributors of The Grind Line answer your Detroit Red Wings questions. Don't forget to submit your questions to the Red Wings-focused The Hockey Writers account @THW_RedWings.
Question:
https://twitter.com/Steven_dfsin/status/730807936918949888
Brandon Peleshok: There are definitely players out there who could help the Red Wings next season, although Holland might have trouble acquiring high-end talent without shedding some salary. Holland's tried to patch things up in Detroit with a number of unsuccessful "band-aid" signings over the past few years, so hopefully he stays away from veterans and reclamation projects.
Giving more ice time to younger players like Andreas Athanasiou and Anthony Mantha seems like a better option, at least in my estimation. Though, if I had to pick one free agent to target, it would be Kyle Okposo (depending on his asking price of course). He has a blend of size and skill the Red Wings could use up front.
Jacob Messing: Detroit needs a consistent top-six guy and a top-pair defenseman; that will be hard to land in one off-season for where it sits on the cap. Detroit should focus on a solid forward instead such as underrated center Frans Nielsen, or a gritty scoring winger such as Okposo, Mikkel Boedker or Andrew Ladd if the price is right. But the price of these players might be what leaves Detroit with their own draftees on hand.
Tony Wolak: Depending on what happens with Pavel Datsyuk and his contract, the Red Wings could have a big offseason this summer. Apart from the almighty Steven Stamkos, the Red Wings could target Milan Lucic or Okposo to add some much needed size up front. Alex Goligoski would be a welcomed addition as well on the blue line. Detroit missed out on Matt Niskanen a few years back. Signing Goligoski at roughly the same price would make up for striking out with Niskanen, Anton Stralman, and Dan Boyle.
Question:
Do you think the Red Wings should try to move Jimmy Howard?

— Nicole McRae (@niccm12) May 12, 2016
BP: Yes, but only for the right deal. Considering Howard's current value and cap hit of 5.3M, it might be tough to find a trade partner. There are some teams out there searching for a starting goaltender, but it is possible they will want the Red Wings to eat part of the cap hit, or include a prospect/draft pick. If Holland can find the right deal, the team should explore the market for a veteran goaltender to back-up Petr Mrazek. Despite his solid play in Grand Rapids this season, I would feel a bit wary having Jared Coreau as the Red Wings backup goaltender next year.
JM: As Brandon mentioned, Howard's cap hit on a rather cap-strapped team should have Holland actively shopping him. Howard's comments that "sometimes you have to pack up and leave" should make it easier for Holland to take an offer, even if it's not the price he set for himself. It's easier to take a lower offer on a player that wants to be traded and Howard knows Mrazek is the guy moving forward.
TW: Yes, but at the right price. Howard's value is down and Detroit should not trade him for the sake of moving him. It wouldn't be the worst thing to have a veteran goalie with playoff experience backing up Mrazek next season. However, if the Red Wings could package Howard, Alexey Marchenko, and a 2nd round pick for Calgary's Dougie Hamilton, they would be coming out ahead, despite giving up a lot.
Question:
what do you think will/should be done to beef up our defense?

— Tawnie Marie (@misstawniemarie) May 12, 2016
BP: To be honest, I'm not entirely sure anything can or will be done to beef up the defense during the offseason. My guess is that Holland will pass on signing Kyle Quincey, and Xavier Ouellet and Ryan Sproul will compete for the last spot on defense. I agree with Tony's notion of packaging some of Detroit's defensemen to acquire a superior defender, but it is tough to picture Holland pulling the trigger on such a deal. At the very least, it would be nice to see the ice time and duties of some of the veteran defenders scaled back a bit.
JM: The unrestricted free agent market for defenseman has changed since this time last year with the extensions handed to Brent Seabrook, Mark Giordano, Dustin Byfuglien and Erik Johnson. Keith Yandle and Goligoski seem like the best options at defense, but they will likely receive higher offers from elsewhere.
In the often-untouched market of restricted free agency, a large group of names including Torey Krug (BOS), former fourth-overall pick Seth Jones (CBJ), Sami Vatanen and Hampus Lindholm (ANA), Rasmus Ristolainen (BUF), Jacob Trouba (WPG), Tyson Barrie (COL), Oscar Klefbom (EDM), Cody Ceci (OTT) and Mathew Dumba (MIN) are all on expiring contracts. Offer sheets are rare and it's doubtful that Holland would be okay with the draft pick compensation given to the losing team of an offer sheet, but there's a lot of potential on that list of players all less than 27 years of age.
It's just as unlikely all of the names listed above are still without a contract come July 1st as it is a team wooing a player to sing an offer sheet that wont be matched.
TW: Consolidation is key. Including impending free agent Quincey, the Red Wings have at least nine NHL defensemen in the organization—mostly 2nd and 3rd pairing players that require waivers to be sent down. Since the Red Wings have depth on defense (and up front too), they have the ability to trade multiple assets for one better player. If there are no trades to be had, the free agent market has a few options. Goligoski, Yandle, and Brian Campbell are excellent puck-movers.
Question: What do you think of the name for the new arena?        –Megan via Twitter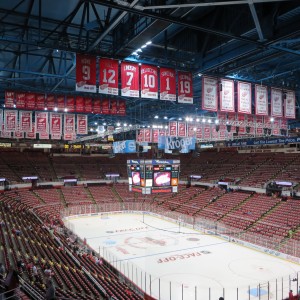 BP: No issues with it. Outside of MSG, every other arena in the NHL is named after a corporate sponsor. Not a huge fan of the logo on top of the arena, but it's Mike Ilitch's choice and he's done a ton for the city. I'm sure someone will chime in here about how much the public is paying for the arena, but it's the owner's choice in the end.
JM: As Brandon mentioned, MSG is the only non-corporate arena left in the NHL. I feared Detroit going corporate but it's easier to swallow since it's a homegrown company. With that being said, I do love alliteration and Little Caesar's Complex/ Center/ Coliseum just rolls off the tongue better. But the rumored Pizza, Pizza Powerplay is another discussion.
TW: It could be worse. Having an arena with no corporate naming rights was a luxury for the Red Wings. At least the new arena name stays in the family. Plus, there are plenty of nicknames for the new arena.
"Hey, you going to the Wings game tonight at Caesar's Palace?"
"Yeah, I love going to the Pizza Hut for Wings games now."
Question: Tyler Bertuzzi is having another fantastic Calder Cup Playoffs! Do you think he has worked his way onto next year's roster because of it? –Krista via Facebook
BP: I think he has an outside chance because of his style of play. Depending on what the Red Wings do this summer, the team might need a few forwards who can play a gritty, fourth-line style game. It really depends on how Red Wings' management views Bertuzzi – do they feel he projects as top-six material or as more of a role player? As Tony mentioned, he will get quality minutes down in Grand Rapids, as opposed to fourth-line minutes in Detroit.
Although, it is tough for me to ignore the prospect of Bertuzzi skating on Luke Glendening's wing. I might even throw on Mitch Callahan (though he might be done with the organization) on the other wing. It would definitely be a fun line to watch, while the potential to chip in offensively at times, too.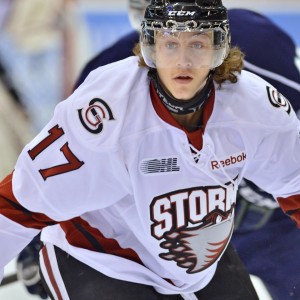 JM: Bertuzzi joined the Griffins for their last two regular season games last season and managed to chip in an assist. Then in 14 playoff games, he posted seven goals and 12 points. This season however, Bertuzzi struggled to start on time and ended up with just 12 goals and 30 points in 71 games.
Now, eight games into the Griffins postseason, Bertuzzi has stepped up his game again, scoring seven goals along with an assist and a team-leading plus-9 postseason rating. He is getting attention for his ability to step up in tough situations, evident by his hat trick Saturday night to lead the team to victory in a must-win game.
TW: Probably not to start the season, but Bertuzzi will certainly get some action like Athanasiou did this year. "Little Bert" would be a great energy player to have, but Holland and Ryan Martin would prefer to have him playing first line minutes in Grand Rapids rather than eight minutes a night in Detroit.
I offer opinions and insight on the Detroit Red Wings organization and its prospects.