Slowly, but surely, the Detroit Red Wings' roster is getting back to full health. Riley Sheahan returned to action this past Sunday, and the team expects Alexey Marchenko will dress during their three-game road trip to California. However, there are still a number of key players sitting on the sidelines.
Justin Abdelkader, Mike Green and Darren Helm are out for a minimum of three more games. Meanwhile, Jimmy Howard remains anywhere from 2-4 weeks away from getting back between the pipes.
In this week's edition of 'The Grind Line', the Red Wings' writers at The Hockey Writers take look at some of the aforementioned players and discuss which ones we feel will have the biggest impact once they are able to return to the lineup.
Tony Wolak: Mike Green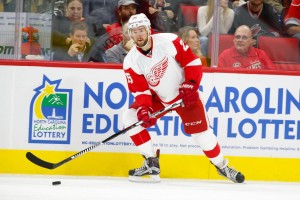 One player the Red Wings are desperately hoping to have back in the lineup soon is defenseman Mike Green. Hockeytown's veteran blueliner has been out since sustaining an upper-body injury during a 6-4 win over Anaheim on Dec. 17 — Detroit's only regulation win in December.
Green has averaged over 24 minutes per game with the Red Wings this season and has been a bright spot on what has otherwise been an abysmal power play. He can capably fill the quarterback role during the man advantage and distribute the puck around the offensive zone — something that the Red Wings have struggled with in his absence.
With the Red Wings looking to spark their last-ranked power play, Green would be a welcomed addition to the roster card. In order to convert more on the power play, Detroit simply needs to enter the zone, move around more and make quicker decisions with the puck. Green's vision, precision passing and willingness to shoot from the point make his impending return just what the doctor ordered for the ailing Red Wings.
He would also bring more stability to a shaky defensive corps. Now that the team scoring is coming around, it would be nice to see the team defense prevent opponents from continuing to score a high amount of goals on Red Wings netminders. Green's presence on the ice could certainly help curtail a few.
Brandon Peleshok: Justin Abdelkader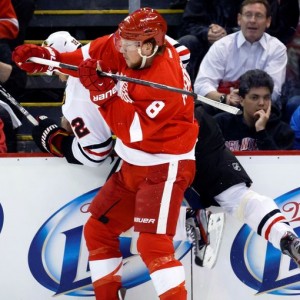 The Red Wings have been without Justin Abdelkader's services since he sprained his right MCL during a 2-1 overtime loss to the Florida Panthers on Dec. 3.
Much like Green, Abdelkader should provide a boost to the Red Wings' anemic power play when he makes his return to the lineup. The team has struggled with the man advantage all season, especially on the road. They were particularly abysmal during the month of December where they converted just twice in 44 attempts.
The team does not appear to have any clear solutions to get the power play going again, and are seemingly willing to try just about anything. That includes using Steve Ott as a net-front presence and running five forwards on their second unit.
With due respect to Steve Ott, Abdelkader is a clear upgrade as a net-front presence. His return to the lineup should give the Wings a clear boost in that department, and two clear choices to play in that role. While his work on the power play has not translated into success as of late, Thomas Vanek is adept at playing in front of the opposition's goal, too.
Abdelkader gives his linemates some extra space on the ice, wreaks havoc in front of the opposition's crease, and retrieves pucks better than most forwards on the team. Admittedly, Abdelkader's $4.25 million per year cap hit may always feel a tad excessive, but he provides a unique skillset the Wings have sorely missed during his absence.
Tom Mitsos: Jimmy Howard
The Red Wings live and die by their goaltending this season, and the most anticipated return will be Jimmy Howard. Howard sprained his MCL during a 4-1 loss to the Tampa Bay Lightning on Dec. 20 when defenseman Nick Jensen fell on top of him during a scramble in front of the net.
The @DetroitRedWings will be without Jimmy Howard for 4-6 weeks with a MCL sprain. https://t.co/RT6ojw6X4v pic.twitter.com/KKs5Slochv

— Sportsnet (@Sportsnet) December 24, 2016
This season, according to Corsica, Howard has a five-on-five save percentage of .936, which is eighth in the league. Since Howard went down with the injury, the Red Wings have a five-on-five save percentage of .875 between Petr Mrazek and rookie Jared Coreau, who was called up from Grand Rapids.
Further showing how valuable Howard is to the Red Wings, he has an all situations goals saved above average of 8.63, meaning he has saved more than eight goals versus the average goalie. Mrazek (-8.47) and Coreau (-2.41) each have a negative GSAA, meaning they allow more goals than the average goalie.
Coreau has managed to pick up two wins out of three games started, but he has allowed 10 goals in those three games. Mrazek has struggled all season, allowing four goals in a loss to Buffalo. Although he did bounce back Wednesday night, allowing just two goals against Anaheim, but he had no goal support. That has often been the story in Detroit this season, regardless of which goaltender is in net.
Without Howard, the goalie situation is dire in Detroit. Coreau is doing the best he can as a rookie, but Mrazek has underperformed all season, although Wednesday's outing could be a sign of a turnaround. If neither goalie is able to pick up the slack, Howard's return can't get here soon enough for the Red Wings.