While most teams spent the first day of free agency recruiting new talent, the Anaheim Ducks were working out a trade that would send Bobby Ryan to the Ottawa Senators.  The first-line winger had been at the center of trade rumors for years, but nothing had materialized until this summer.  With Ryan Getzlaf and Corey Perry locked up for the next eight seasons, Bobby Ryan became the odd man out in Anaheim.  In return for Ryan, the Ducks received forwards Jakob Silfverberg and Stefan Noesen, as well as a 2014 first round draft pick.
Coming off a trip to the Western Conference Semi-Finals, losing Ryan creates a bit of a hole for the Ducks.  The plan is that the improvement in overall forward depth will help offset the loss of production from Bobby Ryan.  Additionally, the influx of young talent will help to supplement the offensive power of Getzlaf and Perry for the foreseeable future.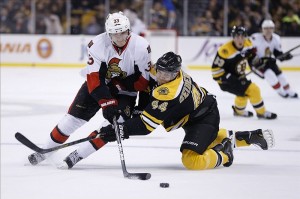 Jakob Silfverberg is a right-winger, who will slide in immediately as a top-nine forward.  As his career progresses, he has an outside shot of becoming a first-line winger, but is more likely to be a strong top-six forward.  He doesn't have the top end offensive talent that Bobby Ryan possesses, but he profiles as a bit more of a well-rounded two-way player.  While there is room for growth in his game, he will be a solid contributor for the Ducks this season.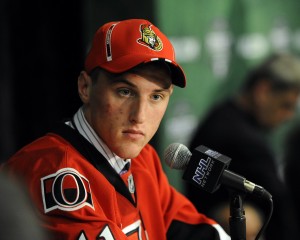 Stefan Noesen (Aaron Bell/CHL Images)
Stefan Noesen is also a right-winger, who will likely join the Norfolk Admirals, the Ducks AHL affiliate.  Like Silfverberg, he plays a strong all-around game, but could potentially become a greater offensive talent than Silfverberg.  His game needs some refining, so while he will fight for a spot in the bottom-six for the Ducks this year, he would be better served to play big minutes in the AHL.  He is a hard-worker and will force his way into the NHL in the very near future.
The final piece the Senators sent to the Ducks was a 2014 first round pick.  The Ducks can continue to add top talent into their system, keeping them in contention for years to come.  Silfverberg and Noesen, 23 and 19 respectively, will become part of the young core that the Ducks have built in the last few years, a core that already includes the likes of Cam Fowler, Emerson Etem, Hampus Lindholm, and Devante Smith-Pelly.  As soon as a few years from now, Silfverberg and Noesen will likely be outproducing Ryan, giving the Ducks multiple young options up front, instead of just one in Bobby Ryan.  Fans might miss Bobby Ryan initially, but long-term, the Ducks will be happy they made this deal.