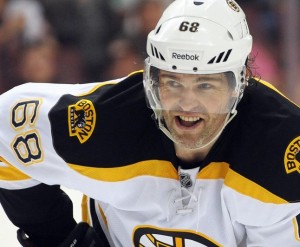 With July 5th having come and gone and the flurry of free agent signings having quieted to less than a whisper, there are still some prominent names looking for their next landing spot.  Chief among those names is now 41 year old recent "gun for hire," Jaromir Jagr.  Since Jagr's return to the National Hockey League for the 2011-2012 season, he has played for three teams in less than two full-length seasons and it appears that if he is to continue his NHL career this coming season, that list will include a fourth as well.  However, unlike when Jagr made his NHL return in 2011, the list of interested parties appears to be much smaller and certainly so too could be the contract offers with the cap being reduced next season.  The reality is with many teams having to maneuver simply to get under the new $63.4 Million maximum and keep most of their current roster intact, some veteran stars who were formerly guaranteed first day signees, have been left waiting on an offer.  Enter the Ottawa Senators and a possible opportunity for Mr. Jagr.
The Ottawa Senators are a team on the rise.  They've gone from a non-playoff team and trade deadline seller only three seasons ago, to consecutive playoff appearances and a first-round series win over the division rival Montreal Canadiens this past season.  What's most impressive about this current group is the way in which it has been built.  The Sens have traditionally been a budget team and even with a league mandated salary cap, they have always planned around and stuck to their own internal cap number.  To be successful this way requires drafting well and developing your players, along with a nice trade acquisition or free agent signing from time to time.  The Sens and their General Manager Bryan Murray have done exactly that, with many of their young players being a part of the Binghamton Senators (Ottawa's American Hockey League affiliate) Calder Cup Championship in 2011 and now up and playing prominent roles with the big club.  The recent addition of prolific scorer Bobby Ryan via trade and the signings of Clarke MacArthur and Joe Corvo during free agency have the Sens looking very strong for next season, even with the departure of long time Captain Daniel Alfredsson.  That being said, the Ottawa Senators still have a plethora of cap room available and while they are likely near to their internal number, the chance to add a veteran scorer has to be enticing.
Can Jagr Continue To Be Productive?
That brings us to Jaromir Jagr and the question of whether or not teams still consider him a scorer.  Now that is in no way meant to be a slight on Jagr, he is one of the greatest scorers in NHL and hockey history, period.  However, at 41, he has played a lot of hockey in the last two seasons, including a run all the way to Game Six of the 2013 Stanley Cup Finals with the Boston Bruins where he appeared to slow down a bit.  The book on Jagr, now more than ever, is that he can still be very effective but he must be paired with the right line-mates.  An obvious statement perhaps and one that could seemingly be applied to any player, but Jaromir Jagr is not any old player and his game is far from ordinary as well.  He has always been unique and while he has never been considered a speed player, his tremendous skills and East-West playmaking style has typically been adaptable.  Now with the speed of the game getting faster and faster, especially in the postseason, chemistry and conforming styles among line-mates is the difference between average and top-end performance and production.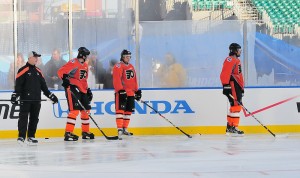 When looking at Jagr's numbers over the last two regular seasons, there appears to be little doubt he can still score.  In 2012-2013 he posted 14 goals and 12 assists for 26 points in only 34 games with a mediocre Dallas Stars team before being dealt to the Bruins where he added another 2 goals and 7 assists in the final 11 regular season games and 10 assists during the postseason.  That being said, most would agree that Jagr was at his best during his 2011-2012 campaign in Philadelphia.  With the Flyers, Jagr played primarily on the top-line with elite playmaking center Claude Giroux and hard-nosed scoring winger Scott Hartnell.  He posted 19 goals and 35 assists for 54 points in 73 games and another 8 points in 11 playoff games.  The three formed one of the stronger lines in the NHL and were the driving force in the Philadelphia Flyers first round playoff win over their cross-state rivals, the Pittsburgh Penguins.  This is important when looking at the Sens as a good fit for Jagr as there appear to be some similarities.
Ottawa's Top-Line Would Be AComfortable Fit
You can't help but look at Ottawa's top line and realize that Jaromir Jagr could fit in greatly alongside All-Stars Jason Spezza and Bobby Ryan.  The two have similar styles and games to his former line mates in Philly and as previously mentioned that worked out pretty well.  While Spezza may not be quite as quick as Giroux, he is deceptively fast and equally as good a set-up man.  He is also a more experienced player and a much larger one too at 6'3" and 216 lbs.  Each man is among the top ten centers in the National Hockey League and point per game caliber players as well.  Bobby Ryan and Scott Hartnell may not be the first two names you'd come up with to compare one another to, but believe it or not they are quite similar.  Both men are solid, physical players at 6'2" and 210 lbs. and both enjoy going to the net.  Ryan has a slight edge in scoring having averaged 33 goals and 62 points over the last four full seasons, 7 more goals and points per campaign than Hartnell in that span, but both are among the pre-eminent scoring power forwards in the league today.  This is not to suggest there is a guarantee Jagr would find the same chemistry with Spezza and Ryan that he did with Giroux and Hartnell but it does suggest he still has the ability to adapt to and play alongside talent of that style.
 Jagr Brings A Veteran And Winning Presence
Jagr has had a storied hockey career to this point and accomplished nearly everything there is to accomplish in the game.  He is a two-time Stanley Cup Champion, Olympic Gold Medal Champion and World Hockey Championship winner as well.  All to go along with the countless individual awards he has garnered.  However we saw during the 2013 Stanley Cup Playoffs how much the sport and the chance to win another Cup still means to him.  He is still one of the most dedicated and passionate pros in the game, maybe now more than ever in his career.  We saw his commitment to preparation and attention to detail with his multiple game day skates, the testing of his gear and in general making sure he and everything else was prepared.  The man wants to win and that is his focus.  He has been paid handsomely over the last two seasons and rightfully so, but anyone who watched him during the playoffs knows his motivation is winning.
That and maybe to put on a good show for the "Traveling Jagrs", his personal tributary fan-base.
All kidding aside, his passion level is still high and for that reason alone, it makes sense for the Senators to make an offer to Jagr.  He has been playing on one year deals and is likely looking for another one somewhere between $2.5 and $3.5 Million.  He has also stated a previous desire to play in Canada, having said he hoped to sign in Montreal in 2012 before ending up in Dallas.  Well if his interest to play in a Canadian market remains high, the opportunity to play on a top-line with two All-Star talents, in front of a passionate fan-base and on a playoff competitor, makes Ottawa a great fit.  From their end it has to look right to the Sens as well.  They have a hole on the first line with the departure of Daniel Alfredsson and they have the cap space to make Jagr a nice one-year contract offer.  Furthermore and with all due respect, Jagr is a natural right winger and he would absolutely provide a more potent offensive game in that spot than the likes of a Chris Neil or Erik Condra.  Owner Eugene Melnyk, according to GM Bryan Murray, was willing to spend whatever it took to get Alfredsson back for next season and with that money still available, why not throw some of it at Jaromir Jagr and see what shakes out?
The organization and fans were crushed by the loss of the Captain but getting Ryan and the free agent talent they did helped to soften the blow somewhat.  It could really be softened with the addition of another future hall of famer and international hockey symbol in Jagr.  Not to mention that in the unlikely event the Sens are out of the playoff race or it doesn't work out for whatever reason, the team would have a nice piece that others would be interested in at next season's trade deadline.  They would be able to add more picks or young talent for the cost of a one-year contract.  Simply put it seems like a win win for Jaromir Jagr, the Ottawa Senators and the great fans in the Nation's Capital.