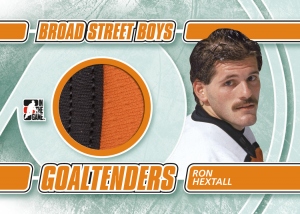 Ron Hextall will be returning to the Philadelphia Flyers organization and will serve as an Assistant GM and Director of Hockey Operations after news broke of the hiring around 4:30 p.m. ET on Monday.
The move has garnered a tremendous buzz from Flyers fans on social media, all of which are on the positive side. After a historical career in the City of Brotherly Love, one that saw him start the most games in net in franchise history, Hextall has become an adopted son in Philadelphia.
This move, though, isn't just for the sole purpose of bringing in good press and arousing excitement in each and every Flyers fan. There's more behind it.
In Los Angeles, Hextall served as an Assistant GM and helped orchestrate the Kings' first ever Stanley Cup victory in 2012. Along with GM Dean Lombardi, Hextall was able to acquire Mike Richards in a trade with Philadelphia and later on, bring aboard his former linemate Jeff Carter in a separate trade midway through the season.
Those moves proved to be just what the Kings needed in order to hoist Lord Stanley. As an Assistant GM who has already displayed his willingness to make bold moves, even if it means giving up a lot in return (which he admitted to in an interview with IllegalCurve.com), Hextall certainly has the capabilities of taking the next step in the front office.
That next step appears to be in Philadelphia.
Whenever Paul Holmgren's reign is over, Hextall will be waiting in the wings. Whether it's next offseason or five years from now, it seems that this move was made with an eye towards the future. If you know Hextall is more than capable of taking over a franchise and has a Stanley Cup ring to prove his worth, why wouldn't you want to have him in your system?
The Flyers' front office members probably asked each other that very question and realized now is the time to get him rather than wait until Holmgren steps down and risk having the former goaltender move on to another team by then.
As a player, Hextall was inducted into the Flyers Hall of Fame after playing in 489 games, recording 240 wins and tallying 28 career points – all of which are team-records. He began his career in the orange and black before spending two years in Quebec and New York. He then returned to Philadelphia to finish out the last five years of his illustrious career.
A journalism student at Rowan University, Kyle is a Big Ten Reporter for Scout.com (owned by Fox Sports) and spent the 2013 season interning with the Philadelphia Flyers.