Chicago Blackhawks: A prolonged Cup run could be in the cards for this young squad
08-09 Season in a Nutshell: Armed with talent, the team finished with 104 points, a 4th seed in the conference, and made it to the conference finals, when they were ousted in five games by the Red Wings. They also hosted the NHL's Winter Classic at Wrigley Field, the highest rated regular season game in 35 years.
Key Acquisitions: Marian Hossa, Tomas Kopecky, John Madden
Key Losses: Martin Havlat, Nikolai Khabibulin, Matt Walker
Player to Watch: Armed with a new 3-year contract, defenseman Cam Barker is going to be relied upon to both help generate offense at regular strength, but also to be an anchor on the power play. In addition, the Hawks will need him to step up his blue line defense with the departure of the physical Matt Walker.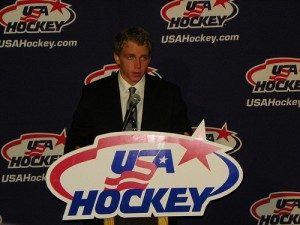 Must watch games: October 26th vs. Minnesota (Versus), December 20th vs. Detroit, March 13th at Philadelphia
For Jim Neveau's preview of the team, here is the offensive edition and the defensive edition. 
Strengths:
-Maturing young leadership has been bolstered with veteran help: Jonathan Toews took the reins last year as the third youngest captain in the history of the NHL, but he definitely can benefit from some outside experience. To do that, the Hawks have brought in 36 year old John Madden, who will be looked at to bolster their penalty killing unit, and also to occasionally chip in on the power play.
-Road warrior mentality a plus: The Blackhawks were known mostly throughout the league last year as the squad that sold out all 40 home games, packing their building with crazy fans who were loud and proud. Another reality emerged, however, as the team set a franchise record for road wins with 22. This ability to win on the road, especially for a team that has two road trips of seven or more games this season, will come in handy.
Weaknesses:
-Lack of physicality on the blue line could be an issue: The Blackhawks have three defensemen who are mostly known for their puck-handling abilities: Duncan Keith, Brian Campbell, and Cam Barker. Granted, Keith can play both ways, but the lack of physical play could spell doom for this team. If their early pre-season struggles on defense are any indication, it could be a long year on that front.
-Goaltending: You cannot walk a millimeter on the internet without tripping over an article complaining about the Hawks' goaltending situation with Cristobal Huet at the controls. Even if Huet is able to have a decent season, the back-up situation doesn't look much better. Antti Niemi and Corey Crawford aren't exactly proven commodities in this league, and therefore the whole goalie situation seems untenable.
Jim's Prediction: 1st in division, 2nd in conference
Columbus Blue Jackets: After a franchise first, the Jackets will look for a repeat performance
08-09 Season in a Nutshell: It was a milestone season for the Blue Jackets, as they made the post-season for the first time in their franchise history. An excellent season from captain Rick Nash, and a remarkable turn by Calder Trophy winner Steve Mason helped to make it possible. Even after getting swept in the first round by the Red Wings, things are looking up for this young and hungry team.
Key Acquisitions: Mathieu Garon, Sammy Pahlsson
Key Losses: Jason Williams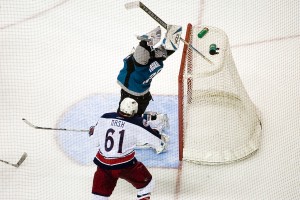 Player to Watch: Kristian Huselius, LW – Not only will he need to help linemates Derrick Brassard and Rick Nash score goals, but he will also be needed to help bolster a weak power play after finishing third on the team last season in power play points.
Must watch games: October 30th vs. Pittsburgh, December 28th vs. Detroit, January 19th at Philadelphia
For a more detailed preview of the Jackets' season, please check out my THW colleague Rick Gethin's piece
Rick also has thoughts on the team's strengths and weaknesses
Strengths:
Goaltending – Calder winner Steve Mason was ridden hard (some might say too hard) down the stretch last season. Look for free agent acquisition Mathieu Garon to start 20-25 games to give Mason a rest during his sophomore season. If he improves from 08-09, look for Mason to be in Vezina contention.
Scoring- With a healthy Derick Brassard back on the ice centering the top line alongside Nash/Huselius and free agent acquisition Samuel Pahlsson as the checking line center, not to forget Antoine Vermette sandwiched between Umberger and Voracek (2nd line), the Blue Jackets should have three legitimate scoring lines for 09-10. Look for multiple players to have career seasons.
Weaknesses
PPQB – With no legitimate power play quarterback on the team, the PP numbers should be roughly the same as last year. There are D-men in the pipeline to fill this role, but that won't help the Jackets this season.
Lack of puck-moving D-men – Kris Russell is the only semblance of a puck-mover the defensive corps has, but he still is maturing in this role. As with the PPQB situation, this need will be filled through prospects in the pipeline; which, once again, won't help them this year.
Rick's Outlook
GM Scott Howson didn't make many changes during the off-season, but the ones he did make will only add to make this team better. With the stigma of having never made it to the playoffs now erased, look for the Blue Jackets to finish higher in the standings this year; and once again make it to the playoffs.
Jim's Prediction: 3rd in division, 7th in conference
Detroit Red Wings: Hockeytown's fresh blood infusion will yield dividends
08-09 Season in a Nutshell: The Red Wings were having difficulty finding a goalie during the regular season, but as has become a custom for them, Chris Osgood stepped up in the postseason, leading the team to within one victory of winning the Stanley Cup. Pavel Datsyuk had a monster year, bringing home the Frank Selke and Lady Byng awards.
Key Acquisitions: Todd Bertuzzi, Jason Williams
Key Losses: Marian Hossa, Jiri Hudler, Tomas Kopecky, Mikael Samuelsson
Player to Watch:  Johan Franzen is going to be forced to step up his play big time this season, not just because of the massive 11-year contract he was given last year, but also to make up the production gap that the departed Hossa and Hudler left behind.
Must watch games: January 31st at Pittsburgh, March 22nd vs. Pittsburgh, April 4th at Philadelphia
Winging It In Motown has a preview of the Wings http://tinyurl.com/ltfq5v
Strengths:
-The infusion of youth, maligned by some, could be a good thing: While losing as many talented scorers as the Red Wings did cannot be considered easy to overcome, the young talent that will benefit from the departures could be worth the loss. Justin Abdelkader and Valttieri Filppula, both in their early 20's, will be looked to for some scoring touch in the forward position.
-The Cup loss could be a huge motivator: In the NFL, teams who lose the Super Bowl tend not to make the playoffs the next season, but with these Red Wings, the opposite effect could be true. The Wings, within a game of winning the Cup for a second straight year, could be in for another run at a championship this year, and the bitter taste of defeat could go a long way to overcoming that emotion.
Weaknesses:
-Divisional strengthening an issue: For the longest time, the Red Wings were the loveliest belle at the ball, but the rest of the teams in the division have undergone some pretty serious makeovers in the meantime. All five of the teams in the division nearly made the postseason last year, with Nashville being the only black sheep in the flock, and so the Wings will have a lot of clawing to do to continue their divisional dominance.
-Goaltending: Okay, okay, okay. So I made the "bold" prediction that Chris Osgood could be had in last year's playoffs, and I was proven dead wrong. This year, however, I am going to bring up this point: Osgood isn't exactly getting any younger, and the Wings need a back-up who is capable of shouldering quite a bit of the load. To rely on someone like Jimmy Howard for this task seems like a foolish undertaking, but Ken Holland knows what he is doing. It should be an interesting winter in Motown.
Jim's Prediction: 2nd in division, 4th in conference
Nashville Predators: Good goaltending won't be enough to save this scoring-inept squad
08-09 Season in a Nutshell: The Predators came off of a playoff appearance the previous year and were hungry for more, but good seasons by Ryan Suter and Shea Weber weren't enough to get them into the postseason, making them the only Central team not to play extra hockey last year.
Key Acquisitions: n/a
Key Losses: Vernon Fidler, Greg Zanon
Player to Watch:
Must watch games: October 17th at Washington, November 23rd vs. Detroit (Versus), February 14th at Pittsburgh
On the Forecheck has a good Predators preview . So does Bryan Thiel (THW Predators Correspondent) on Bleacher Report.
Strengths:
-The Renne/Ellis factor will be a monster to overcome: The Predators are a blessed team. Both of their goalies are definitely capable of shouldering the load for a weak-scoring team. Pekka Rinne certainly shone last season, with a 2.38 GAA and a save percentage of .917. He also won 29 games in just 52 GP, with seven shutouts mixed in. Dan Ellis wasn't exactly terrible, sporting a .900 GAA during the season, but he gave up nearly three goals a contest, but that's not awful for a back-up.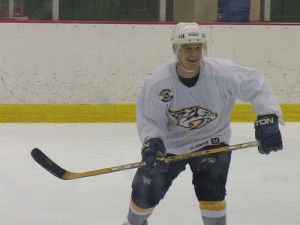 -Suter and Weber lead a fantastic two-way blue line: Weber and Suter both had a career year on the blue line on the offensive side of the puck, with Weber racking up 53 points (23 G, 30 A), and a +1 for a non-playoff team, and Suter also played well, scoring seven goals and adding 38 assists, numbers that matched  a much-higher paid player in the Central division: Brian Campbell.
Weaknesses:
-One of the worst power plays in the league is a headache: The Predators ranked a measly 26th in the league in power play scoring last season, which is certainly not good enough for a team with aspirations of playoff glory. They will need bigger production out of guys like Arnott and Dumont if the attack is going to get better.
-Even strength scoring was a problem too: The Predators were a team last season that failed to score goals in most situations. The highest goal total on the team was 33 by Jason Arnott, and only two other players (Weber and Legwand), managed 20 or more. Past those, only five other players were in double digits, which may help explain how the team only scored 213 goals. This paltry total won't be helped by off-season acquisitions, as the Predators didn't make any to bolster their attack.
Jim's Prediction: 5th in division, 12th in conference
St. Louis Blues: The Gateway to the West will once again be hopping
08-09 Season in a Nutshell: A young team that nobody expected to make any noise had a monstrous second half of the season and made the playoffs. Yes, they lost to Vancouver in the first round in a sweep, but TJ Oshie and David Backes both had break-out campaigns.
Key Acquisitions: Brendan Bell, Ty Conklin
Key Losses: Manny Legace, Jay McKee
Player to Watch: Erik Johnson, D – After putting on 30 pounds of muscle in an off-season where he was still recovering from injury, Erik will not only be looking to prove that his rookie season wasn't a fluke, but that he's worthy of consideration for the US Olympic Team.
Must watch games: October 20th vs. Penguins (Versus), January 2nd vs. Chicago, February 13th vs. Washington
Puck Daddy has a good preview of the Blues.
Strengths:
-Healthy returns for key components could spell good things for this team: Erik Johnson and Eric Brewer will both be returning from injuries, and the Blues were able to make the playoffs without those two key elements. If those two, especially the bulked up Johnson, can keep their skates on this season, the team could make some noise in the playoffs.
-Chris Mason's Godsend season a precursor of good things to come: The St. Louis Blues were going nowhere without a solid goaltender last season. Then, Chris Mason came into the fold, the Blues caught fire, and rode a wave of momentum all the way to the postseason. With a full season to bring his talents between the pipes, the Blues should be a lot more solid defensively, as well as in a prime position to help them win.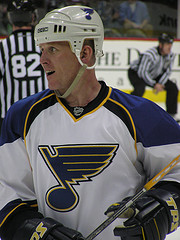 Weaknesses:
-Can David Backes repeat last year's performance? : It's tough to determine whether or not Backes will repeat his numbers from last season. He did score 31 goals and rack up 165 PIM, but previous to last season, he had played a combined 121 games, with 23 goals and 31 assists. He may duplicate his penalty minutes from last year, but a repeat offensive performance is unlikely.
-Too many penalties could be a concern: The Blues committed 1248 penalty minutes last season, good for sixth most in the league. Granted, their penalty killing unit ranked 8th in the league with a 20.5% kill rate, but putting that much strain on your penalty killers is never a good idea, especially for a potential playoff team.
Jim's Prediction: 4th in division, 8th in conference