Legends combined with the Montreal Canadiens are a package easy to find. Maurice Richard, Jean Beliveau, Denis Savard, Georges Vezina and Patrick Roy are a few prime examples of talent which has graced this historic franchise.
The hockey nation said goodbye to another one recently. Patrice Brisebois, also known as Breezer, announced his retirement following an 18-year career which consisted of 16 seasons with the Canadiens.
Although he earned a Stanley Cup with Montreal in 1993 and became the fourth-best scorer among the club's defensemen, it wasn't always joyous for him as a Hab. Problems were encountered when Brisebois notched 15 goals and 21 assists in 2001 earning himself a three-year, $12 million dollar contract.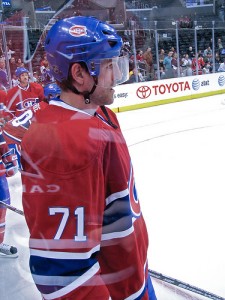 Expectations rose and the general public felt he wasn't earning his pay, particularly when his risky offensive tactics from the blue line led to a blunder. In 2003, he elected to part himself from the game to deal with stress, something that just angered supporters more.
While the fans were unhappy, General Manager Bob Gainey didn't give up on Brisebois. Following a buy-out from his contract in 2005 leading to a two-year deal with Colorado, he produced his best season with 38 points.
Back injuries caused him to miss the remaining 46 games of the 2006/2007 season as his career appeared to have concluded with surgery required. But Brisebois returned to Montreal for two more seasons becoming surprisingly productive again as he recorded 29 combined points in 105 games.
The 38-year-old brought crisp passing, quick puck movement, sound skating and a great offensive awareness to the back-end. A level-headed presence on the ice, Brisebois' most respected achievements came perhaps came within the community.
He and his wife has have donated much money to Montreal's Ste. Justine Hospital in their unending support. Prior to the preseason contest between the Canadiens and Boston Bruins three days ago, Brisebois was honoured for his community involvement with the Jean Beliveau Trophy on the same night he announced retirement.
Former teammates will remember him as a class act who was always willing to help and share advice. Brisebois had his ups and downs yet he exits the sport having earned respect in some form from fans worldwide.
On eight occasions he surpassed 30 points and dressed in 1009 total games combining 98 goals with 322 assists. There was always pressure to perform as a member of the Canadiens and he delivered especially these last two seasons quieting all critics.
Despite deserving it, he didn't seek out the glamour and recognition in Montreal for his accomplishments—a true sign of a legend which is what Patrice Brisebois was.