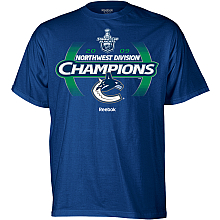 Calgary Flames: No Jokin-en: Flames are a force to reckon with
08-09 Season in a Nutshell: The Flames engaged in a tooth and nail battle with the Vancouver Canucks for divisional supremacy the entire season. After deadline deals netted them Olli Jokinen and Jordan Leopold, the Flames fell just short of winning the division, and were dispatched in six games by the Blackhawks in round one.
Key Acquisitions: Jay Bouwmeester        Key Losses: Adrian Aucoin, Michael Cammalleri, Jordan Leopold
Player to Watch: Olli Jokinen, C – With Cammalleri gone, it's going to be up to Olli Jokinen to fill the void offensively, and he'll need to find his groove quickly with Jarome Iginla if the team is going to make any noise in the division. His being in a contract year could be a huge boost to his stats as well.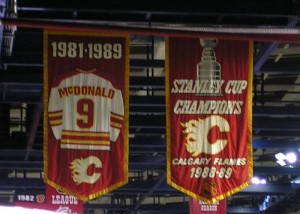 Must watch games: January 13th vs. Pittsburgh (Versus), March 27th @ Boston, March 28th @ Washington
Matchsticks and Gasoline has a good preview of the Flames up. Check it out.
Strengths:
-An Offensive Defense: With the addition of Jay Bouwmeester, the Flames added a legitimate scoring threat to their blue line. Adding him in with Dion Phaneuf is an absolutely huge for their offense, especially losing a player of the caliber of Cammalleri. The Hockey News is projecting both of these players to notch above 50 points, which would be a huge shot in the arm for the club.
-The Power Play Will Improve: Calgary's power play wasn't all that great last year, performing at a less than 16% on the road, which is not the way to win games. Olli Jokinen will be relied upon heavily to help out on the power play this season, and also Bouwmeester will be expected to jump on the bandwagon as well to score goals.
Weaknesses:
-Lack of Offensive Depth: On a team that only had two players notch about 60 points (Jarome Iginla, Cammalleri), there are worries about the scoring the team will put on the ice. Losing one of those players to free agency is a big sign on trouble. They ended up finishing 23rd in the league in goals scored, which is not an acceptable level for a team with title aspirations. Even with Jokinen playing a full season for the Flames, finding consistent scorers after Jokinen and Iggy is going to be difficult.
-Pressures of Past Playoff Failures Could Loom Large: Ever since the Flames made a Stanley Cup Finals appearance in 2004, they have since lost their last four playoff series. Granted, they have made the playoffs every year since, but losing to the Ducks, Red Wings, Sharks, and Blackhawks have left a sour taste in the mouths of every Flames fan in Alberta. The team may be looking to re-ignite the passion on the Red Mile, but they will have to overcome massive expectations to do it.
Jim's Prediction: 2nd in division, 6th in conference
Colorado Avalanche: The rebuilding continues in the Mile High City
08-09 Season in a Nutshell: Joe Sakic's freak snow-blower injury was pretty much the defining moment of Colorado's lost season. Without Sakic, with Paul Stastny missing a good chunk of time dealing with injuries, and Peter Budaj not being able to find his form in net, the Avs were one of the NHL's worst squads last year.
Key Acquisitions: Craig Anderson, David Koci, Brett Skinner    Key Losses: Tyler Arnason, Ian Laperriere, Andrew Raycroft
Player to Watch: Matt Duchene, C – With Sakic gone and Statsny relegated to first line duty, Duchene is going to be responsible for generating offense from a second line that isn't exactly brimming with talent. If he isn't able to do so, it could be another long season in the Rocky Mountains.
Must watch games: October 23rd vs. Carolina, December 3rd @ Pittsburgh, March 1st vs. Detroit (Versus)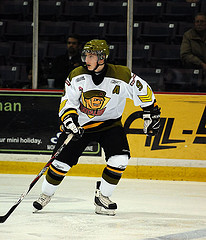 Strengths:
-Peter Budaj Will Be Pressed by the Arrival of Anderson: Yes, it seems as though this is a weird thing to look at as a strength for a team that lost 45 games last season, but it could end up being a boon in the Rockies. Budaj had a cringe-worthy 2.86 GAA last season, and stopped fewer than 90% of the shots he faced. Anderson, in limited duty in Florida, had a 15-7-5 record, and had a 2.71 GAA, but a respectable .924 save percentage to go with it. Expect the 27-year-old Budaj to either get spurred on to greater things by the 28-year-old Anderson, or to give way to the Florida import.
-Paul Stastny Looks Healthy: Stastny missed 37 games last season, but he still managed 36 points when he played. He looked very effective and skated without noticeable discomfort at the US Olympic Orientation Camp last month in Woodridge, and he will be looked to provide leadership and scoring to the top line of the Avs this season.
Weaknesses:
-Pressure from Disgruntled Fans Could Prove Distracting: Patrick Roy was a person that a lot of Avalanche fans were hoping would be chosen to lead the franchise after the dismissal of Tony Granato after the season. They were disappointed that the offers for the former goaltender did not come through, and so new head man Joe Sacco could potentially working at a disadvantage.
-The Youth Movement Provides Little Hope for a Playoff Push: Folks in Colorado aren't exactly accustomed to a re-building project, and this will certainly be year one of such a project. Patience will be a key, as players like Matt Duchene find their legs in the NHL. Duchene will be relied upon (assuming he makes the team out of camp) to center the second line for the Avs, and his success or failure will have a big impact on whether the team takes a step forward or backward this season.
For a more detailed preview of the Avalanche's upcoming season, check out Ezra's preview over at Illegal Curve:
Jim's Prediction: 5th in division, 14th in conference
Edmonton Oilers: The well is running dry in the Great White North
08-09 Season in a Nutshell:  The Oilers failed to meet expectations in the regular season. Ales Hemsky did emerge as a solid player at the right wing position, but their goaltending situation was not very good, and their blue line defense left a lot to be desired.
Key Acquisitions: Nikolai Khabibulin     Key Losses: Ales Kotalik, Dwayne Roloson, Dany Sabourin
Player to Watch: Patrick O'Sullivan, C – After getting dealt to Edmonton with 19 games left in the season, O'Sullivan turned in 6 points in those 19 games. He will need to step up big time centering the third line if the Oilers hope to make any advancement towards the playoffs this season.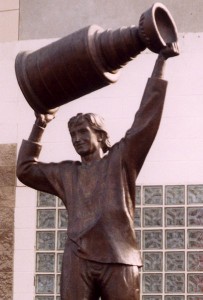 Must watch games: October 31st @ Boston, December 19th vs. Washington, March 23rd vs. Canucks
Strengths:
-Sheldon Souray's emergence could be a good omen: Souray had a solid season last year, racking up 53 points (23 G, 30 A), and also notching 98 PIM, establishing himself as one of the more complete defensemen in the league. He also had 12 power play goals, which led the team. His 24:50 ice time per game also led the team. Couple him with prospective Olympian Tom Gilbert, and the team could be in good shape on the blue line.
-Pat Quinn is gonna provide a certain Je Ne Sais Quoi: Okay, so the Oilers don't play in a French-speaking territory in the great white north, but Quinn is going to provide not only established leadership in Edmonton, but he also will provide an underachieving team with a needed kick in the ass. He will look to players like Ales Hemsky and Patrick O'Sullivan to step up.
Weaknesses:
-Nikolai Khabibulin could be a contract year wonder: Nik ended up going from nearly getting released by the Blackhawks to leading them to the playoffs. The possible down side to that was that his numbers were driven not only by a desire for revenge, but also because his contract was coming to an end. Now, the 35 year old goalie has a fresh four year deal, and a possible lack of motivation to continue his hot play.
-Hemsky highlights relatively low scoring forward corps: Outside of Hemsky last year, only Shawn Horcoff had over 50 points. They did manage to score 234 goals last year, but that number is likely to drop this season, as they didn't make any significant off-season acquisitions, notably missing out on getting Dany Heatley from the Senators.
Jim's Prediction: 4th in division, 13th in conference
Minnesota Wild: Can Backstrom and Havlat carry the load in Minny?
08-09 Season in a Nutshell: Even in front of a sold out crowd every night and one of the best stoppers in the league in Nicklas Backstrom, the Wild showed no offensive punch and failed to make the postseason.
Key Acquisitions: Martin Havlat, Greg Zanon    Key Losses: Marian Gaborik, Krys Kolanos, Stephane Veilleux
Player to Watch: Martin Havlat, RW – Havlat is taking the place of Gaborik in the scoring department for the Wild, and he comes with the same baggage: will he be able to stay healthy? If the answer is no, Minnesota's offense will continue to struggle mightily.
Must watch games: October 26th @ Chicago, January 11th vs. Pittsburgh, March 23rd vs. San Jose (Versus)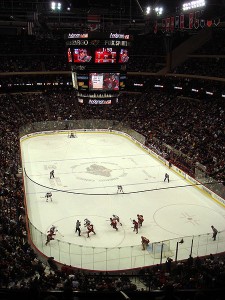 For a more detailed look at the Wild's season, check out Nick Henry's preview from THW.
Nick Henry, Wild Correspondent for THW, also discusses the team's strengths and weaknesses here:
Strengths:
We hate to say it, but this team has arguably the best defensive awareness of any team in the league.  That's got to be very comforting to incoming new head coach Todd Richards.  While the risk that the players will initially be so excited to join the rush may cause them to abandon their hard-earned defensive acumen may well be present in the early going, one assumes that having to remind them about skating hard on the back check is a much more desirable position for the new coach to be in than having to teach them how to skate back hard.  With Niklas Backstrom and Josh Harding (and, finally, an heir apparent in Matthew Hackett), goaltending should also be considered a strength, although trading Harding could obviously change that.
Weaknesses:
In somewhat of a Wild trademark, where the heck are the goals going to come from?  One popular opinion among people that follow the Wild is that, just because they have a new, less-restrictive system doesn't mean the (primarily) same cast of characters will be able to score more goals in it.  Yes, Martin Havlat could build on a very good 08-09 in Chicago.  Yes, youngsters like James Sheppard and Benoit Pouliot could start to deliver on the promise that made them first round picks.  Yes, Brent Burns could shake off a rough 08-09 and get back on track as one of the premiere young defensemen in the league.  But, if all those things (and more) don't happen, the Wild will most likely find themselves in the 2-1 dogfights in which it is widely believed that Jacques Lemaire's hated system helped them win more than they lost.
Nick's Outlook:
It's hard to say that the Minnesota Wild is better, on paper, right now, than they were at the end of last season.  But, if you're not looking at them on paper, then it does appear to be a roster that bears evidence of a specific vision by the GM and head coach, which is an improvement from the prior regime's past couple seasons.  While it may take some time for that vision to bear fruit on the ice, improvement is still improvement.
Jim's Prediction: 3rd in division, 9th in conference
Vancouver Canucks: Luongo and the Sedins are poised for another great season
08-09 Season in a Nutshell: The Canucks were a team loaded for bear last season. Having the Sedin twins, Mattias Ohlund, Sami Salo, and Roberto Luongo all on the same team, the Canucks looked to be a huge threat in the Western Conference playoffs. They were derailed, however, in the second round by the upstart Blackhawks.
Key Acquisitions: Andrew Raycroft, Mikael Samuelsson, Christian Ehroff     Key Losses: Jason LaBarbera, Mattias Ohlund, Curtis Sanford
Player to Watch: Ryan Kesler, C – Kesler is a solid two-way player, an Olympic hopeful, and one of the guys charged with helping out a depleted blue line after the departure of Ohlund to Tampa Bay.
Must watch games: November 12th @ Detroit, February 6th @ Boston, March 5th @ Chicago, April 10th vs. Calgary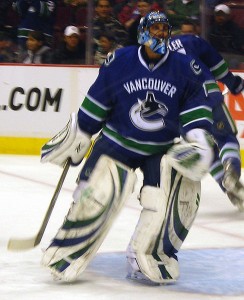 Derek Jung's thoughts on what the Canucks' pre-season success means are posted on THW.
Derek Jung, Canucks correspondent for THW, has some more insight into the 'Nucks:
Strengths:
-Goaltending:  As long as the criticisms stemming from last season's second-round loss to the Blackhawks don't affect him, Robert Luongo will continue to provide the Canucks with top-tier goaltending.  A swap of backup goalies (Jason LaBarbera out, Andrew Raycroft in) should have little to no effect.
-Scoring balance:  One of the great things to come out of last season for the Canucks was the long-awaited emergence of a second scoring line.  Ryan Kesler and PavolDemitra anchor a relatively potent counterpoint to the Sedin line, although we don't know who will be the third line-mate yet.
-Forward depth:  The reason we don't know who the third line-mate on the second line will be is because the list of potential candidates is lengthy:  Kyle Wellwood, Mason Raymond, Cody Hodgson, Mikael Samuelsson (if he doesn't play with the Sedins), Jannik Hansen, Michael Grabner, and so on.
Weaknesses:
-Lack of elite forward talent:  The list of decent forwards, as you can see above, is long.  The list of great forwards…not so much.  As solid as the Sedins are, they can hardly be called game-breakers.
-Lack of elite talent and depth on defense:  All the clamoring for a puck-moving defenseman is really lamenting that the Canucks don't have (and may never have had) an elite Dan Boyle-type who can instill fear from the back end.  A bigger problem is the lack of depth beyond the top five (Mitchell, Bieksa, Salo, Edler, O'Brien).  If the rumors are true, Mathieu Schneider would certainly help. Christian Ehrhoff and Brad Lukowich will help as well.
-General uncertainty on defense:  The loss of Mattias Ohlund means a large number of minutes needs to be absorbed by the remaining defensemen.  Can Ehrhoff and/or Lukowich be counted upon to fill Ohlund's shoes?
-Olympics:  The Winter Olympics in Vancouver spell double trouble for the Canucks:  zero rest for Luongo and a killer schedule featuring a 14-game road trip.
Derek's Outlook:
Relatively few personnel changes means that the Canucks will probably end up close to where they were this year — and since they ended up atop the Northwest Division, that's probably just fine for Mike Gillis and crew.
Jim's Prediction: 1st in division, 3rd in conference
James started out for The Hockey Writers covering the Atlanta Thrashers in 2009, and has also covered the Chicago Blackhawks, served as NHL Correspondent, and is now a Managing Editor and the site's NHL Central Blogger. He also writes for The Golf Writers.