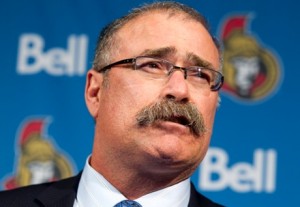 While haters are going to hate, hate hate, hate, hate, the Ottawa Senators have fired their head coach Paul McLean in a somewhat unsurprising move earlier last week. A poor record to start the year, only two years from winning the Jack Adams award, and being cited as often singling out better players, are the main reasons credited for the firing of Paul MacLean.
But the issue with the Senators and their bottom of the league record of 12-12-5, good for 29 points in 29 games is much deeper than the coach. A major part in their inability to win is that the Senators are currently ranked 24th in the NHL in Score-Adjusted Corsi. The start to the year suggests that the Senators are likely to finish at the bottom of the division fighting for 6th or 7th place in the division.  A coaching change might have a small change in their possession statistics (for the better or worse) but there are much larger issues surrounding the team:
The lack of willingness to spend money;
Poor spending of money;
Bad player usage; and
Bad defensive deployment.
Lack of Spending
Travis Yost, now of TSN, used to write for HockeyBuzz. Last summer Yost spent a large amount of effort digging into the finances of the Senators and essentially discovered that the Ottawa Senators and its owner are having huge financial difficulties. At the time it caused so much anger that Ukranian Hackers were hired to take down Yost and there is a link between that group and Eugene Melnyk. This story is not new to Ottawa fans.
What this has meant for the team is that the Ottawa Senators are a cap floor team, and it seems like they have been trying to find ways to get as close to the floor as possible.  Right now the Senators are sitting at 29th in cap spending with only Calgary spending less. This hugely affects the team because they cannot pay good players to help them win. You do not need to spend right to the cap to be a winning team, but you do need to spend.
Poor Financial Decisions
When the Senators have chosen to spend money on players it is always in weird ways. The Sens are lacking in terms of defencemen (outside of Erik Karlsson) yet management was refusing to budge on contractual discussions with Mark Methot over a few hundred thousand. Similarly, in the 2013 season Mika Zibanejad started the season in Binghamton because the Sens did not want to pay they higher cost of his Entry-Level Contract bonuses.
These choices make no sense, and continue to hurt the product on the ice, when the Sens are willing to overpay fan favourites, such as Chris Phillips and Chris Neil, when they are much worse choices than cheaper free agents or their own players. These decisions suggest management is trying to make choices that will bring more people on the ice, which ironically they would do by having a winning team.
Bad Player Deployment
Another decision the Sens management continues to make which weakens the team is which players they are using (or not). This is an area the coach does have some input in but it does not solely fall on MacLean's head.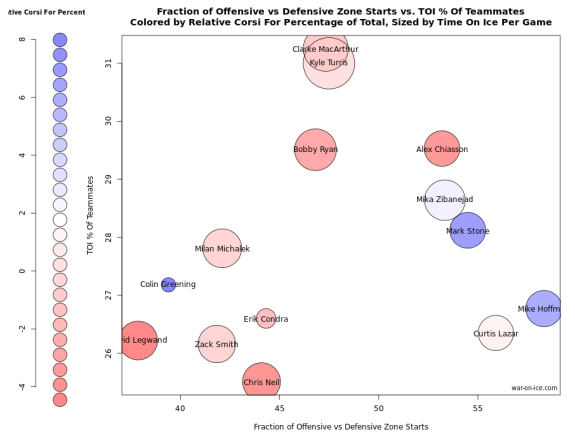 One example of this is Colin Greening is constantly sitting in the press box despite being better than players on the ice such as Chris Neil and Zack Smith. Despite very unfavourable usage Greening is posting positive possession numbers. Last year, over a much larger similar results were still held to be true as he walked away with better possession numbers than Neil and Smith. He may be overpaid, at $2.65M for a depth forward, but you might as well play the best you have.
Chris Phillips is in a similar situation in that the Senators insist on playing him, often in their top-pairing, when he is often the worst defencemen despite very favourable usage (a -4.3% Corsi Rel, worst of all defencemen, with a -0.2% Zone Start Rel%). Rather than playing a better play like Patrick Wiercioch they have him sitting in the press box so that the fan favourite can play.
In some good news, it looks like the new coaching regime may not feel the same way.
Bad Coaching
MacLean cannot come out of this article unscathed but the matter of the fact is, no matter how good or bad he is, the team cannot get better if it cannot get past the major hurdles already discussed. That being said there have been people questioning the tactics that are employed under the MacLean systems.
Both this season and last season the Senators have been 2nd in the league in terms of Shots Against per 60. This has lead people like Travis Yost to look further into the issues as it increases the goalie's workload and team success becomes more dependent on save percentages. As a team they should not be looking to block every shot, but the other extreme of avoiding blocks may have been hurting them. This all has made their defensive-team success in the shortened season labelled a mirage.
When we look at the results on the ice of the shots that the team has faced this year, the effects of MacLean are not as clear. As above we can see the Senators are allowing a much larger number of shots against, but from far away. This can be issues of a lack of blocking, but as these shots are typically easier to stop this may be an intentional effect of their systems. Additionally we can see the shots that the Sens are taking, a large portion of them are coming from close to the net which suggests they are able to get to the scoring-chance home plate for grade A chances.
There may be some issues coming from the intangible side of coaching that is having a negative effect on the team. This would include MacLean singling out the better players too often. While I doubt this helps the team I cannot see it having a large effect on their long-term results over the season. @MrsOSens wrote about the intangible issues with MacLean in good detail.
What Does this Mean?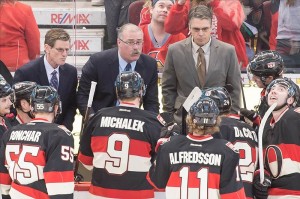 Firing a coach is usually the last move a General Manager has when his own job is on the line and I think that firing MacLean is more of a reactionary move from Bryan Murray. There are a number of issues with the Sens that are causing them to be performing so poorly, the majority of these issues stem from the lack of spending of money to the misspending of money. This further manifests itself as when MacLean was fired the Senators replaced him with the assistance coach Dave Cameron, someone already on the payroll, rather than look for someone new or better.
While MacLean may have been hurting the team with some of his decisions, these fall in the shadows of the major issues with the team, stemming from higher up, that are causing the Sens to perform so terribly.
Thanks to @mcollinknight and @Sheer_Craziness and their discussions for inspiring me on this issue
I am a Van Fan in Bytown. Living in Ottawa for work, I research Sports Analytics and Machine Learning and have worked with teams at various levels. I play hockey as well as a timbit but I compete in rowing with hopes of 2016 Olympic Gold.