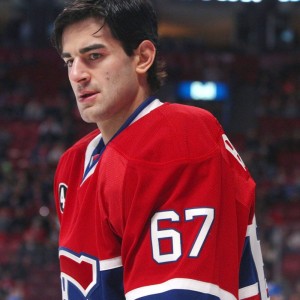 It admittedly may be too early in the season to assign blame for a failed Montreal Canadiens campaign, it having not started yet and all. However, that hasn't stopped captain Max Pacioretty from picking up right where he left off… in someone's doghouse.
This time it's U.S. coach John Tortorella's at the World Cup of hockey, who, after just a few exhibitions, has said: "He's OK, but I need more out of him."
Of course, what isn't making headlines is how Tortorella somewhat softened his stance just a few lines down: "We'll see where it goes. We know he's a really good player, great kid, we've just got to get a bit more out of him."
The fact remains, Pacioretty has become a go-to lightning rod for criticism, justified or not, dating back to last season, despite him performing up to, if not exceeding all realistic expectations.
While the Habs are meanwhile expected to sufficiently rebound from the disaster that was 2015-16, it doesn't hurt to outline the likeliest candidates who should draw the ire of fans in 2016-17. Somewhat mercifully, Pacioretty only barely makes the top five.
5) Max Pacioretty
The "C" on Pacioretty's chest sometimes doubles as a target, and, to a certain degree, that's how it should be.
However, one of the main criticisms aimed his way last season was in his inability to right the ship when the team struggled throughout December and January and ultimately fell out of playoff contention, in spite of a 9-0 start in October. As a result, one anonymous Hab said in regard to management: "They think we're soft, physically and mentally."
So, cue the trade of P.K. Subban for Shea Weber, one of the top leaders in professional hockey… at least that's how he's perceived. While Weber's just getting an "A," the move should alleviate some pressure from off Pacioretty and allow the winger to just continue doing his thing.
On the off chance the team falls apart or never gets going for a second consecutive season, there simply is no way to justify Pacioretty getting the lion's share of the blame now… when he probably shouldn't have shouldered as much as he did in the first place, with four other captains in the locker room last season.
That number is holding firm this season, not counting the addition of Carey Price to the team, its unofficial, emotional leader.
4) Marc Bergevin
It's an odd dynamic, because, even though Weber was brought in to help right the ship, he should end up being almost immune to criticism if it goes off course.
After all, he's not the one who traded a Norris Memorial Trophy-winning defenseman in P.K. Subban. And, if Weber's 31-years-of-age start to show, as they reportedly have recently, it's not like he ever falsified his birth certificate. General manager Marc Bergevin knew what he was getting when he pulled the trigger in other words… well, kind of anyway.
Bergevin"I understand PK is a popular & likeable plyr. Our fans are passionate. But what we are getting in return is a diamond in the rough"

— Amanda Stein (@amandacstein) June 29, 2016
It was no doubt a gamble, trading away a superstar defenseman in his prime, for another who's four years older and potentially exiting his. So, Bergevin is pinning a lot on the trade working out. If it doesn't, it could be his future with the team on the line. Thankfully for him, he has at least one trump card up his sleeve.
3) Michel Therrien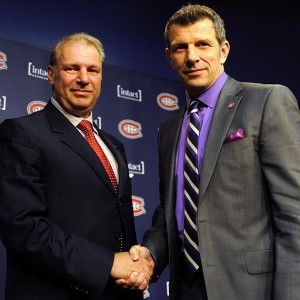 Michel Therrien has been the only head coach Bergevin has known as a GM in this league. So, one can understand any hesitation he might have experienced when deciding whether or not to part ways with his bench boss.
Bergevin could just be waiting for the right time to make the move, i.e., when he's out of literally any others and suddenly it's his butt on the line if he doesn't. GMs are traditionally awarded a mulligan or two when it comes to head coaches. So, once Therrien goes, Bergevin is theoretically hitching his last lifeline on his next hire.
Nevertheless, if Bergevin wasn't willing to fire Therrien after a stretch during which the team went 5-18-1, which included two consecutive 5-2 losses to the Columbus Blue Jackets, it's hard to imagine circumstances during which he would.
Honestly, even considering the injury to Carey Price was used as the main excuse for the team's horrid performance last season (so, a player who wasn't actually there to perform, to be clear), it is that outlandish that Therrien survives a second consecutive non-playoff season with a completely healthy star goalie in the crease? It shouldn't be.
2) Carey Price
It most likely would never come to that, but Price has been plagued with various lower-body ailments throughout his career. So, is 100% healthy ever really 100% from here on out?
Just spoke with @CanadiensMTL @CP0031 ,says he's 100% ready to go. Good to go for World Cup and regular season. Full interview on TH at 7et

— Gino Reda (@GinoRedaTSN) June 21, 2016
Habs fans certainly hope so, but they should also remember how, not too long ago, Price was plagued with consistency issues as well. Entering the 2014 Sochi Olympics, Canada's goaltending was thought to be a major weakness before Price established himself as one of the world's top goalies.
The season immediately prior to that breakout performance? He posted a .905 save percentage. Not only that, but his career had followed an interesting statistical trend, where he would enjoy tremendous success one year, starting with his rookie campaign in 2007-08, only to suffer through two straight mediocre seasons. It's true.
The Olympics and his eventual Hart Memorial Trophy put that to bed, but, should he falter after rehabilitating a season-long injury, would it not be possible that the dominating narrative in the Montreal media becomes that Price can no longer get it done… however unjustifiably?
It's sad but true, but it's a what-have-you-done-for-me-lately world. And if, on the off chance, 2016-17 turns out to be a disaster, you have to believe it will be either because Price got injured or didn't play up to his ability consistently enough. And what are the chances he gets injured again?
1) Alexander Radulov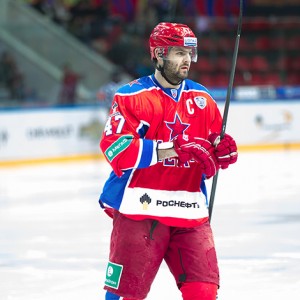 Montreal has been down this road before, as recently as last season with Alexander Semin. While signing the Russian winger was the right move at the time, it didn't stop Therrien from scapegoating him to a certain degree after Montreal's nine-game winning streak to start the season ended… despite decent underlying stats that seemed to indicate Semin's inability to produce was more due to bad luck than anything else.
Alexander Radulov is meanwhile no Semin, in spite of the similarities, i.e., their first names, their positions (primarily right-wing) and the just two years that separate them in age. Radulov has always been a more explosive, potentially franchise player, while Semin has traditionally been regarded as mainly the beneficiary of the talent of others.
Furthermore, injuries, including wrist surgery, seemed to limit Semin's offensive effectiveness over the final few years of his NHL career. So, theoretically, Radulov should be a success story in the making, and, yet, does it not strike you as entirely possible that he ends up a healthy scratch by Therrien at the first sign of an offensive slump, be it a team-wide phenomenon or one just limited to the single player?
It's no secret Montreal didn't do too well in the goal-scoring department from the midway point of last season on and Radulov was brought in to score. So, if Montreal is forced into winning games by 1-0 and 2-1 scores due to their over-reliance on a presumably healthy Price (as the Habs accomplished relatively successfully in 2014-15) and they're not getting it done? Radulov is almost just as easy a scapegoat as Semin was, due to the one-year terms of their respective deals.
That's not even taking into account his past issues with immaturity. Of course, one would have to believe that would never enter the discussion as a reason as to why it isn't working out. That would mean Bergevin's attempt to infuse character into the lineup didn't pan out as planned. In which case, maybe, just maybe, Radulov wouldn't be to blame after all.