With training camps (the World Cup of Hockey) set to begin in the coming days, the 2016-17 Montreal Canadiens season is almost here. For his part, Habs goalie Carey Price is raring to go, named the starter of Friday's pre-tournament tilt against the United States.
#canada Carey Price vs #usa #tvasports

— Renaud Lavoie (@renlavoietva) September 7, 2016
As far as predictions go, it's hard to really make one in Price's case for this coming season. After successfully dealing with consistency issues earlier in his career, he's already accomplished pretty much all he can from a personal perspective in the league.
In his comeback campaign following, for all intents and purposes, a season-long injury, the only real concern at this stage is whether the Habs will get a full year out of the guy.
Hence the first prediction on this list of bold ones concerning the upcoming Habs season:
5) Habs Will Stay Healthy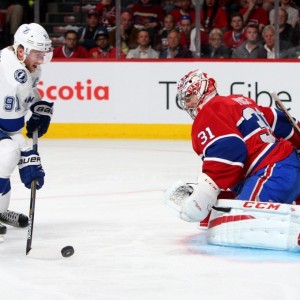 It's admittedly not that bold of a prediction to say Montreal will be healthier after they finished third in man-games lost last season. That's why it takes the No.5 spot here.
In fact, considering the Habs finished 2014-15 with a league-low 88 games lost due to injury, it's almost as if you could have seen the pile-up of last season coming. And, because that 2014-15 campaign wasn't as much an outlier as a reprieve from a few seasons of higher totals (including a league-leading 439 in 2011-12), playing the averages and calling for another milder one on the injury front is a good way to go.
That obviously bodes well for the Habs, even if injuries should never be used as an excuse. However, when it gets to the point that the coach is playing a glorified American Hockey League lineup, different standards should apply to what is essentially a different team. It's obvious that the key for Montreal is nevertheless keeping just a single player healthy, and the acquisition of Shea Weber should help there.
4) Radulov Will Hit 60 Points
If you're going to predict things like points scored by new Canadien Alexander Radulov, nothing comes more in handy than a predictive model. TSN's Scott Cullen just so happens to suggest applying a multiplier of 0.8 to Kontinental Hockey League totals to convert them to NHL ones.
While Radulov scored 65 points for CSKA Moscow last season, that was in just 53 games. Over 82 games, he would have been on pace for 101. Multiplying that by 0.8 yields 80 points. So, 60? It might sound a bit optimistic, but it's actually a very conservative figure, especially seeing as this is a guy who scored 58 in his last full season with Nashville back in 2007-08 as a 22-year-old, before he hit his prime.
He's only 30 now, far from over the hill and a good candidate to add much-needed secondary, if not primary scoring to the team.
3) Pacioretty Will Hit 40… Finally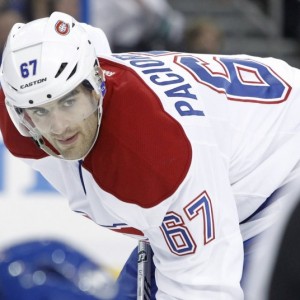 Officially speaking, Max Pacioretty is not a 40-goal scorer, having hit totals of 37 (2014-15) and 39 (2013-14) previously in his career. That doesn't mean he's not capable of reaching the plateau, though.
While he is coming off a kind-of-disappointing season, during which he scored just 30, he also notched his highest number of shots (303). That means, with some luck (or less bad luck), he could be in line for a career season, which is saying a lot, considering he's scored 60 points four times and he's just 27.
One of those times was last year, indicating he's not as much removed from his prime—as his critics might suggest—as he is firmly in it. A few things might have to go right for him to have a shot, but a lot already have, including the acquisition of Radulov, which, assuming head coach Michel Therrien plays them on different lines, could consistently lead to easier match-ups for Montreal's captain.
2) Canadiens Will Win the Atlantic Division
The only thing crazy about this prediction is how the Habs finished out of the playoffs last season. However, a similar story unfolded in 2012-13 after the Northeast Division-champion Canadiens had finished third from last the previous season. In fact, it's entirely possible, with the lineup Montreal now has, that the Habs will compete for the Stanley Cup.
That's obviously not the likeliest outcome and fans will probably settle for a division championship just to get the ship back on track. Nevertheless, an outstanding regular season has become the norm under Therrien, with 2015-16 being the exception and not the rule. It wasn't that long ago Montreal was among the league's elite as one of just a few teams to earn 100 points in each season since the last work stoppage. What often gets forgotten is Montreal has won two division titles in the last four years.
Believe it or not, the first of those seasons, Price posted just a .905 save percentage. So, this over-reliance on him isn't too longstanding of a development, with Montreal proven to possess the tools outside of the crease to succeed. It's just a matter of Therrien deploying them properly… or Price staying healthy so how he deploys them won't matter.
1) Too Much Credit Will Be Given to Weber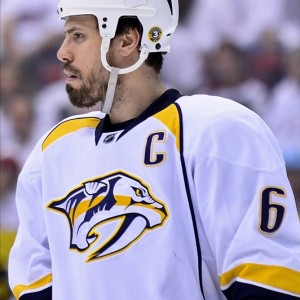 The big question revolves around how the Habs will do in the playoffs. The smart money is on a mediocre finish, exiting in the second round, at which point fans of all walks of life in town will join together in a beautiful harmony and inevitably drink their sorrows away.
Why not make a game of it to at least get a chuckle out of what otherwise would be a traumatic life-altering moment (that you'll eventually suppress deep down by the time the next season comes around)?
The rules should be simple: Every time Therrien or general manager Marc Bergevin goes out of their way to talk about Weber during the team's annual post-mortem press conference? Take a shot. Or simply heaps praise on the guy when all a reporter asks about is the play of the team as a whole in front of Price? Take a shot.
Hell, make things interesting by also taking a shot for each front-office member who comes out in a Weber jersey. If they bring him out with them to field questions? Down a whole bottle.
(Please drink responsibly).
There's little denying management has everything to lose if this trade doesn't work out. You could make a good case that they traded away the team's long-term future for a chance to win it all this season or the next one… even if they said they wouldn't… even if there's just as good of case to be made they'd have more of a chance with P.K. Subban still on the team.
#Habs Bergevin: "It's hard to make trades these days. Big players are rarely available. I won't sacrifice our future for short term gain."

— Chantal 🐾 (@pucksnlife) January 21, 2016
There should simply be a logical desire to make the trade seem better than it was, when, as alluded to earlier, they were already well-positioned to rebound from last season all on their own.
The fact they are just two years removed from a third-round finish with the same core with which they ended last season? There's unfortunately no room for it in the narrative that this team needed a culture change, brought about primarily by Weber, to succeed. So, here's to you.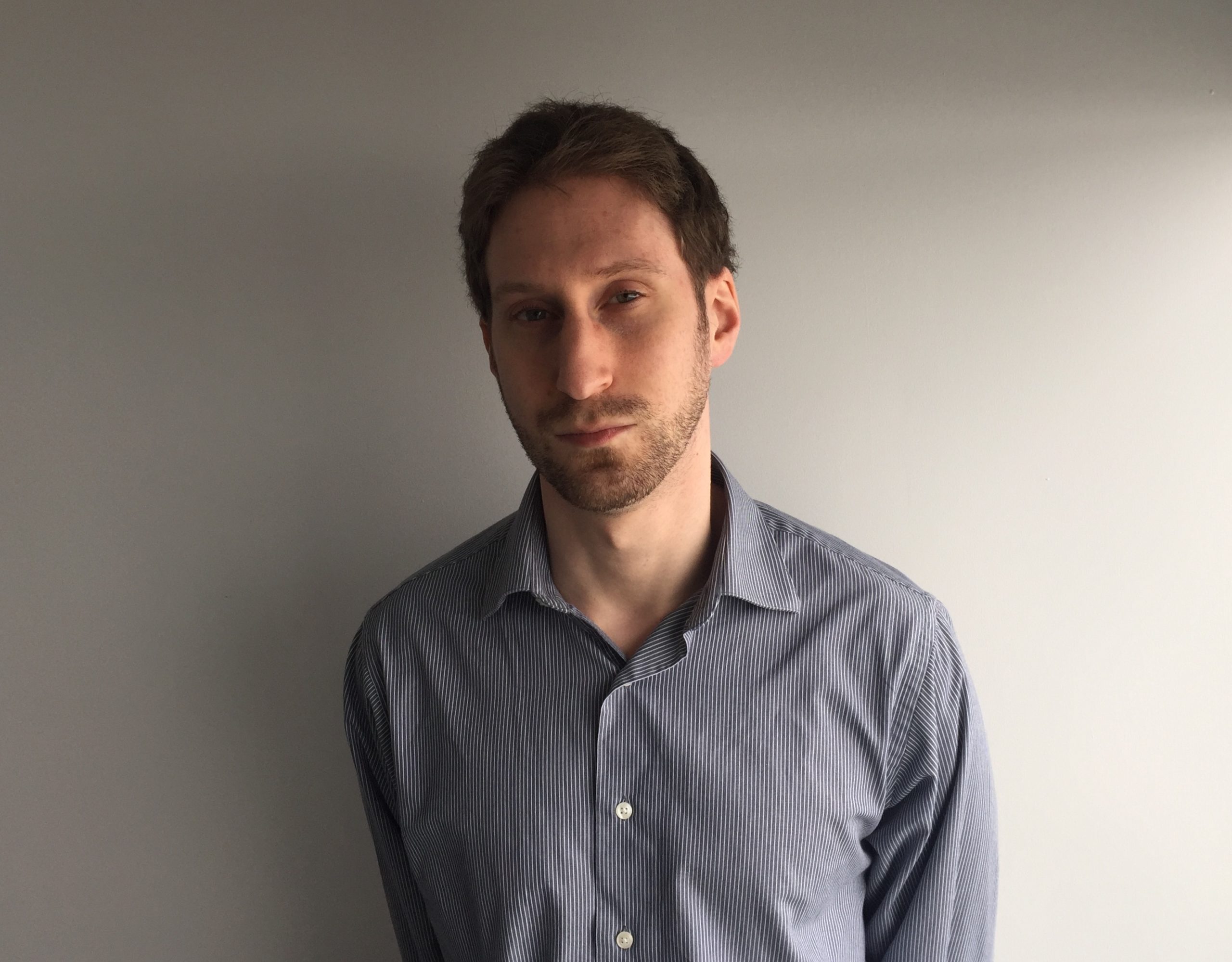 After 10 years of writing hockey, Ryan decided it was as good a time as any to actually join The Hockey Writers for the 2014-15 season. Having appeared as a guest on such programs as CBC Radio One's Daybreak, Ryan has also written for the Montreal Gazette and Bleacher Report and worked for the NHL itself and his hometown Montreal Canadiens. He currently writes about all things Habs for THW, with it being a career highlight for him to have covered the 2021 Stanley Cup Final as a credentialed member of the press.