You wouldn't know it, based on all the hype Auston Matthew and Patrik Laine have (justifiably) been getting all year, but the Montreal Canadiens have themselves a pretty good rookie these days too.
While Artturi Lehkonen hasn't had a trophy-winning-caliber season by any stretch, his 18 goals (10 assists) are nothing at which to scoff. That's just one less than Toronto Maple Leafs forward Mitch Marner (who admittedly has 42 assists to go along with his 19), and one more than Anthony Mantha (19 assists) who has generally been impressive with the Detroit Red Wings.
Lehkonen Making a Name for Himself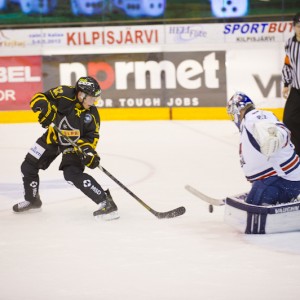 Of the five Canadiens 2013 draft picks to have dressed for an NHL game so far, Lehkonen (No. 55) is the last one to have made his debut (Michael McCarron, Jacob De La Rose, Zachary Fucale and Sven Andrighetto). He's arguably the one who's made the most positive impact… in just one season of work. He also may be the most talented.
Yet, you'd be hard-pressed to hear much of anything about the 21-year-old left-winger outside Montreal, and, for the time being, Habs fans should prefer it that way. He's the Habs' best-kept secret weapon.
Maybe it's in part because of the ice time he gets. His 13:51 is five full minutes fewer than Laine and the second-least of all the rookie goal-scorers in the top 10. Only Chicago Blackhawks forward Ryan Hartman was on the ice for less (12:46 per game to score 19).
On the Canadiens, you'd find him just below Greg Pateryn, who, when his wife wasn't greasing the wheels to get him traded, played just 14:22 per game. In terms of skaters who are still with the team, he's sandwiched between Paul Byron (15:04) and Torrey Mitchell (12:36).
It's pretty fitting, considering Mitchell is a fourth-line forward and Lehkonen is an adept defensive presence as well. Meanwhile, penalty kill-specialist Byron is no slouch in the goal-department this season either (22 for the second-most on the team; Lehkonen is tied for third).
Past Playoff Success
He's heating up at the right time too, not just in general, but for him as well. He has six goals and four assists in the last 10 games, entering the playoffs. Think of him as the anti-Jimmy Vesey, entering this first-round series against the New York Rangers. Vesey, who garnered all kinds of media attention when he signed with the Rangers last summer, scored six goals and three assists in his first 10 games of the year before seeing his production slow dramatically. He ended up with 15 goals and 11 assists, getting played just 13:36 per game.
If history is any indication, the best is yet to come for Lehkonen, who broke a Frolunda HC playoff points record last season in the Swedish Hockey League, scoring 19 in 16 games.
What's most notable about the accomplishment is that the previous record belonged to Daniel Alfredsson, and not a bright-eyed 20-year-old as Lehkonen was last spring… an in-his-prime 31-year-old Alfredsson. That was during the 2004-05 lockout, with Alfredsson returning to the Ottawa Senators in 2005-06 to set career-highs in goals (43) and points (103).
That isn't to suggest Lehkonen will become the next Alfredsson. For starters, Alfredsson captured the Calder Memorial Trophy in 1995-96 with an impressive 61-point season. There's no way to so much as make a case for Lehkonen to win it this year. In a season characterized by the race between Laine and Matthews, not to mention the success all the other Leafs rookies have had, Lehkonen has flown under the radar.
There are far worse things in the world entering the postseason.