Nikita Kucherov
Date of birth: Maikop, RUS
Place of birth: June 17, 1993
Ht: 5-10.5 Wt: 171
Shoots: L
Position: RW
NHL Draft Eligibility: 2011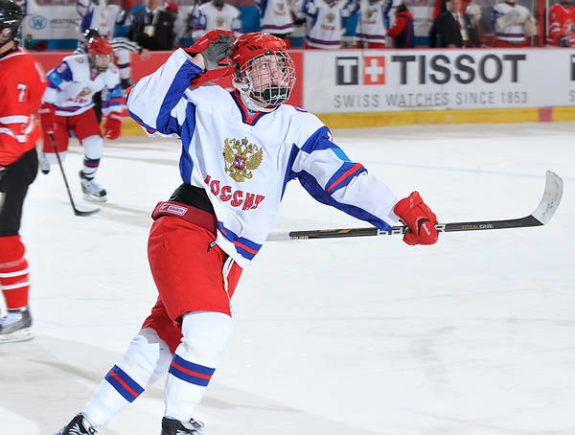 One-Timer:
Kucherov is an electric, explosive and dynamic offensive force with elite level speed. He possesses an absolute rifle of a shot and has adroit offensive creativity.
His talent came to the forefront to even the casual of hockey fans after his brilliant and record-breaking performance at this year's World Junior U18 Championships. He was an absolute domineering force, establishing a tournament record 21 points in seven games.
He also fared well at the recent scouting combine. While he is not a physical force, he does not shy away from the dirty areas and is not content with playing a perimeter game.
My co-conspirator, Eldon MacDonald in his Top 120 Rankings over at The Hockey Spy has anointed him "Mr. Game Breaker".  But let him tell you why in his own words:
"What kind of player is Nikita Kucherov??? Game-breaker would be the easy answer or heart breaker if you are playing for the other side. Nikita has an impressive arrange of advanced weapons in his arsenal. First of all, his one-timer is so good that he could live of that alone. Secondly, his speed is so devasting that he can back up defenders and use his sublime passing skills to finish the play. Thirdly, he is prepared to be aggressive on the forecheck and pounce on loose pucks. Fourthly, add vision, determination and an elite finishing ability and you have one elite hockey player.
Are there any negatives to Nikita Kucherov? The biggest negative and one that will affect when he gets drafted is the fact that he is Russian and appears to be committed for two more years playing in Russia. Maybe that is not all bad because it will allow him some time to correct his second biggest weakness which is size and strength."
Russian Roulette Factor:
Some call it the infamous Russian Factor. Because of developments in recent years such as lack of transfer agreement and the KHL enticing players, I go as far as calling it the "Russian Roulette" Factor.
Top Prospects Game: N/A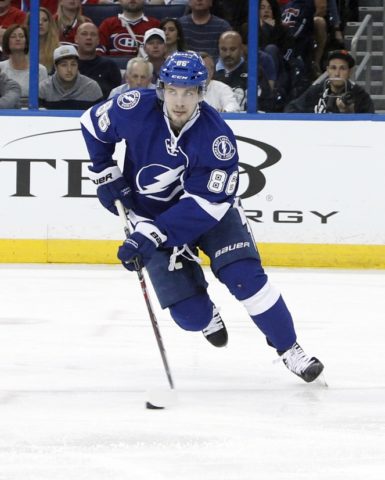 Scout's Honor:
"The young Russian is not a huge kid but he has amazing speed and scoring ability. He has a good burst and jumps on pucks quickly. His shot is a laser and accurate."
– HockeyProspect.com's NHL Draft Guide 2011
"Nikita Kucherov was the draft's best kept secret until the Under-18's, and those who've followed Kucherov over in Russia's Junior league have long known about the potential he has. He's an above-average skater, with good mechanics and quick, rapid strides. His puck skills grade as above-average as well, but not really in the stick-handling department as that aspect is barely average. Kucherov makes his play on the puck by the way of his passing skills, which sits comfortably as a 55 grade tool, but can flash 60. His finishing ability also grades as above-average. Kucherov has shown the ability to wrist goals from mid-distance, find and knock in loose pucks from close in and has a hard one-timer that he likes to unleash from the circles. His physical game at the moment is below fringe level, just because he's a short guy with a frame that is very thin and lacks strength, but his work ethic is good enough that when he grows, the tool can get to fringe. Kucherov frequently goes to the front of the net, at times spending entire power plays there, shows decent ability pressuring on the forecheck and will battle for the puck, but is easily overwhelmed by bigger players. He's a smart player who thinks the game at a solid to 55 grade level. His offensive smarts are seen in his patience and vision with the puck and anticipation of the play, and defensively he shows average ability, with the fact his combination of skating and work ethic let him fly up and down the ice help him stay on his check well. His intangibles are also quite notable and his coach noticed that, naming him the Captain of a team with plenty of 19, 20 and 21 year olds at the age of 17. Kucherov has the ability to play a plethora of roles, and once he bulks up, he's advanced enough to make the transition to the highest level pretty soon."
– Corey Pronman – Hockey Prospectus
Bio/Interview(s)/Link(s): Alessandro Seren Rosso (Hockey's Future)
"After an incredible U18 WJC, Nikita Kucherov deserves to be on the top of the list of players coming from Russia for the 2011 NHL Entry Draft. The small sized right winger put on a show in Germany averaging three points per game and breaking the scoring record held by Toni Rajala (EDM).

Kucherov showed at the U18s his full potential: goals, assists, dominant play and even some physical edge in spite of his relative small frame. Kucherov is a natural goal scorer with evident game breaking abilities. His one timer, wrist shot, puck skills, agility, and dangling abilities make him a truly entertaining player to watch and a constant threat for the defense. The CSKA Moscow player already declared that he wants to play another two years in Russia, but this is actually a good option for him as he needs to mature physically. First round material, but will probably fall due to the Russian factor."
International Tournaments:
2011 IIHF World U18 Championships – First Team All-Star on Team Russia's bronze-medal winning squad. He scored 11 goals and added 10 assists for 21 points in 7 games. He was tops in the tournament in goals and points, and Nikita was named the Best Forward of the U-18 WJCs for his efforts.
ETA = 3-4 yr
Risk-Reward Analysis:
Risk = 3.5/5 Reward = 4.5/5
NHL Potential:
Strengths:
*See "One Timer" section above.
Pure goal scorer
Laser shot
Great release on shot
Excellent puck skills
Tantalizing speed
Breath-taking creativity
Very good acceleration
High-end offensive acumen
Tenacious
Flaws/Aspects He Needs To Work On:
Continue to train to increase strength and add mass to frame to handle the rigors of the NHL.
Continue to develop his neutral and defensive zone acumen.
Consistency
Russian Roulette Factor
Fantasy Hockey Potential: Offensive = 9/10 Defensive = 6/10
NHL Player(s) Comparison:
– At his best: Blend of Pavel Datsyuk & Ilya Kovalchuk
– HOF comparison (if he tops out and reached all of his potential): Mike Bossy
Video(s):
Off The Iron (Interesting Notes):
Kucherov was chosen in the third round, 60th overall, of the 2010 KHL Draft by CSKA Moskva.
He has confirmed that he will remain in Russia for two more years.
THW's The Next Ones prospect profile template design architect: Chris Ralph
Christopher Ralph is THW's prospect and draft analyst
Chris is THW's senior draft/prospect analyst and a Managing Editor. Watch for "The Next Ones" Prospect Profile series, exclusive rankings, mock drafts, as well as the annual THW NHL Entry Draft Guide. Follow @ChrisRalphYQ on Twitter as he infiltrates, dissects and analyzes all happenings of hockey prospects and the NHL entry draft. Email: cralph[at]thehockeywriters[dot]com