It is that time of year again. While it may be little later than normal, today is the day we find out who will have the honour of making the first overall pick in the 2016 NHL Entry Draft. Much to the chagrin of the other 29 clubs across the league and their collective fan bases, watching the Edmonton Oilers continued good fortune at the annual event hasn't sat well with the masses. Despite the Draft Lottery being nothing more than a game of chance,  all anyone seemingly wants to do is whine and complain about the Oilers grabbing one talented youngster after another.
The Big Day is Tomorrow!

One Day until the NHL Draft Lottery!

830 nt/8 at/7 et/6 ct/5 mt/4 pt pic.twitter.com/FSpHQIYoqA

— John Shannon (@JShannonhl) April 29, 2016
[Related Article: The Edmonton Oilers and NHL Draft Lottery]
As has been previously mentioned in this very spot, contrary to popular belief, Edmonton has not been trying to lose hockey games over the past five seasons. In fact, since the start of the 2011-12 campaign the plan was for this group to start their climb up the Western Conference standings. Unfortunately, a never ending carousel behind the bench and a number of questionable personnel decisions led to this rebuild hitting a wall and spinning its wheels on an annual basis. Again, believe it or not, that was never the intent but here we are.
McDavid Lottery Changed Things
Luckily for them, those struggles landed them a generational talent in Connor McDavid and it is for that reason that so many have taken issue with the Oilers. While there were some rumblings surrounding the 2012 Draft Lottery win that ultimately landed Edmonton forward Nail Yakupov, it obviously came nowhere close to rivaling the sort of hostility that came their way after being awarded that kid that wears No. 97. With that said, there is nothing anyone can do to change that but it will be interesting to see the reaction across the league…should it happen one more time.
[Related Article: Auston Matthews Is the Prize the Oilers Want]
After watching the Oilers apparently "steal" McDavid from right under their noses, at least that is what they continue to tell themselves, one can only imagine how the eastern media and fans of the Toronto Maple Leafs would react to not being "given" their just reward for tanking to the degree they did in 2015-16. With the changes to the lottery being what they are, there is a real possibility that Toronto could not only miss out on taking home the No. 1 pick but also drop down to No. 4 in the final draft order. Safe to say things would not be pretty in good ol' Leafs Nation.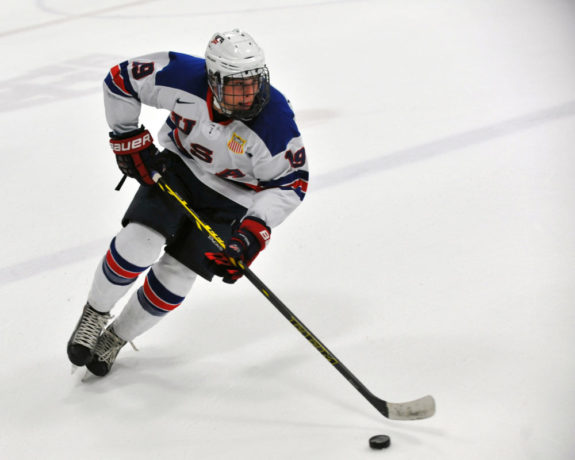 Adding An Impact Player
While any one of the 14 teams eligible to take part in tonight's event could leave the stage with the first overall pick in their grasp, you can bet all eyes will be firmly focused on one club. Now, would it be so far-fetched to see Peter Chiarelli's club come away as the bigger winner for a second consecutive year? It most certainly would but again, it will come down to nothing more than dumb luck. So if Edmonton happens to continue their ridiculous run of luck on Saturday night, is it really worth getting that riled up over?
[Related Article: Patrik Laine, Jesse Puljujarvi and the Edmonton Oilers]
By the sounds of it, Auston Matthews appears to still be the one most likely to hear his name called out first on June 24th in Buffalo. With that said, in Patrik Laine and Jesse Puljujarvi we are talking about two players who will almost certainly have an immediate impact in whatever NHL city they ultimately end up in. Make no mistake, this trio of kids are going to be special players for years to come and simply focusing on who wins or doesn't win the lottery would truly be an injustice to all three and in a sense, take away from the excitement of the moment.
I'm inordinately excited about the draft lottery. I can't tell you how badly I want the Oilers to win again, just to watch the world burn.

— Mark Lazerus (@MarkLazerus) April 27, 2016
After all, this is supposed to be an evening about three teams being given the chance to try and right the ship by adding a highly skilled player into their organization that could greatly impact their franchise both in the here and now and in the future. It really is that simple. So for those of you that are solely focused on finding another reason to take a shot at the Edmonton Oilers, do us all a favour and put aside your dislike for the Orange and Blue for just one night and simply let it be about the moment and nothing else.
Rob Soria is the Author of Connor McDavid: Hockey's Next Great One. He has chronicled the Orange and Blue since creating his Oil Drop blog in 2011 and has also had his writings featured over at HometownHockey.ca and Vavel USA, where he has covered the NHL, MLB and ATP Tour. Rob was born, raised and still resides in Edmonton, Alberta and can be reached via twitter @Oil_Drop.