Guest post by Craig Chambers, Field Producer TSN
The views of this wonderful piece of writing do not reflect the views of TSN or anyone else who pays me, because if they did this would not be nearly as fun.
I have a confession to make, but before I get to that I'll tell you a bit about myself.
I am a lover of all things gangsta. I still wear my pants with a slight sag, my vocabulary has a steady arsenal of 'dope', 'hype', and of course the 'n-bomb' any chance I get. That is what makes this confession so difficult.
Okay here goes…..I….am….wow….this is tough….I am a comic book nerd.
There, I said it.
Superman #75? Aka 'The Death of Superman". I own it. Still sealed. Spider-man #1 by Todd McFarlane? Not only do I own it, I own 3 different covers. Please, PLEASE don't get me started on my Incredible Hulk collection.
I'm always blending comic books with my work styles and luckily it has been pegged as 'cool' instead of what it really is. A sign of who I am. A nerd. Growing up my dad would always say to me "You are a nerd stuck in a cool guy's body". Plenty of my girlfriends would also come to this realization after a VIP trip into my bedroom. A Rickey Henderson poster side-by-side with a Star Wars poster equals another night of NHL 94. Good times.
Late last year when the NHL announced it was teaming up with comic book God Stan Lee to create 30 brand new superheroes for each of the NHL's teams I was pretty pumped, along with about 4 other people on earth.
Stan Lee has said that when these characters are brought to life on All-Star weekend it will be bigger than when he married Peter Parker to Mary-Jane at Shea Stadium. I don't need to tell you how great that day was.
On New Years Eve the 1st of The Guardian Project heroes was released. The Penguin! This was sure to be a disaster. Right?
(by the way – you can click on the images to make them a little bigger)
This isn't so bad! This is a good 1st release. 'The Gritty Young Savoir of the Steel City' is something I would gladly hide in the pages of the sports section to read at work.
The following is my take on the other heroes.  Remember kids, these are Craig's opinions and nobody else's. (This is my version of the warning that runs during TSN's The Reporters, which for all the American readers is very similar to ESPN's The Sports Reporters but basketball is replaced with hockey and football is replaced with….well…football.)
The Maple Leaf
This is too good to be true. A TREE!!! Stan Lee is clearly a Sens fan. This is amazing.
The King
The Casey Jones of the bunch (i.e. Ninja Turtles). Take away the shoulder pads and the mask and what do you have? Raitis Ivanans! I think they are better off with Dean Lombardi defending the city anyway.
The Hurricane
He is billed as 'A barometric nightmare with a personality as wild as the weather patterns he commands'. I'm 99% sure they stole this line from Jay Onrait's bio.
For my American brothers, meet TSN's Jay Onrait.
The Blackhawk
As the defending Stanley Cup champs they are exempt from all comments, positive or negative. Also, I really don't have anything to say about this one.
The Sabre
Wait….did he guy cut his own arm off? Also, why does he manipulate water? I'm not up to speed on my Discovery Channel viewing so maybe Buffaloes can do that now. Or the designer is a fan of the Flintstones and this is his inner Water Buffalo breaking out after many years of containment. Ack, ack, adack.
The Flyer
'The punishing warrior of Broad Street. A master of telekenesis and mind control with a granite chin.' Another bio stolen. This time, Bobby Clarke! The man essentially traded Daymond Langkow for Jeff Carter and a 2nd round pick. That is telekinesis at its finest, or 'telekenesis' as they wrote it. Hockey fans shouldn't know how to spell that word anyway.
*EVERY FEW HEROES I FEEL THE NEED TO POST THIS MESSAGE*
I love The Guardian Project. I think it's a great idea! I honestly hope this thing is still going strong by playoff time. I know a lot of us liked Pro Stars growing up. You hypocrites!
The Devil
This one is pretty bad-ass. A black horse that breathes fire. Pretty wicked. If they could just take that Devils logo off its chest then the other heroes won't laugh in its face.
The Wild
If you watch the video of this cat, he looks pretty cool. However, the pose in the photo reminds me too much of a character on Conan who is forced to wear a diaper. (Everybody over 35 just went to Google.)
The Oiler
Where the heck was this guy when Drew Doughty destroyed Taylor Hall! That would have been amazing! Watching this 'Roughneck Protector' jump the boards, shoot oil in Doughty's grill, then pile driving him into the frozen pond. Sportscentre Highlight of the Night FOR SURE!
The Lightning
This is a nice safe bet along the lines of the Penguin.  Plain and simple and something everyone can enjoy. See, I say nice things too.
The Predator
A titanium super cat that spits radioactive plasma! AWESOME! Is it wearing a wristwatch though? I guess when you are spitting plasma, you better be on time.
The Shark
Leafs fans are hi-fiving like crazy at the sight of this aquatic genius. This assures them they will not be the worst hero. This fella is dubbed 'a computer geek' that prefers to avoid conflict. That's because he will get his ass kicked! Look at him!
*IT'S THAT TIME AGAIN!*
I love The Guardian Project I think it's a great idea! I know some fans are 'outraged' but those are probably the same people that want Ovie and P.K. to tone it down.
The Bruin
This is BY FAR the best hero. Hands down. I would also like to point out that the Bruins will win the Cup this year, Bobby Orr is the greatest player ever, and Terry O'Reilly should be in the Hall of Fame. Did I mention the lights going out in Game 4 of the 1988 Stanley Cup Finals was all because the NHL wanted to make sure the Oilers would win, and Mr Gretzky would get his 4th cup?  I've said too much.
The Canuck
At 1st glance it looks like he has an orca on his back. This requires video review.
Okay, it's not a whale cape but he does have a waist cape!! Holy metro sexual Batman! Is this hero from Europe, because he is clearly ahead of the curve when it comes to superhero fashion trends.
The Canadien
Stan Lee said the biggest challenge in creating 30 new superheroes is making sure none of these Guardians look like any hero he has created in the past. Everything was going according to plan until he hired Robert Downey Jr's cousin Ralphy Downey to design The Canadien.
The Captial
Last week, TSN superhero Matt Cade and I were talking to Alex Ovechkin when he was in Toronto. I promised Ovie I wouldn't say anything bad about 'The Capital'. Believe me, I am dying to say something about his inner-left quad muscle.
The Red Wing
The power of an F1 and an F-14! Damn! The people in Motown would love this….. if there were an F1 automaker in Detroit and the F-14 wasn't a retired airplane. Are you saying the Wings are old Stan Lee? Are you! J This is my last article ever. Guaranteed.
The Blue Jacket
This is one guy you done want to mess with. Look at how many guns he has! I can see 7, and you know there are at least 5 more on his back, 1 in each of his shoes, and 2 more in his kneecaps. I want this guy at my side 24/7.
*THIS MESSAGE IS KILLING ME*
I love The Guardian Project. I think it's a great idea! I'm not being sarcastic. I'm being totally honest. The more comic related things we have in the world of sports the more chance I have of keeping my job after this article is done.
The Flame
If there were no such thing as "The Bruin" then this would be the best hero. The only thing I'm uncertain about is this 'flaming stampede' he can create.
The Star
This guy looks pretty wicked. I'd hate to give him a hi-five after a triumphant day in Dallas though.
The Coyote
How many 'The Coyotes are going crazy' jokes can I fit into 1 paragraph? There is no doubt that The Coyote is going to be the 1st to turn heel. Anyone that looks this crazy is destined to be a bad guy. Plus, The Coyote is already a villain in Winnipeg so he has a head start.
The Avalanche
The Rocky Mountain Mad Man! Love it. In a perfect world he wouldn't have that glass helmet on his head, but all cryogenic titanium suits come with some sort of helmet nowadays. Craig MacTavish was the last super hero who was allowed to roam the Earth without a helmet. Craig Mack, good guy, better superhero. I'm going to ask Stan Lee if he'll convert all the TSN on-air people into superheroes. I don't have to see the final results to know Mac-T will be the best hero. Sorry JD, you'd be the worst hero buddy. I still love you.
The Senator
It's official. Stan Lee is a Sens fan. It says 'Half man, half God' & 'The heart of a gladiator.' Only a deranged fan would ever write that about the Sens.
The Panther
Okay, they are definitely saving the best for last, but why are they trying to convince us this guy is 'fun loving'? I don't care how many jokes this dude makes, they only way I'm laughing is out of nervousness. If this is their idea of 'fun loving' then I wonder if the Panthers are open to hiring Sean Avery as their Director of Public Relations.
*THIS MESSAGE HAS NOW BECOME ANNOYING*
blah, blah, blah…I love The Guardian Project.…blah, blah…Stan Lee please don't delete The Hockey Writers website……
The Ranger
NYC is one of the greatest places on earth so I understand why this superhero is 'a regular in Manhattan's late night scene' as his bio says.
I was in NYC the night the Yankees & Red Sox squared off in old Yankee Stadium for the 2nd last time. That Yankee game was the last thing I remember from that night. Where was The Ranger to save me then?
The Duck
Okay. Wow. I want you to just stare at The Duck for a good 4 or 5 seconds. There is nothing I could possibly write that will top this. Congratulations Leafs fans, you just got bumped to #3. Sharks fans, you have your miracle. You are now #2.
The Blue
I know the goal is to make the Guardians relate to each team name and city, but one of The Blue's weapons is a sax. Even kids know that being a band geek is worse than being comic book geek. Don't worry, sports geeks are lower than band geeks. If you can answer this question you are a sports geek: What was Wayne Gretzky's NHL draft year (you didn't even get to the end of the question before realizing you are a geek)
The Thrasher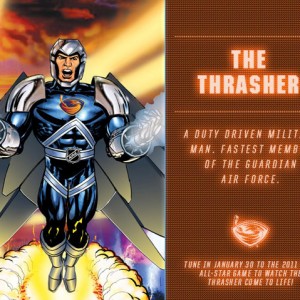 Since I know the odds of Thrasher fans caring about this are slim nil and none I'll use their Guardian to say this: It takes a lot of time and hard work for each of the designers to use their creative juices and design skills to essentially do the impossible and create 30 new superheroes. If you build tables for a living and 1 day the boss says 'I want you to build me 30 new tables, BUT they can't look like any other table we've ever seen before!' chances are you are going to get some pretty wacked out tables that look like every other table we've seen before. What the NHL is doing here is positive, no matter what is said. People are talking, kids dig this stuff, and the NHL is way ahead of the game in forward thinking. Man, trying to be nice really killed the flow of this article. Back to being a jerk.
The Islander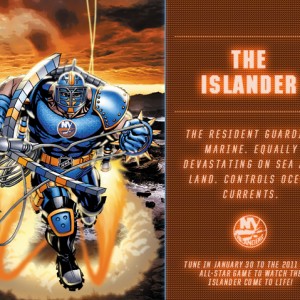 Why doesn't The Islander get to spend time partying on the Uniondale late night scene like The Ranger? Just because the Islanders' average attendance is lower than the QMJHL's Quebec Ramparts (and only 1,000 more than my beloved London Knights of the OHL), don't be fooled into thinking the bars around the Nassau Coliseum aren't an absolute zoo after every Islanders game.
There you have it. 30 superheroes that will be kicking ass during recess all across North America.
In closing, I would like to say that Dan O'Toole is possibly the smartest and nicest guy I've ever met. Why? Two reasons:
1. He has talked about the world famous Craig Chambers on the air before:
For the record my text to him did not say 'you are the nerdiest man on the planet' what I said was 'you are the whitest man on the planet'. I say this to him regularly to ensure I don't own that title (this article may ruin me though).
2. He forced me to write something about him or he wouldn't tweet it. What a con artist! This is the role model those wonderful children are going to grow up with? Shame on you Daniel Fredrick O'Toole. Shame…on…you…
Bye bye internet
About the writer (if you can call him that):
Craig Chambers left his hometown of London, Ontario in 1999 to join The Sports Network and has had the privilege of working on many of TSN's major events, including: the 2010 Olympic Games, the World Junior Hockey Championship, the Grey Cup, the NHL on TSN, and the CFL on TSN.
Craig also worked on CTV's coverage of Live 8, but has no rhythm whatsoever.
You can follow Craig on twitter if you dare: @TSNCraig