The Nuck Stops Here' is a Vancouver Canucks news and opinion column running every Sunday throughout the season.
NEWS
Canucks Re-Assign Ashton Sautner to Comets
The following is a press release from the organization:
Vancouver, BC – Vancouver Canucks General Manager Jim Benning announced today that the club has reassigned defenceman Ashton Sautner to the AHL Utica Comets.
Sautner, 21, has recorded eight points (3-5-8) and two penalty minutes in 19 games with Utica in his first professional season. The 6'1", 181-pound native of Flaxcombe, Saskatchewan native was signed by the Canucks as a free agent on March 14, 2015.
Sven Baertschi Injured
Forward Sven Baertschi is reportedly injured with a neck problem. There is no timeline on when he will return, but the timing is unfortunate, considering the 23-year-old has scored in three consecutive games directly before getting injured. It is not yet determined how he was injured.
Willie – Hansen is day to day. Baertschi has a stiff neck. Have to evaluate. Also, day to day. #Canucks

— Irfaan Gaffar (@irfgaffar) December 29, 2015
No timeline on a return for Baertschi. #Canucks

— Irfaan Gaffar (@irfgaffar) December 31, 2015
Jannik Hansen Fined for Embellishment
Jannik Hansen has been fined $2000 by the National Hockey League for embellishment. The call came at 10:15 of the 3rd period of a December 22nd against the Tampa Bay Lightning. The fine comes after a warning was given for an incident November 4th against the Pittsburgh Penguins. Lightning defenceman Nikita Nesterov was assessed a minor penalty on the fined offence.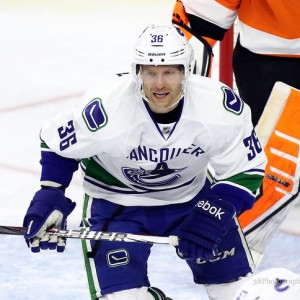 Scores of the Week
Vancouver Canucks – 0 : Los Angeles Kings -5
Vancouver Canucks – 2 : Anaheim Ducks – 1 (SO)
Current Record: 15-15-9 (38 Points ~ 3rd in Pacific Division, 9th in Western Conference, 20th in NHL)
ANALYSIS
Andrey Pedan fitting in nicely at NHL level
One of the main criticisms of the Canucks blue line has been their lack of grit and push back. Opposing players are constantly allowed to screen goaltenders and tap at rebounds with little to no threat of being knocked around. With Luca Sbisa out of the lineup, this problem only became more evident, but the organization may have found at least the start of something in Andrey Pedan. Pedan, acquired last season for project and former 2nd rounder Alex Mallet from the New York Islanders, has played a handful of games for the Canucks lately, and hasn't done anything to look out of place. His size proved to be of great use to the Canucks, and should he keep this kind of play up, it wouldn't be surprising to see him snag a full time position on the team. At 6'5″ and 213 pounds, Pedan  is an absolute beast, and could end up being an extremely useful player for the Canucks should his development go well. He's looked strong so far, so let's hope it's not just an aberration, and the team has found something here.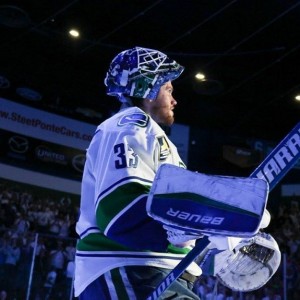 Jacob Markstrom continues to excel
With Ryan Miller out due to injury, Jacob Markstrom was tasked with taking over the Canucks net. Many were skeptical, and with good reason considering Markstrom's shoddy at best NHL history. Those doubts have been put to rest, with the 25-year-old Swede putting up a stunning .937 SV% and 1.92 GAA through four consecutive starts. (as well as a 3-1-0 record). Additionally, that has been done with the team in front of him scoring just five goals in those four games, and just four in regulation. We're not quite sure when Ryan Miller will be back, but one thing's for certain: when he does return, Marsktrom will be starting a much higher percentage of the games, and he'll have to work for his ice-time now that there's some legitimate competition. It may be a small sample size, but it appears as if though Jacob Markstrom is on his way to becoming the goaltender scouts touted him as.
@patersonjeff 3-1-0 in Markstrom's four consecutive starts. 0.937 SV% 1.92 GAA, allowed 1 goal three times. Get this guy more games

— Aaron Schulze (@aaronschulze) January 2, 2016
AROUND THE BLOG-O-SPHERE
Fun links about the Vancouver Canucks from all around the internet
Vancouver Canucks prospect report for December [Sportsnet]
Willie Desjardins is steering the Canucks through the storm [The Province]
Despite offensive struggles, Canucks could still very well make the playoffs [The Georgia Straight]
Team Canada, and in particular Jake Virtanen, had their struggles in their quarter-final game against the Finns [Yahoo Sports]
Why returning to the NHL is the right decision for Jake Virtanen [The Canuck Way]
Friday's SixPack courtesy of Wyatt Arndt [VanCity Buzz]