WELCOME BACK OHL STARS
Ryan Murphy, Brandon Saad, and Ryan Strome returned to their OHL clubs by their respective NHL teams. (Article)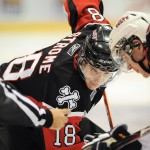 Ryan Strome had a significant debut for Niagara this season as he notched a hat trick in an Ice Dogs 5-0 win over Belleville. Strome tallied another couple points in his next two games to give him four goals, one assist for six points in three games played.
Hats Off to Ryan Strome
Brandon Saad has carried his strong play over from the Blackhawks scoring in both of his games back (Sarnia and Niagara) and registering two goals and three points. Saad had a nice breakaway goal versus Sarnia Friday night. Check it out in the Sarnia highlights below.
The smooth skating Ryan Murphy has made his impactful return to his Kitchener Rangers as well recording four assists in two games to go with a strong +3 rating. These three players are significant additions to their teams and the OHL.
SCHEIFELE SLOWING DOWN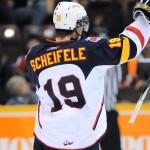 Does Mark Scheifele return to the Barrie Colts of the OHL? Time will tell but FC Hockey has noticed that Scheifele is slowing down. The big center has appeared in three NHL games and has gone pointless for the winless Winnipeg Jets. GM Kevin Cheveldayoff gave the young Scheifele a boost of confidence saying that Scheifele would have to play disastrous (paraphrasing) for the Jets to send him back down after Mark had an extremely impressive preseason for the Jets. Scheifele has six more games to make his mark in hopes of sticking before Winnipeg must make a decision on whether to keep him or return him to the OHL for the year.
PLYMOUTH WHALERS MAKE SOME MOVES
The heavily favourite Whalers received word earlier in the week that Leafs' prospect Jamie Devane was being returned to the Plymouth lineup. The overager forced the Plymouth franchise to shuffle up their lineup and eventually sent agitating overager R.J. Mahalak to the Sarnia Sting for a 2012 6th round draft pick. Devane has 3 points and nine penalty minutes in three games since returning to Plymouth.
SARNIA STING MOVIN' ON UP
All eyes are on the Sarnia Sting this season after newly appointed General Manager and Head Coach Jacques Beaulieu completely revamped the roster. The Sarnia Sting entered the week with a 4-1-0-1 record and were looking at four games on their schedule against strong opponents.
Sarnia started the week Monday with a come-from-behind victory to beat Windsor 4-3 in overtime. The Sting carried the momentum to Friday where they faced the returning Brandon Saad and Saginaw Spirit. Reid Boucher (5 points) and Charlie Sarault both recorded hat tricks and Nail Yakupov registered four assists in a 7-2 Sarnia win.
Plymouth Whalers were Sarnia's test on Saturday and it was another come-from-behind win for the Sting as 15-year old defenseman Anthony DeAngelo scored his first OHL goal in overtime to give Sarnia a 5-4 win.
The Sting returned home Sunday to play the first game in the '402-Series' in front of a packed house as the London Knights came to town to play for first place in the Western Conference. Alex Basso's four assist night would lead Sarnia to a 4-3 win over the Knights to go undefeated on the week (4-0) and stretch their win streak to seven games. Look for the Sarnia Sting to rise substantially in the BMO Top 10 CHL Rankings this week after beating some talented teams and improving their record to 8-1-0-1 on the season.
Highlights from Sarnia's weekly games.
Monday @ Windsor
Friday vs. Saginaw
Saturday @ Plymouth
Sunday vs. London
DRAFT WATCH: 2012 NHL DRAFT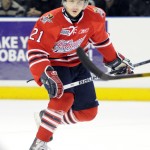 The 2012OHLDraftEligibleplayers.blogspot.com site is doing a great job profiling OHL players entering their draft year.
Brampton's Dylan Blujus
Oshawa's Scott Laughton
The OHL dedicated website provides plenty of good resources for OHL and NHL fans. You can take a look at one of their latest articles as well titled, "2012 Draft Could Be About Defense".
In the O Bloggers is running a weekly feature looking at 2012 also and this week's profile is dedicated to Eric Locke of the Barrie Colts.
IN TYLER WE TRUST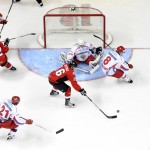 In the O Bloggers features an article "In Tyler We Trust" on Ottawa's Tyler Toffoli's quest to lead the Ontario Hockey League in scoring. Since being returned to Ottawa from the Manchester Monach's Tyler Toffoli has racked up seven goals and 14 points in seven OHL games and trails OHL Leader Nail Yakupov by 11 points.
WORLD JUNIOR POWER RANKINGS
Sportsnet's Patrick King examines the CHL's hottest and coldest players vying for spots on Team Canada for the upcoming Under-20 World Junior Championships. In this week's edition, several key OHLers are featured in the story including Ryan Strome, Ryan Murphy, Dougie Hamilton, Scott Harrington, Mark Visentine and other CHLers.
OHL SIGHTS AND SOUNDS
Jordan Subban (Belleville Bulls) scores his first OHL career goal
Anthony DeAngelo (Sarnia Sting) scores his first OHL career goal


Ryan Kujawinski (Sarnia Sting) scores his first OHL career goal
Scott Teskey (Mississauga St.Michael's Majors) scores his first OHL career goal
OHL News Radio Edition – Terry Doyle speaks with Riley Brace (Mississauga) and Sean Monahan (Ottawa) on this week's news radio edition.
SHANN-A-BAN? Pffft. COMMISSIONER DAVID BRANCH PUTS SHANNY TO SHAME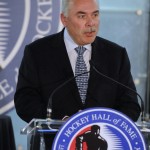 Much like the NHL, David Branch and the Ontario Hockey League is cracking down on head shots and irresponsible play. Last week, Commissioner Branch dealt out two 10-game suspensions to Generals' Kyle Hope and Spirit forward Josh Shalla for their hits on Sarnia's Julian Luciani and Kitchener's Matia Marcantuouni respectively.
To date, David Branch has shown that he means business as he has suspended a total of 15 players and one coach totalling over 90 games with the longest being to London's Kyle Flemington, who received 15 games for his head check (Video link) on September 30th.
OHL: Attack Coach suspended over fight 8-seconds into game
THE NAIL YAKUPOV SHOW
The high flying Russian continues to impress scouts and quiet critics as he starts the season red hot. This past week, Yakupov registered 2 goals and 10 assists for 12 points in four weekly games. To add, Nail finished the week with a plus-8 rating and climb to first in OHL scoring. Don't be surprised to see the Ontario Hockey League name Nail Yakupov the OHL Player of the Week later today.
On Saturday, I released my debut piece for thehockeyguys.net and it featured none other than Nail Yakupov. Please give it a read.
THG's Debut Piece – Yakupov Defined
WARNING: LEAF FANS TURN AWAY – DOUGIE HAMILTON FLYING HIGH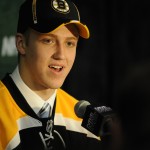 With the final piece of the Phil Kessel trade, Bruins GM Peter Chiarelli selected Niagara Ice Dogs' defenseman Dougie Hamilton ninth overall. That completed the Phil Kessel trade and the final tally is Kessel for Tyler Seguin, Jared Knight and Dougie Hamilton plus cap space that allowed the Bruins to trade for Nathan Horton. Dougie Hamilton has flown out of the gates and already registered five goals and seventeen points in nine OHL games this season to place him first among teammates and OHL defensemen. No more needs to be said regarding this Kessel trade but it is certainly good to see Phil doing well because long-term this trade has the potential to stink badly.
PUSHING THE DRAFT AGE BACK
Yahoo! Sports Neate Sager takes a look at Hockey Canada's President Bob Nicholson's plan to lobby to get the NHL draft age lowered.
THE PROSPECT NOTEBOOK
Brian Huddle of Hockeybuzz.com released his Prospect Notebook earlier today and has made some great observations about this past week's Canadian Hockey League action. Be sure to check out his weekly ten notes on the CHL (including the lovely OHL). Huddle's Prospect Notebook is a must read each week. Trending this week is Jarred Tinordi (Montreal Canadiens & London Knights), Nail Yakupov (Sarnia Sting), Vladislav Namestnikov (Tampa Bay Lightning & London Knights), Olli Maata (London Knights), Ryan Murphy (Carolina Hurricanes & Kitchener Rangers) and a kudos to the Plymouth Whalers' organization.
TOP OHL SCORERS (ending Monday, October 17th)
1. Nail Yakupov (Sarnia Sting): 10GP-7G-18A-25P
T2. Zach Hall (Barrie Colts): 9GP-10G-14A-24P
T2. Tanner Pearson (Barrie Colts): 9GP-8G-16A-24P
3. Colin Behenna (Barrie Colts): 9GP-6G-14A-20P
TOP OHL DEFENCEMEN SCORERS
1.Dougie Hamilton (Niagara Ice Dogs): 9GP-5G-12A-17P
2.Matt Petgrave (Owen Sound Attack): 12GP-4G-10A-14P
3.Alex Basso (Sarnia Sting): 10GP-2G-10A-12P
TOP OHL ROOKIE SCORERS
1, Max Domi (London Knights): 10GP-7G-7A-14P
2. Michael Clarke (Windsor Spitfires): 12GP-8G-4A-12P
T3. Bo Horvat (London Knights): 10GP-5G-5A-10P
T3. Artur Gavrus (Owen Sound Attack): 12GP-4G-6A-10P
OHL PLAYER OF THE WEEK
The Ontario Hockey League will announce the OHL Player of the Week later today (Monday, October 17) and the post will be updated at that point.  It's expected that Yakupov's 12 points and plus-eight over the past week will earn the right winger his first OHL POW Award.
EDIT:  As expected, Yakupov has been named the OHL Player of the Week.
Congratulations to Nail Yakupov!