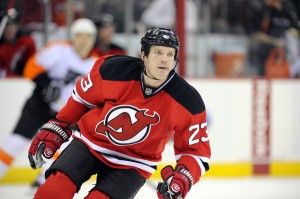 Devils forward David Clarkson scored his first goal of the young season Saturday vs. the Nashville Predators, a milestone the team hopes marks his ascent from the early season slump he appeared to be in.
Clarkson is one of the team's spark plugs. Whether it's a goal, a big check, or a fight, he's known as a guy who can change a game's momentum in one shift. But his play has appeared to be sluggish at times this season, with some uncharacteristic bad decisions and missed scoring opportunities baffling the team's observers. He simply wan't playing like David Clarkson.
During Saturday's win over the Predators, Clarkson missed on two golden scoring opportunities in the first period, one of which was a rebound off a Zach Parise shot in which he had a virtual open net, but couldn't get his stick on the puck. His frustration was beginning to show, and he took a five minute major for boarding later in the period.
In the third period, with the Devils down by a goal, Clarkson netted a slick feed from Mattias Tedenby, tying the game.
"You feel like you just went from the doghouse to you did something. So, it's a great feeling." Clarkson said after the game.
The Devils eventually picked up the two points in the shootout, and Clarkson appeared to play much looser the rest of the way. Perhaps getting the first goal under his belt, after missing on so many opportunities thus far, was what he needed to get him back to playing like the David Clarkson that is such a big part of the Devils success.
DEVILS NOTES
-Goaltender Keith Kinkaid, called up before the Nashville game Saturday to back up Johan Hedberg, was sent back to Albany as planned.
-Center Adam Henrique, recently sent down, had one assist in two games in Albany this weekend.
-Defenseman Adam Larsson did not practice Sunday in order to rest a lower body injury. He took a shot off his foot vs. the LA Kings Thursday night. The team does not expect him to miss any playing time.