In a season that was, unfortunately, marred by a lockout that saw nearly half of the schedule lost; not to mention numerous injuries to key players, the Pittsburgh Penguins were able to put together a rather impressive campaign.
For starters, Captain Sidney Crosby returned to the ice after a lengthy battle with concussion issues. And then there were the winning streaks, not to mention the Pens' record on the road. Throw in the trade deadline acquisitions that GM Ray Shero made and you have a recipe for some rather good theatre.
In retrospect, it was quite the year for the Penguins. Let's take a look back, in a bit more detail, at some of the biggest stories that helped shaped their 2013.
The return of the Captain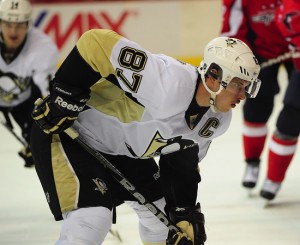 After a season and a half of dealing with headaches, blurry vision, and an inability to concentrate and focus on mundane, everyday tasks, Pens' captain Sidney Crosby finally returned to game action.
With a full summer (and fall, and part of winter. Thanks lockout) to recover, rehab, and ultimately practice, Crosby was ready to go when the puck dropped in Philadelphia on January 18th. Since then, and before Crosby took a puck to his jaw causing him to miss the final 12 games of the regular season, all he did was the lead the team and league in scoring with 56 points (15G-41A). To put it in perspective, Tampa Bay Lightning winger Martin St. Louis won the Art Ross Trophy for most points with 60 (17G-43A). Crosby was on pace for a personal record-setting season (71 points in 48 games at his current pace of 1.47 ppg, or 121 points in a regular 82-game season) before an errant Brooks Orpik slapshot caught Crosby up high, breaking his jaw and requiring surgery.
Look for Sid, once healthy, to return to his dominating ways in the Stanley Cup Playoffs.
The streak(s)
The 1993 Pittsburgh Penguins hold the NHL record for the longest winning streak at 17 games. Fast forward 20 years, and the 2013 Penguins were looking to match, and surpass, that streak. Pittsburgh played, by their record, a perfect month of March going 15-0-0. It all started on a Saturday night in Montreal for Hockey Night in Canada when the Canadiens hosted the Penguins. Fresh off of two, let's just call them less than stellar efforts, against the lowly Florida Panthers and Carolina Hurricanes, Pittsburgh needed to turn their fortunes around.
And a 7-6 overtime win was just what the doctor ordered.
It wasn't exactly easy at the beginning. It took come-from-behind wins in the first 4 games of the streak just to give it legs. Those include a comeback over the hated Flyers, after Philly went up 4-1 on the Pens after 1 period. Head coach Dan Bylsma pulled goalie Marc-Andre Fleury in favor of Tomas Vokoun. Between the first and second periods, Vokoun had some words of wisdom for his teammates, that may very well have been the catalyst to the first streak.
But the Pens weren't done there. Buffalo came to Pittsburgh and ended the streak at 15 games with a 4-1 victory. After losing the next game to the Rangers in New York 6-1, it was time to refocus. The next game was against those very same Rangers, only this time at Consol Energy Center. A 2-1 shootout victory helped get the Penguins back on track, en route to a 7-game winning streak.
All told, the Penguins went 23-4-0 including 10 wins on the road over the last 2 months of the regular season, including the aforementioned 15-game and 7-game winning streaks respectively.
The new blood
"In Shero We Trust" is a slogan that many Penguins fans have adopted in regards to free agency and the annual trade deadline. This season's trade deadline reaffirmed Pens' fans trust in Ray Shero.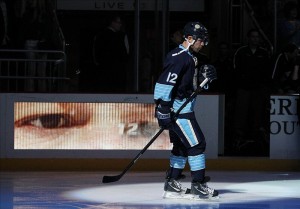 He was able to acquire perhaps the two biggest fish in the trade pond in Brenden Morrow (for D Joe Morrow and a 2013 5th round draft choice) and Jarome Iginla (for F Ben Hanowski, F Kenny Agostino, and their 2013 1st round draft choice). Add to those defenseman Douglas Murray and Mr. Everything Jussi Jokinen and Shero clearly stole the spotlight at the deadline.
In making these moves, the Penguins playoff slogan should be, simply, "All In." That's what the Penguins will have to be in order to live up to lofty expectations that their GM has placed on them.
In the end, the Pittsburgh Penguins and their fans expect to win The Stanley Cup in roughly two months. The road to Lord Stanley's Chalice is never easy, and rest assured they will endure some bumps and bruises along the way.
But so far, 2013 has certainly been a fun and exciting 5 months for the Penguins and their loyal followers.
I am on Twitter Follow @TDT_Pens4Life and if you're not already following me, then shame on you for the next six weeks. It's almost playoff time and I'll have a story in the next day or so on why the Stanley Cup, and it's playoffs, are simply the best of their kind in all of sports.
Thanks for reading everyone!!

"IT'S A GREAT DAY FOR HOCKEY!!"