It took just seven days for the Boston Bruins to turn their season around.
They were engulfed in a cloud of doom and gloom last week as the club sat outside the Eastern Conference playoffs for the first time since January. The resurgent Ottawa Senators stole the coveted eight seed from them thanks in large part to a goaltender Sens fans dubbed "The Hamburglar". The sky was falling as the Bruins and their fans collectively faced the reality that there could be no postseason hockey played at TD Garden for the first time since the 2006-07 season.
A week later, Boston's playoff future is as bright as the springtime sun.
The Black and Gold are on a three-game winning streak and have turned a one point deficit into a three-point lead on Ottawa and a six-point cushion on the Florida Panthers for the final playoff spot entering Thursday's action. Milan Lucic's game-winner with 1:09 left in regulation handed Boston two precious points against their Sunshine State rivals with a 3-2 victory on Tuesday night.
Is this the goal that sends Boston to the postseason? Time will tell, but his third goal in as many games instantly changed the collective attitude of Bruins nation.
Third Place Aspirations
Boston will now enter their game on Thursday night against the Detroit Red Wings with a chance to go level on points for third place in the Atlantic Division. Even though the Wings still have a game in hand, this matchup is paramount for both clubs.
Third place seemed a pipe dream for Boston just a week ago, but now it is within their grasp. They will enter Joe Louis Arena to battle a Red Wings club that has won just three of their last 11 games. (3-6-2). Anxiety over rumors regarding coach Mike Babcock's future in Detroit may be starting to seep into the dressing room at the wrong time in the Motor City.
The Bruins have taken their last three matchups with the Winged Wheel this season. Their fifth and final encounter will have massive playoff ramifications. After all, neither side is assured of postseason hockey….yet.
Spoonfuls of Pasta
Boston's recent success is thanks in large part to a youth movement up front. The line of Lucic, Ryan Spooner, and David Pastrnak has been a force to be reckoned with since coach Claude Julien put them together. The trio has combined to score seven of Boston's 11 goals in the last four games while playing better defensively.
Updated Spooner line numbers following Lucic goal: pic.twitter.com/Jr7NxuKBnD

— DJ Bean (@DJ_Bean) April 1, 2015
Pastrnak's contributions to the Bruins are comparable to the NHL's elite this season. According to stats.hockeyanalysis.com, the rookie has averaged 2.54 points-per-60-minutes played, good for 14th overall. He is superior to NHL superstars Steven Stamkos (2.12), John Tavares (2.05), and even Sidney Crosby (2.30) in this category. He may play fewer minutes than the company he keeps, but it is hard to dispute the contributions Pastrnak has given the club with his limited ice time.
The 18-year-old notched the game-winning-goal in Carolina on Sunday night making him the first teenager in Boston's 91-year history to score an overtime goal. Pastrnak also earned the Seventh Player Award on Tuesday night.
Not too shabby for a rookie, eh?
Spooner was given a second chance thanks to David Krejci's injury and has never looked back. Five points in the last four games have only corresponded with his consistent production since then. Seventeen points from 19 games have earned the 23-year-old center a permanent place on Boston's roster heading down the stretch run. The club has responded posting an 11-4-4 mark since he joined the club back on February 22nd in Chicago.
In addition, Boston's second-round pick in 2010 has 1.93 points/60 minutes this year. That number is higher than Detroit star Pavel Datsyuk (1.88) and the NHL's leading goal scorer Alex Ovechkin (1.77).
Spooner and Pastrnak are in the company of some of the NHL's elite thanks to their infusion of youth, speed, and skill on this season's Bruins.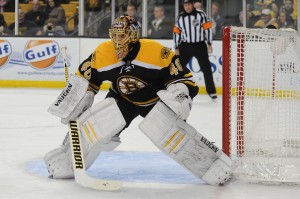 Tuukka Time
It is hard not to show Tuukka Rask some love after carrying the Bruins on his back for much of the season. Their franchise netminder has been a rock of late, allowing just six goals in the last four games while posting an impressive .941 save percentage. The lack of serviceable support from backup Niklas Svedberg coupled with the club's postseason uncertainty have forced Julien to play Rask more often than he probably would have liked.
The Finn has answered the bell for Boston all season long and has done so as the club enters the final handful of games on the season. It appears Rask may be heating up at just the right time when the Bruins need him to be at his best.
In the span of seven days, four games have turned the collective frowns of Bruins fans upside down. Boston is not yet assured of postseason hockey, but they are inching closer and closer to their eighth consecutive playoff berth.
It remains to be seen how they will fare in the postseason but if we have found out anything about this season, is it that these Bruins embody the spirit, grit and determination in the city which they play.
And that means they will not go down without a fight.