I confess.  One of the reasons why I'm writing this article is because it may be my last chance to savor the words, "Defending champs."
But I digress.  Before we get to how the Los Angeles Kings can fight back from being down to the Chicago Blackhawks, let's establish a couple things that won't happen.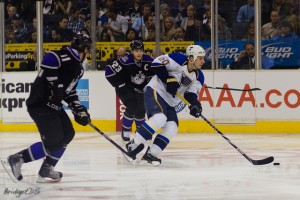 Anze Kopitar and Dustin Brown Aren't Walking Through That Door
"There's an excellent chance that when the Kings lose and injuries are revealed we'll find out Anze Kopitar has been dead for two months."  Stats and #fancystats both demonstrate how his game has decomposed.
[table id=88 /]
[table id=90 /]
Normally a dynamic first line duo, Kopitar and Brown have alternated shifts on the third line, to little avail.  Brown's playoff drop in effectiveness is as pronounced as his running mate's.
[table id=91 /]
[table id=92 /]
It's safe to assume these aren't the droids you're looking for to stage this Hollywood comeback.  The other lines, except those including Jeff Carter or Dustin Penner, shouldn't be counted on to press the attack either, unless Darryl Sutter can fool Justin Williams into thinking that he's playing three Game Sevens in a row.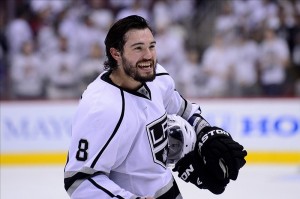 The Defense Won't Get Rest
It was expected that lead-footed Robyn Regehr would have trouble with the pecking Hawks.  In Game Four, he was demoted to second pairing after an atrocious seven-minute stretch where he took an interference penalty, made a bad line change that led to a Chicago goal, and threw a Jay Cutleresque outlet to Bryan Bickell.  However, we know what we've got in him: Tough, slow, stay-at-home, has trouble getting out of home.
[table id=93 /]
Regehr wasn't destined to provide much relief in this series; I was just hoping for fewer headaches.  The more aching problem: What's wrong with Drew Doughty?
[table id=94 /]
The minutes-munching Doughty VS Duncan Keith match-up looked like a series key.  So far, Keith has trounced his Olympic defensive partner, even after being suspended one game for a selfish, undisciplined Game Three high stick on Carter.
So can LA's most important defenseman keep the relentless Windy City forwards off his back?  There's some hope that moving Rob Scuderi up with Doughty, which happened after Regehr's follies, will help.  But how will a new partner affect Slava Voynov's fine work?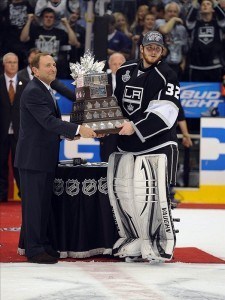 The Last Line of Defense
Some Kings fans will gnash their teeth, but the truth is that Corey Crawford has outplayed Jonathan Quick.  While the Blackhawks have flung higher-quality shots and dominated even-strength skating, scoring chances (stats courtesy of @RobertJFTC) are actually fairly even.
 [table id=95 /]
The difference?  Crawford has held ground, besides one regrettable stickhandling gaffe, and Quick has surrendered three soft even strength goals.   In a series where Los Angeles probably had no margin of error to begin with, he's made grave mistakes.
[table id=96 /]
Now, I wouldn't take three Crawfords for one Quick.  We all know what he's capable of.  If I had to pick any active goaltender to represent Team Earth in a do-or-die match against invading aliens, it's last year's Conn Smythe winner.
So while it's not fair to put it all on him, without doubt, Jonathan Quick is our best hope to beat the Hawks.
The infantry shot.  The trenches overrun.  There's but one savior between the hordes and our Cup.
Quick almost took Game One.  He will almost certainly have to steal the rest of this series for the City of Angels to sing on.