On the eve of the Western Conference Finals, here are five major match-ups to watch which will swing this "pick 'em" contest between the Los Angeles Kings and Chicago Blackhawks.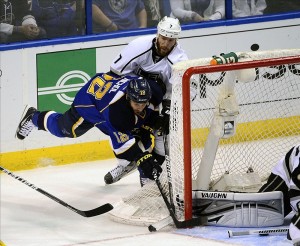 Windy City's Rolling Lines Will Batter LA's (Relatively) Porous Defense
The Blackhawks roll four, speedy lines which finished third in the league in even-strength puck possession (they had the puck 54.9% of the time).  The fourth line is headed by Michael Frolik and Marcus Kruger, the two most-used forwards of the conference's premier penalty-killing unit, so there isn't a weak sister in that house.  Across the street, Robyn Regehr and Matt Greene, the Kings' physical, stay-at-home defensemen, are slow and will be blitzed by Chicago's swiftness.  LA's D is a strong facsimile of last season's dominant group, but still just an imitation because of Rob Scuderi's regression, the drop-off from Willie Mitchell to Regehr, and rookie Jake Muzzin looking flustered in even heavily-sheltered minutes.  The Hawks figure to have their share of scoring chances.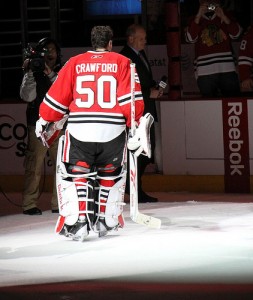 Corey VS The Best Goalie in the World
But there's a Goliath in front of Chicago's chances: "This battered Kings roster is held together with tatters and string. String, and Jonathan Quick awesomeness."  Can the Conn Smythe winner keep carrying the Kings?
"David" Crawford has yet to show that he's a championship-caliber keeper.  Despite leading the Hawks this far and posting glittering numbers, he's given up a number of softies, like this Game Six floater.  How will he react to the glare of a playoff spotlight that burns brighter with each round?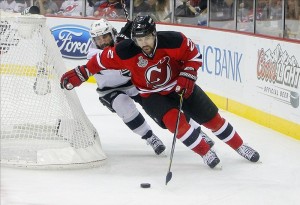 The City of Angels Fights Itself
Los Angeles isn't unhappy to see Crawford, but they have their own problems.  Chiefly, what happened to their regular season, even better than the Hawks puck possession prowess?  We've yet to see it consistently this postseason, as LA has puttered a timid 49% amidst whispers that the team was more banged up than usual.  Can the Kings re-discover their forecheck-driven puck possession menace?  The impending return of Jarret Stoll will help.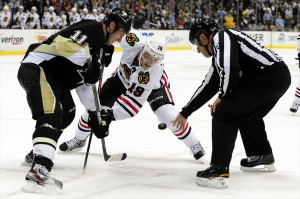 Hollywood Dances with Toews
Stoll is LA's faceoff ace, leading the team at 56%.  Trevor Lewis, who filled in admirably for Stoll otherwise, pulled out only 35% of his playoff draws.  Including Anze Kopitar (53%) and Jeff Carter (53%), the Kings have more competent options at the dot than the Blackhawks, which should aid puck possession.  Chicago managed to place 10th in the league in faceoffs, mostly due to Jonathan Toews, who won 59% of his faceoffs, while the centermen behind him registered 46% (Kruger), 46% (Dave Bolland), and 44% (Andrew Shaw).  The late-season acquisition of Michal Handzus did shore up this weakness.  Bolland led the team in defensive zone faceoffs against the Detroit Red Wings, so Los Angeles can look to get an upper hand there.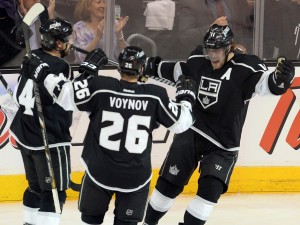 #FireKompon VS #FiredKompon
In a series which promises many one-goal games, nicking each side's top-notch penalty-killing efforts offers an upper hand.  The Blackhawks, with their cavalcade of world-class stars, has been surprisingly inept on the man advantage (19th in the regular season).  The same issue plagued the talented Kings last year (17th in the regular season).  Of course, current Chicago assistant Jamie Kompon ran both power play units.