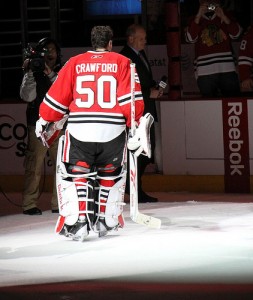 Most Blackhawks fans won't admit it's true.
The team themselves knows it's true.
The Chicago Blackhawks would be sitting at home right now if it wasn't for the heroics of Corey Crawford. Crawford is currently either number one or number two in most goaltending categories in the postseason. The stellar play of Crawford has put the Blackhawks on the brink of eliminating the Los Angeles Kings for good.
Crawford is much maligned for the types of goals he gives up. Ask any Blackhawks fans about Corey Crawford's game. They seem to remember the soft goal he gave up against the Red Wings but completely ignore the saves he made to help the team stave off elimination for three straight games.
The fans are more than willing to give all the credit to the blue liners. In most circumstances, I can see that but it is pretty obvious that Crawford should get the lion share of the credit thus far.
Even though Ray Emery started a handful of game for the Blackhawks, it was Crawford that kept things going during an intense, lockout-shortened season.  Don't forget that it was Crawford who started most of the games this season.  The credit for winning the Jennings Trophy, the award given to the goaltenders on the team with the fewest goals allowed during the regular season, went to Crawford. Fans seem to have such short memories.
Fast forward to Crawford's strong play compared to the play of Jonathan Quick. Coming into this series, Quick's accolades were well documented in comparisons made to Crawford. Even though Quick is the reigning Conn Smythe Trophy winner, Crawford has thoroughly outplayed him in this series. I originally thought that the Western Conference Finals would go seven games. It still can, but Crawford's play might end this series sooner than later.
If the Blackhawks win the Stanley Cup, I hope that Corey Crawford will be one of the first players to hoist the Stanley Cup. He deserves it.
Evan F. Moore is The Hockey Writers contributing Blackhawks Writer.His work has appeared in the Red Eye,The Checking Line,Gapers Block,ChicagoSide,Extra Bilingual Newspaper, Chicago Now, Time Out Chicago. He resides in Chicago.