When you're one of the fastest moving players in the NHL things tend to change even faster. As for Michael Grabner, well, he's had one hell of a year.  Although the player was between three different organizations in a calendar year, once he settled in with the New York Islanders he managed to score 34 goals, appear in the NHL All-Star weekend festivities, qualify as a Calder Trophy finalist, and renew his contract. It doesn't stop there. Grabner has proven to be a hot commodity inside and outside the arena. Despite all his success on the ice, he also found time to become a father and twitter phenomenon simultaneously. Quite a bold turnaround for the player deemed to be a bust only one year ago.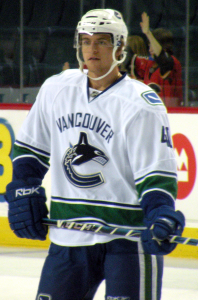 In 2006 Grabner was drafted 14th overall by the Vancouver Canucks and made his NHL debut on October 19th, 2009 recording an assist. However, after a swift eight months he was traded to the Florida Panthers in June of 2010. Unfortunately, Grabner never saw any time on the ice and was placed on waivers by October 3rd, 2010. When a young player bounces so frequently from team to team, dreams of the NHL start to fade, but luckily Grabner found his niche and was claimed by the New York Islanders on October 11, 2010 – immediately fulfilling expectations of a first round pick. Third times a charm.
Grabner recorded his first point for the team on October 13, 2010 and scored his first goal three days later. Despite this, success didn't come easy for Grabner as he only tallied 7 goals for the remainder of 2010 season. Luckily, once the calendar flipped to 2011, he proved to be a new man scoring 26 goals in 44 games (including all 6 of his short-handed goals). In my opinion the sudden spike in goals – and overall performance – was a result of proper coaching decisions. Grabner flourished because he was put in positions that played to his strengths such as increased time on the penalty kill, and breakout plays designed to create breakaway opportunities for him. As a result of this, he grew confident of his skills, grew even more comfortable within the organization, and was no longer concerned with the threat of replacement once again.
Grabner was the Islanders representative at All-Star weekend and proved to be worthy of the role with his victory in the Fastest Skater competition. Although it wasn't as important as a playoff game, a competition like this is a great confidence booster and furthermore, gives a player the much needed feeling of belonging. Grabner earned another chance to hangout with the NHL's elite when he attended the NHL Awards Show as one of the three finalists to qualify for the Calder Trophy. Jeff Skinner—Carolina Hurricane's forward—won the award, but the opportunity to be nominated (and attend the ceremony) is a sensational achievement that any rookie should be proud of.
His success continued off the ice when his girlfriend gave birth to their son Aiden on March 31st. During this time Grabner became very popular among tweeters (participants of a social networking site called 'Twitter') as he gave a 30 hour play-by-play of his wife's pregnancy while inside the hospital. For those of you on Twitter, Grabner can be followed at @grabs40. His popularity on the site is correlated to his blatant honesty – whether it is interacting with fans, or publicizing personal activities like playing Call of Duty with teammate Andrew MacDonald, or even announcing news such as signing a 5 year $15 million contract – Grabner has nothing to hide. Grabner's signing was the first announcement that many Islanders re-signed this off-season – starting a buzz that the team may be ready to play at the next level.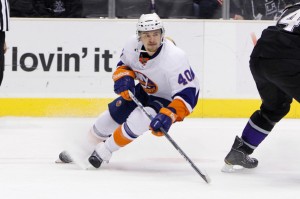 This May the Islanders and Grabner held an autograph signing at the team store in Sunrise Mall to celebrate the release of his "gremlin" t-shirt. During the regular season it was revealed that his locker room nickname was 'the gremlin' for his harsh facial features. His son Aiden has already been dubbed "little gremlin". Hundreds of fans turned up for the signing to grab one of the new shirts as well as a chance to chat with the Islander star.
Grabner said he lost five pounds in the off-season, perhaps increasing his already swift pace from last year. He's slated to be on the Islanders 2nd line along with Kyle Okposo and Frans Nielsen; a combo that could very well be the teams most productive string. Many players fall victim to a "sophomore slump", but as one of Grabner's followers on twitter, I noticed how often he was in the rink or a gym working to improve. I'd look for the "Gremlin" to build on a tremendous rookie season and continue to be one of the Islanders most productive – and promising – players to watch.
Lifelong hockey fan who enjoys attending games and chatting about the game.
Follow me on Twitter: @LRK31