Hello, readers of THW! First things first, thanks to Bruce and Jas for giving me the opportunity to join up.
Before I go any further, I'd like to take the next couple paragraphs and give a little background on myself. I'm currently toiling as a student at the University of Tennessee – Knoxville, majoring in psychology. My dream is to eventually become a sports psychologist, and while that dream is still very much alive at this point, my Plan B of becoming a youth/teen counselor is slowly becoming the more realistic of the two. I'm classified as a junior (as far as I know, anyway; it took the university two and a half years to update my classification from freshman to junior; goes to show how much they care), and, if I did the math right, am on track to graduate next December, with graduate school to follow. Whoo.
As far as my hockey background goes, I explained that in detail when I started up my personal blog last season. You can give that a read if you want to know why I took interest in hockey.
Enough about me. Time to talk some hockey.
Yesterday the Predators released their opening night roster for Friday night's opener at Columbus. Over the next two posts, I'm going to preview each player that made the cut, starting with the defense and goaltenders.
DEFENSE
Jonathan Blum – Injuries forced David Poile to recall Blum from Milwaukee late last season, and he ended up being a pleasant surprise, posting 8 points (3G, 5A) in 23 games, along with 2 assists in 12 playoff games. In the process, he made Kevin Klein look like a solid defenseman, which is an impressive feat in itself. With Cody Franson now in Toronto, Blum will have undoubtedly see more ice time, and will have more opportunities to contribute offensively on the power play.
Francis Bouillon – The physical defenseman was off to his best start offensively in a Preds sweater with 10 points (1G, 9A) in 44 games (he had 11 points in 81 games in 2009-2010) before going down with a season-ending concussion at Chicago on January 16th. Bouillon has suffered from post-concussion syndromes ever since and has suffered at least one setback in his attempt to return to action. He will start the season on IR, although Josh Cooper of The Tennessean provided a glimmer of hope that perhaps he will play in the very near future.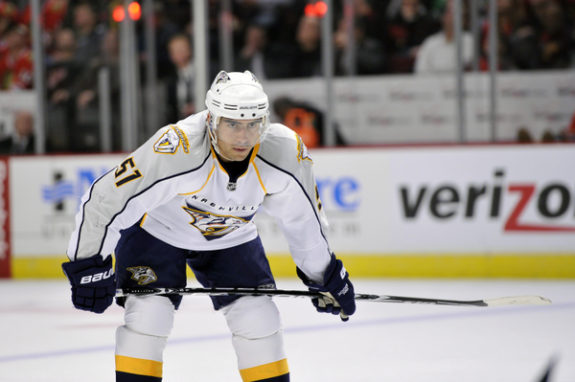 Mattias Ekholm – Ekholm comes over from Brynas of the Swedish Elite League, where he registered 33 points (10G, 23A) in 55 games, as well as 4 assists in 5 playoff games. There were thoughts that Ekholm would need to start the season in Milwaukee to get him used to the smaller rink size that's used in North America. However, with Bouillon starting the season on IR, it opened the door for Ekholm to start the season on the roster as the 7th defenseman. If Bouillon makes his way back into the lineup in the next few weeks, it wouldn't surprise me to see him demoted to Milwaukee to give him some playing time.
Jack Hillen – Exactly a month after David Poile stated that the Preds 3rd defensive pairing would most likely be comprised of rookies, he worked his magic with another under the radar signing in the form of Hillen, who had been let go by the Islanders via not extending a qualifying offer during the offseason. Hillen came into camp as a virtual unknown, and quickly found some chemistry with Teemu Laakso, impressing the coaching staff enough to earn a spot on the 3rd defensive pairing, for now. Hillen will need to continue to impressive as the season progresses, especially with prospects like Ryan Ellis and Ekholm waiting in the wings.
Kevin Klein – Klein has long been the scapegoat of many Preds fans (myself included), going back to his days of being paired with Dan Hamhuis. He seemed to improve somewhat last season when paired with Bouillon and Shane O'Brien, but the mental lapses were still there. It was only after the call-up of Blum that everything appeared to click. Klein had his best year in terms of offensive output last season, putting up 18 points (2G, 16A) in 81 games, and even chipped in a goal and two assists in the playoffs. Still, he is no offensive defenseman, and will look to improve on his steady play with Blum this season.
Teemu Laakso – Laakso has toiled in Milwaukee for most of the past three seasons, patiently waiting for his opportunity to obtain a full-time job on the Preds roster. With the departure of Shane O'Brien and injury to Bouillon, opportunity knocked, and Laakso took advantage, forming a solid defensive pairing with new arrival Jack Hillen. Like I stated with Hillen, it will be interesting to see if Laakso sticks with the big club in the event that Bouillon returns to the lineup. He has some offensive capability, posting career numbers last season in Milwaukee in all offensive categories (8G, 22A); hopefully some of that output transfers with him to Nashville.
Ryan Suter – Last season, Suter went down on hits by Cory Sarich and Shane Doan. In his absence, it was evident how important he was both defensively and to Shea Weber, as Weber struggled substantially without his sidekick. Suter enters his contract year after registering 39 points (4G, 35A) in 70 games last season, and also tallied a goal and 5 assists in the playoffs. Everyone knows Suter's role: an elite shutdown defenseman with some offensive capability. It will be interesting to see how the soon-to-be UFA (provided Poile doesn't get a deal done before July 1st) plays amidst all of the questions surrounding the "Big 3".
Shea Weber – The Captain. He's got a mean right hook and can shoot pucks through the net. And now he has a very expensive contract via a lengthy, ugly arbitrary process, with another potentially ugly offseason looming. Shea played in every game last season, posting 48 points (16G, 32A) and finishied runner-up in the Norris voting to Nicklas Lidstrom, but now the leader of the team will have questions of his uncertain future with Nashville coming at him from all directions wherever he goes. How he handles the pressure of a big contract and the extra burden through the media remains to be seen, but Preds fans will be holding their breath as the face of the franchise inches ever closer to the offseason.
GOALTENDERS
Anders Lindback – Lindback won the starting job during training camp last season, and his role appeared clear: play when Pekka Rinne needed a breather. Instead, Lindback was thrust into action on opening night after Rinne went down with a knee injury, and performed admirably while Rinne was injured. He only played in three games after the All-Star break. Nashville has 11 scheduled back-to-back games this season, so it's safe to say he will play in one game of each of those sets, but it will be interesting to see if he plays the same role this season to keep Rinne fresh for a potential playoff run.
Pekka Rinne – Even though he was injured on two separate occasions last season, Pekka still managed 33 wins in 64 games played, on his way to finishing 2nd in the Vezina Trophy voting behind Tim Thomas. Also in a contract year and with UFA status on July 1st on the horizon, he's in the position for a big payday if he has another stellar season, provided he can stay healthy.
Thanks for reading.  My preview of the forwards who made the cut will be up tomorrow.
Josh Farrar is a junior at the University of Tennessee – Knoxville, majoring in psychology. Born and raised in Tennessee, he somehow managed to become obsessed with hockey in a state where football is king.