The Los Angeles Kings were starting to gain some traction without the aid of a huge home-stand, having won three of four games — including two shutouts on the road against Minnesota and Arizona — going into their Saturday home matinee against the struggling Philadelphia Flyers. It seemed like a prime opportunity to continue to build some momentum heading into a five-game road trip.
Letdown Against Philly
Unfortunately for the Kings, they got off to a somewhat sluggish start, and that ultimately cost them as they dropped a 2-1 decision to Claude Giroux and company despite controlling much of the play late (for the game, Los Angeles out-shot Philadelphia 38-16, and 31-9 over the final two periods). That, however, can largely be attributed to the Kings pressing to come from behind, while the Flyers played more defensively to try to hold their lead. That's how winger Justin Williams saw it, as he was not satisfied with the Kings' performance — particularly their slow start to the contest.
"Listen, sometimes shots are misleading," Williams said after the game. "The fact that one team has a lead and they're trying to protect it and you're firing all you can at the net. Do I think it was as one-sided as a 2-1 shot ratio? No, absolutely not. They had a lot of Grade-A chances and we failed to come back from a lackluster start." (lakingsinsider.com)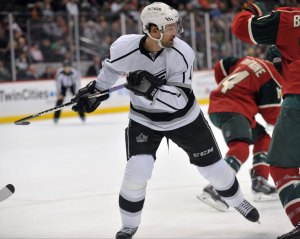 Williams and his teammates know that a consistently high level of play will be necessary to make the most out of their upcoming five-game road trip — their longest so far this season. At 3-4-4, Los Angeles has certainly had its share of struggles away from Staples Center (and those struggles have certainly been well-documented). They did shut out the Wild and Coyotes in their last two away games by identical 4-0 scores, so perhaps some of their road swagger is returning. However, they cannot afford sluggish starts like they had on home ice against the Flyers.
Upcoming Road Trip
The Kings' road swing begins Tuesday night all the way out in Buffalo. Despite the fact that the Sabres are one of the worst teams in the NHL, a slow start or inconsistent play can prove costly for anyone against any opponent in the NHL, and the veteran Kings are undoubtedly aware of that. They should be expected to come out strong, not only to atone for the issues they had against Philadelphia, but also to get the road trip started the right way and build more consistency away from Staples.
The trip continues up into Canada before coming back down and west, as the remaining four games will be in Ottawa, Montreal, Toronto, and St. Louis. It's a fairly tough stretch for the Kings, but this is a time where they need to start to get on a roll, build some consistency on the road, and get some points in the bank as the end of the calendar year suddenly begins to approach.
Los Angeles might very well be buoyed by the return of Marian Gaborik, who has missed the past four games with an upper-body injury. He participated in Sunday's practice at essentially full speed and on Anze Kopitar's line, per LA Kings Insider. Gaborik has been in and out of the lineup with nagging injuries since the start of the season, so if he can stay healthy for an extended period of time (always a major question mark with him), the Kings should be better for it.
Getting Gaborik back for most or all of this road trip will be critical for LA. It might only be December, but this road trip could be key in shaping the path the remainder of the season takes for them, as they look for more consistency in their game.