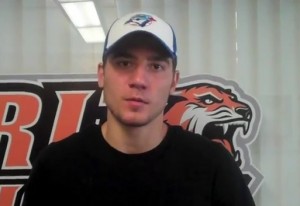 Early last year, Canucks rookie Chris Tanev was playing college hockey in the Atlantic Hockey Association for the Rochester Institute of Technology Tigers. What a difference 18 months makes. Tanev is now widely regarded as the highest rated defensive rookie in the Canucks lineup and the most likely to gain a permanent roster spot, playing in both of Vancouver's first two games of 2011/12. Not to mention being one game away from winning a Stanley Cup in only his 34th NHL appearance.
Anyone that follows hockey in BC knows that Vancouver loves rookies. As soon as Cody Hodgson was drafted 10th overall in 2008, he was already touted as a top 6 player, same goes for Jordan Schroeder, Eddie Lack and now Nicklas Jensen. Tanev's journey to the big leagues was a little different. He avoided the high expectations of young players in Vancouver by being picked off undrafted free agency by the Canucks during scouting of an NCAA tournament on May 31 2010. Tanev developed his skills with the Manitoba Moose for half a season before being called up to the Canucks due to injuries to Aaron Rome and Andrew Alberts on January 16 2011.
Tanev made his first team debut for Vancouver on January 18th against the Colorado Avalanche. While the Canucks injury curse brought him into the team, his calm style of play and dependability kept him there. He ended the 2010/11 regular season with 29 regular season games and 5 playoff appearances, keeping his spot even when the bigger name players returned. This says a lot for the ability of the 21 year-old, as does coach Alain Vigneault quoted as saying that Tanev was "very dependable".
Fans and media starting taking notice of the East York, Ontario native and despite his age and experience, he became one the favorites to make the 23 man squad, especially after the departure of Christian Ehroff and injury to Aaron Rome. Tanev edged out the likes of Alex Sulzer and Ryan Parent to make the cut. He scored his first goal in a Canucks uniform on the 20th of September 2011 in a pre-season game against the Calgary Flames.
Tanev played with familiar confidence in his first two games alongside out-of-favor defenceman Keith Ballard and should not be expected to return to the Chicago Wolves any time soon. He will most likely be rotated by Vigneault with 6'5, Andrew Alberts playing against the more hard-hitting and aggressive teams such as Philadelphia and Anaheim until Aaron Rome`s return. With Tanev's current contract not expiring until the summer of 2013, his entry-level cap hit of $900,000 per season is a great bonus for the Vancouver team, who are more often than not at the top of the NHL spending list and always pushing the cap limit.
Chris Tanev can be compared to fellow Vancouver defenceman Alex Edler, who was drafted 91st overall in 2004 and who also moved up the ranks quickly via the Kelowna Rockets and Manitoba Moose into the main squad. The two players are both noted for having poise with the puck, an important quality for young defenceman. Listed as 6'2 and 6'3 respectively, Tanev still needs to gain around 25 pounds to reach Edler's weight of 215. If Tanev can continue working on his strength and conditioning, as he did during this summer and work on some point production, Vancouver fans can expect to see a lot more from this young defenceman, especially with the rumoured pending retirement of  37 year-old Sami Salo at the end of this season.
Admirer of the NHL, Canucks and the Swiss NLA. Feel free to follow me on Twitter: @HockeyWest