With the COVID-19 pandemic forcing the NHL into a shortened 56-game season, winning games and collecting points in the standings will be more important than ever. And with a compressed schedule, team depth will be as crucial as ever.
Of course, the Hurricanes will be relying on their leaders like Sebastian Aho, Dougie Hamilton and Andrei Svechnikov for scoring, but in a newly-formed Central division packed with high-end talent, the Canes will need their secondary/role players to step up and separate themselves from the competition.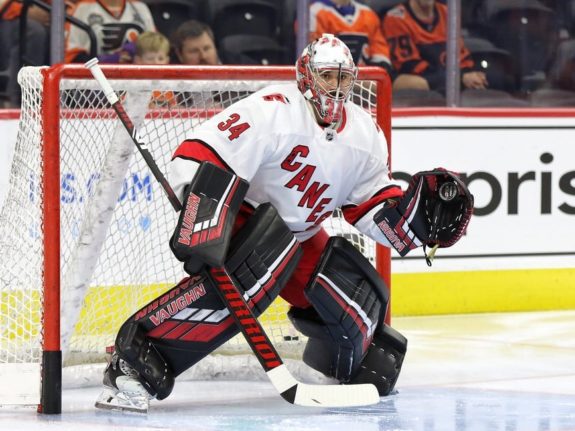 It only takes a quick glimpse at the depth chart to identify the players who may have a little more to offer, than they did in the 2019-20 season. For myself, there are three depth players that the Canes are reliant on to be key contributors this season in order to be successful. Without further ado, let's dive in.
Nino Niederreiter
After taking the Hurricanes by storm (no pun intended) for a half-season in 2019 after the Victor Rask trade brought him to Carolina, Niederreiter became quite a maligned player last season after a serious dip in production.
Expectations for Nino ran super high following a 14-goal, 30-point showing in just 36 games after his arrival in 2019. However, his play in 2019-20 fell off dramatically (just 11 goals, 29 points in 67 games) which led to reduced ice-time and steady criticism from the fanbase.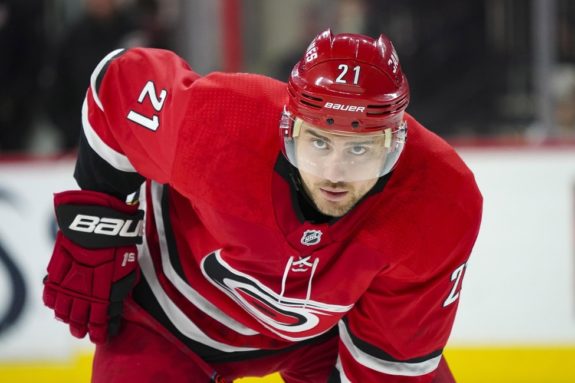 Going into the 2020-21 season, I strongly believe that the Hurricanes need to do whatever they can to get Niederreiter going. When he was at his best in the 2018-19 season, the Canes went 24-10-2 with him in the lineup, and Nino was a vitally important player for them.
With depth sure to be tested and a spot in the top-nine up for grabs, a return to form for Niederreiter would be a very desirable outcome for the Hurricanes. Only 28 years old and a four-time 20-goal scorer, the Canes are paying him to be a difference-maker ($5.25 million cap hit) and need him to be at his best. 
If Nino can find his game again, the Canes could opt to deploy him on the top line with Sebastian Aho – where he was super successful in 2019 – and bump Svechnikov down to the second-line and spread out their scoring. Regardless, this will be a big season for Niederreiter and his NHL career, and he'll be a player to keep a very close eye on.
Jake Gardiner
I feel like a portion of the Canes fanbase was overly critical of Gardiner during his first season with the team, due to the reputation he had from fans and media during his time in Toronto. All things considered though, he had a rather solid debut season, after signing a four-year deal last summer in free agency.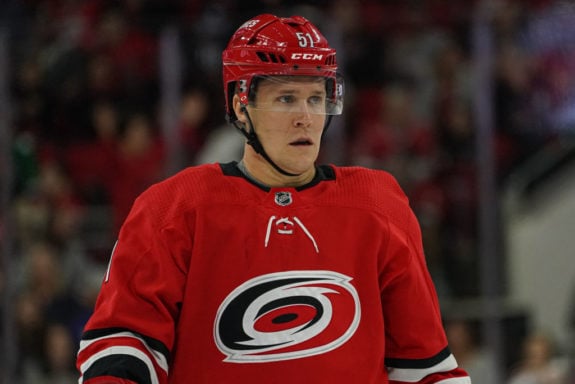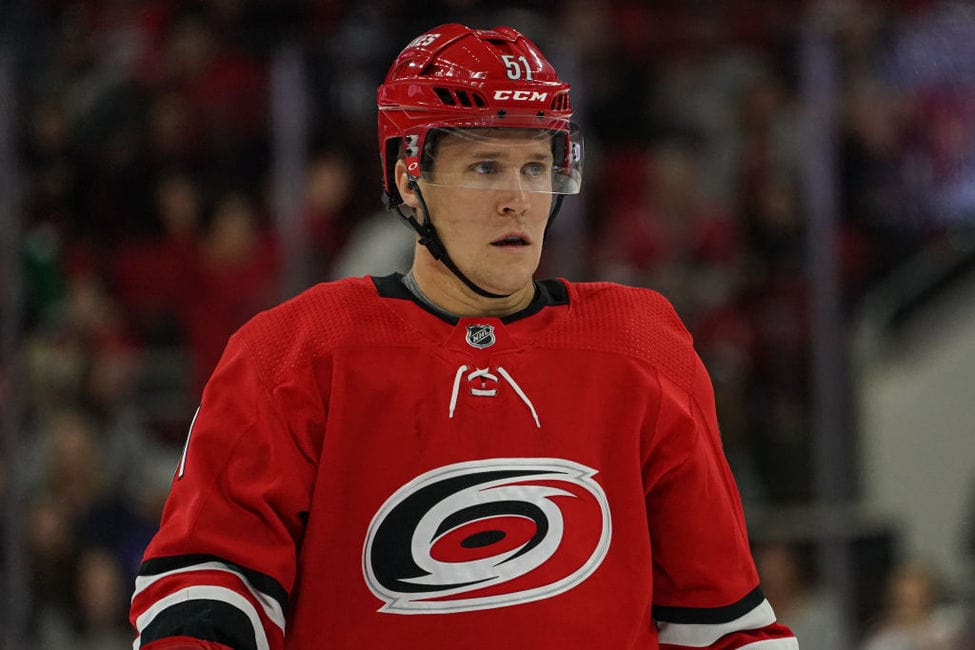 For starters, Gardiner had a completely different role than what he's been accustomed to. After eight straight seasons of playing top-four minutes (and over 20 minutes per game), he was instead a main-stay on the third pairing and played a career-low 16:40 per game. He also quarterbacked the second powerplay unit (after manning Toronto's PP1 for years).
Despite the change in role, Gardiner excelled. Detractors will point to his minus-24 rating, but he set a career-high with a 55.6 Corsi percentage and fell victim to a league-low 95 PDO (with an on-ice shooting percentage of 6.1%). Despite the bad luck, he tied for the team lead in powerplay assists amongst defensemen with 10 and was vital to the PP2's success.
Though he's not relied on for a heavy workload, Gardiner being successful is game-changing for the Canes. He's easily one of their best puck movers, and can really impact games with quick transitional play and sharp stretch passes. He also figures to man the PP2 yet again, and, as evidenced last season, the success of that unit runs through him.
A lot of fans forget that when the Hurricanes were without Brett Pesce and Dougie Hamilton for a large stretch of games last year, Gardiner was arguably the team's best defenseman in a number of those games, playing some tremendous hockey. With a stable partner like Pesce or Haydn Fleury next to him, a free-roaming Gardiner can be dynamic, and a potential X-factor for this team.
Petr Mrazek
I could've easily put James Reimer in this spot, but I think that *most* Canes fans would consider Mrazek the 1A goalie – so I went with him. The bottom line is that the Hurricanes need solid goaltending, and they're going to need someone on their current roster to provide it.
Hurricanes fans have long been awaiting a goaltending acquisition via trade or free agency since their elimination from the 2020 playoffs – though it hasn't happened. After dealing with inconsistency from both Petr Mrazek and James Reimer last season, and with neither guy really emerging, media and fans had pegged goaltending as the Canes' biggest area of concern, though it was not addressed.
Answers to the short and long-term goaltending questions will surely be provided this coming season, as Mrazek, Reimer, and long-awaited prospect Alex Nedeljkovic are all going into the final year of their contracts. It's likely all three of them will see time in the crease, and the majority of starts could go to whichever of them emerge from the group.
My eyes will initially be fixated on Mrazek – who's led the team in starts in each of the past two seasons – and has had the most success. His streakiness in goal is well documented, but when he's locked in, he's currently the team's best option in net. He was the backbone of their fantastic run in 2019, and, despite criticism from fans, was superb in the 2020 playoffs.
If Mrazek can be "the guy," they'll be a tough team to handle. He's a very hard goalie to crack when he's in form, and with the Cane's strong D core and potent (though inconsistent) offensive flair, they have all the qualities of a top-tier NHL team. Their biggest question is in goal – and the hope is that Mrazek (if not Reimer or Nedeljkovic) can be the answer.
The Hurricanes, of course, will be banking on production from every player on the roster. Hockey is ultimately a team game, and every player needs to play their role successfully for a team to strive. However, significant contributions from unlikely and secondary sources can be the difference between success and failure for a team – which makes these three guys all the more pivotal to the Canes' group.