Do you run a website and struggle with revenue optimization? 
As online publishers, we all strive to deliver the best content AND the best experience to our audiences…and that HAS to include the advertising we use. Up until recently, independent online publishers had to rely on their own gut instincts or the advice of fly-by-night "ad partners" who promised the world and under-performed.
Well, that struggle is now over and the solution is one name — Ezoic. Here's how we doubled our mobile revenue simply by using continual, automated testing from Ezoic.
If you want to head straight over to Ezoic's AI system, just follow this link, but I urge you to read our story and, if you like, ask me any questions you may have.
Giving Ezoic a Try
At The Hockey Writers we've tried many advertising networks over the years. Some have worked out just well enough, while the majority have fallen flat — they all promise to beat existing rates easily without actually knowing what our rates are.
[miptheme_quote author="Bruce Hollingdrake, Founder & Editor-in-Chief, The Hockey Writers" style="text-center"]I can't tell you how many times we tried these guys out and it always went the same way…we install their code, wait a couple weeks for the 'magical' uptick in rates and end up very disappointed when that never occurs.[/miptheme_quote]
Late in 2016, I was contacted by yet another service — Ezoic. At this point, I had grown tired of testing out new providers and was hesitant to waste more of my time on another over-promising agency.
This one seemed different, though.
They didn't want to just dump ad code into our site…they were all about testing ad placements. They wanted us to drop 10 to 15 ad placements on a page and have their system test for all kinds of different scenarios. They also taught us to focus on EPMV, not CPM, which was an eye opener.
EPMV, or Earnings Per Thousand(mille) Visitors, is a measurement of revenue per visitor.  A quick example: Page A has a cpm of $5 – a visitor checks it out then leaves. Good cpm rate but not a great user experience. Now using EPMV, Page A and B have cpm rates of only $3, but your visitor reads Page A then moves on to Page B, giving a better user experience and an EPMV of $6. You've maximized that visit.
All of this came with zero up-front costs to us.
The Ezoic Slider
The thing that really hooked me, though, was 'The Slider'. With the adjustment of a simple slider we could send 10% of our traffic into Ezoic and keep the rest as is.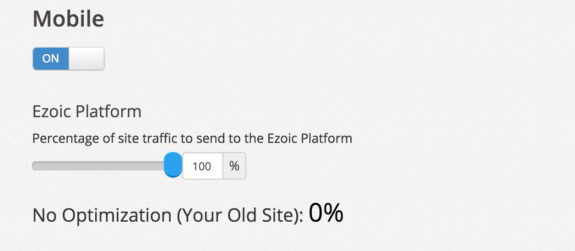 After a month, we begin noticing that Ezoic's system seemed to be getting smarter and the EMPV rates had a slight uptick…very promising and a very different experience with an ad partner. The more traffic you send to them the quicker their system will learn, so we were encouraged to nudge the slider a bit more — and saw even better results.
I then decided that Ezoic had shown me enough to convince me they weren't just another over-promising agency using the same ad codes and the same results as everyone else. My thinking, at this point, was to have an even-strength battle between my old system and this new Ezoic 'smart' system.
---
Ezoic — Website Intelligence for Digital Publishers
---
I set it up so that 50% of our traffic was going to Ezoic and 50% with my old Ad partners and see who brings in more real dollars.
You can probably guess the results. A substantial out-performance by Ezoic. Enough, in fact, to convince me to move the Slider up to 75% — I still wanted to keep some traffic to my old setup so that I'd have a comparison as the testing and learning continued.
By this time, I had a much clearer understanding of how Ezoic worked and along with enough conversations, emails and skype chats with my Ezoic representative, I had become very confident in their operations and was happy to become partners with them — so much so that I have now moved 100% of my Mobile traffic to them.
3 Months and THW Is Now All Ezoic
It's been 3 months since 'The Slider' (both Mobile and Desktop) has been set to 100% and each month sees continued improvement. This is probably the most encouraging aspect…our rates continue to improve.

Eight months after dropping those first few Ezoic ad codes on our THW pages, I feel I can now give them an unwavering recommendation. I have no doubt that if you try them out for a few months, give their system enough time to learn about your site and your traffic, that you will see terrific results.
It will begin slowly, but once three or four months go by and the performance continues to improve, you'll be wishing you had started with them much sooner — like I do.
I am personally available to chat more on our partnership with Ezoic anytime — just send an email to editor@thehockeywriters.com. Or, if you want to dive right in and give them a try, just follow this link to Ezoic's AI system. This is a referral link and we will modestly benefit from you signing up, but I would not recommend them if THW wasn't a happy Ezoic partner today and in the future.
Please get in touch with me directly if any more info is needed.
*  Update – Feb. 2018 and Ezoic is still our only advertising/optimization partner and we couldn't be happier.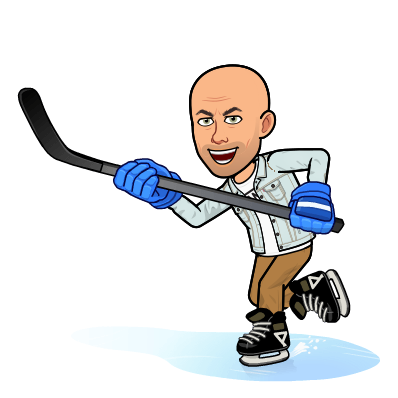 Grew up in the 'hockey town' that launched the careers of Bob Gainey, Roger Neilson, Scotty Bowman, Chris Pronger and Steve Yzerman, to name only a few – Peterborough, Ontario. Spent a misguided life in the world of politics. (Sorry Mom) Trying to atone for those sins by publishing the best hockey stuff available. You can email me directly at Dean@TheHockeyWriters.com. I don't accept emails written in Sanskrit or asking me to help you transfer your family funds from Nairobi…even if you are a Prince. Thank you.