Sidney Crosby needs to return the favor he owes Evgeni Malkin. When Crosby was out for the majority of last season, Malkin carried the Pittsburgh Penguins on his back. The time has come for Crosby to show he is capable of living up to the expectations set by Malkin.
Malkin, more than likely, will be out for a considerable amount of time. Yesterday Dan Bylsma refused to speculate on the severity of Malkin's injury or how long he expects Malkin to be absent from the Pens' line-up. He would only say that Malkin was out against the Tampa Bay Lightning Sunday night.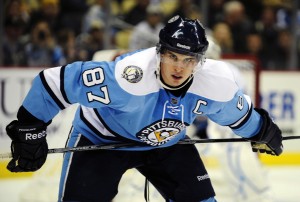 "He is ruled out for tomorrow's game," said Bylsma. "He is still getting evaluated as far as the extent of the hit and going into the boards hard. That's an ongoing process at this point in time. When we have more information we will certainly give it to you."
"There really isn't any sort of timeline to what's going on. It's hard to know what to expect in any situations of this nature. We followed NHL protocol in terms of evaluating and testing him and we will continue to do so," said Bylsma.
Malkin was knocked out of Friday night's game against the Florida Panthers after a gruesome crash into the end boards. Malkin suffered a concussion and whiplash on the play. With Malkin out of the Pens' line-up against the Lightning on Sunday, Crosby will be shouldering superstar duties by himself. Crosby must prove he is up to the task.
Everyone saw what Malkin was able to do when Crosby was out of the Pens' line-up. Teams had the luxury of focusing solely on Malkin when game-planning for the Pens. When the Pens' duo of Malkin and Crosby are both in the line-up, teams have to choose between whom their top pair of defenseman are going to defend. There won't be any debate going forward for the Pens' opponents. Crosby will receive all of the attention.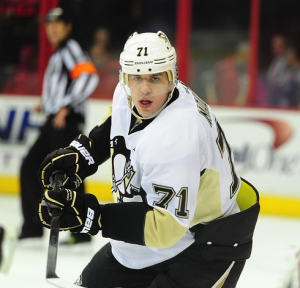 Malkin led the NHL in scoring last season with everyone focused on stopping him. He was able to overcome every challenge and awarded league MVP. Given Crosby's talent and work ethic, nothing different should be expected from him. Winning the Hart Trophy is out of Crosby's hands, but leading the league in scoring is something he can control. Crosby expects to lead the league in scoring every season, but can he accomplish this feat without Malkin by his side?
Crosby will have to lead the Pens' charge without the help of Malkin. It has been years since Crosby has played without the aid of Malkin. The only season Crosby had to lead the Pens without Malkin by his side was in 2005-06, Crosby's rookie season.
Opponents will be taking every shot they can at Crosby in Malkin's absence. Teams will be targeting Crosby during the play and after the whistle. Crosby must stay disciplined and let the Pens' enforcers do their job when the time calls.
Despite statistics, Crosby started a bit slow to begin this season. He has steadily improved as the year has progressed. Crosby's slow start was not a surprise considering what he'd experienced over the past few seasons. He is starting to polish into the unstoppable force we've come to expect from the Pens' captain.
As of Friday night, Crosby was currently tied for the NHL scoring lead with Buffalo Sabres sniper Thomas Vanek. Crosby has consistently earned his points, but he is starting to dominate games by doing things that don't appear on a score-sheet. Crosby's game must continue to improve if he wants to stay atop the scoring race and keep the Pens near the top of the Eastern Conference. Maintaining this level of play is going to get increasingly difficult. Every teams' game plan will be focused on stopping Crosby.The Pens' captain must play some of the best hockey he has ever played with Malkin out.
Last season, when Crosby returned to the Pens' line-up for the second time from injury on March 15, 2012, the Pens' were on a roll. They were in the midst of a nine game winning-streak. People were questioning whether Bylsma should even insert Crosby into the Pens' power play unit which was on fire before Crosby's second return. Malkin was the biggest reason why this had taken place.
Pens' fans can only hope Crosby performs the same way as Malkin did when Crosby was hurt. If Crosby and the Pens perform well in Malkin's absence, there will be plenty of speculating about line combinations and power play units upon Malkin's return. If this is the case, this will be a positive result for Crosby and the Pens.