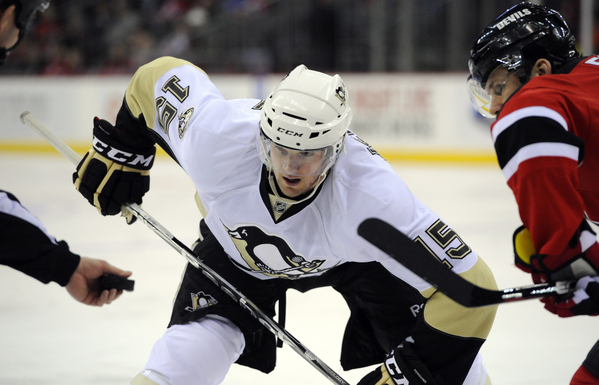 Question: Where does Dustin Jeffrey fit with the Pittsburgh Penguins?
Answer: Everywhere…and nowhere at all.
Healthy scratch to active lineup and back to the press box again.  Fourth line checking role to top line wing alongside Evgeni Malkin to third line center.
That's just a taste of Jeffrey's life in the NHL over the past month.
The month before he was playing hockey with pink skate laces in Croatia.
Jeffrey, 24, hasn't taken the easy route to the NHL.  Very few sixth round picks do.  He's seen his share of ups and downs in over half a decade with the Pittsburgh Penguins organization.
After his junior career ended in 2008, Jeffrey quickly joined the Penguins' AHL affiliate in Wilkes-Barre Scranton for the playoff run and fit right into the lineup.  The following season he scored with enough regularity at the minor league level that he earned himself a 14-game NHL stint.
Jeffrey led Wilkes-Barre in scoring in 2010 and earned a prime opportunity at center for the Penguins in the 2011 season when both Sidney Crosby and Evgeni Malkin were out of the lineup with injuries.
Jeffrey's game was just rounding into form when Philadelphia's Jeff Carter fell on his knee resulting in a torn ACL and the end of his season.  The injury was a devastating blow to Jeffrey's development and it impacted his spot on the 2011-12 roster as well.
He rushed back from rehab only to find himself on injured reserve again a few weeks later with knee swelling and complications.  Jeffrey's inconsistent play when he did get an opportunity left him to spend his spring as a healthy scratch in the press box as the Penguins went on a winning streak with a healthy roster.
"Last year when I came back, those first eight or ten games I wasn't 100 percent," said Jeffrey. "Right before I started getting scratched I had a couple bad games in a row and that's kind of how the cards fall. The guys got hot and we made a charge toward the playoffs."
Jeffrey skated over the summer with a handful of players from a local junior team in Sarnia but knew he had to get into game action if the lockout was going to linger for more than a few weeks.  He located a team called Medvescak in the Croatian capital of Zagreb that already featured a number of North American players.  The level of hockey in the Austrian League wasn't NHL caliber, but Jeffrey was just looking for an chance to play in actual games.
"Obviously the league's [skill level] is not what it is in the NHL, but to play in games and get in competition I think was huge for me," Jeffrey said.  "Last year I was a healthy scratch for 25 or 30 games in a row. So to sit out for six months and then the lockout happened, I just wanted to play. You can skate as much as you want, but it's important to just get into game action somewhere to get your timing and confidence."
The knee wasn't an issue for Jeffrey in Croatia and he came back ready for a fresh opportunity this season with the Penguins.  But despite being discussed internally as a candidate for the hole on Evgeni Malkin's right wing, Jeffrey never got a more than a few shifts to prove himself.
Heading into the season, the Pensblog openly wondered why Eric Tangradi was even getting first crack over Jeffrey as Malkin's winger in the first place:
By now, after all the Rookie camps, Wilkes-Barre experience, and multiple cups of coffee at the NHL level, Tangradi has shown no signs of being a top-six forward.
Ultimately, after Tangradi floundered his opportunity with Malkin and was dealt to Winnipeg for a seventh-round pick, their assessment proved accurate.
So why has Jeffrey still been a healthy scratch for all but five games this season?
Zach Boychuk was claimed off waivers from Carolina and given a long leash to prove he could click with Malkin and James Neal.  Matt Cooke, Tyler Kennedy, and even Tanner Glass have been given periods or entire games with the line.  2010 first round pick Beau Bennett was even recalled from the minor leagues before he was ready to see if he might work.
Not Dustin Jeffrey.
It's not that Jeffrey isn't valuable to the Penguins, or that management and coaches are concerned he can't play on a scoring line.
The problem is that Dustin Jeffrey's greatest strength is also Dustin Jeffrey's greatest weakness: versatility.
He fits everywhere on the roster, and therefore nowhere at all.
Many years ago, Penguins Assistant GM Tom Fitzgerald would travel to watch Jeffrey put up 100 point seasons for Sault Ste. Marie of the Ontario Hockey League and monitor his development.  Jeffrey would score five points in a game but Fitzgerald would contact him to critique his commitment to defense, penalty killing, and other minor aspects of his game.
This wasn't a case of managing the ego of a talented young star.  It was because Fitzgerald knew that someday goals might be tough to come by and a player needs to bring more to the table to have longevity at the NHL level.
Powerplay and penalty killing.  Center and wing.  Offense and defense.
If anyone understands the importance of versatility on NHL longevity, it's Fitzgerald.
He didn't play over 1000 games for seven NHL teams because he had overwhelming size or one-dimensional offensive abilities.  Fitzgerald succeeded because despite being a winger, he also played center.  He was a leader (Nashville's first team captain) and contributed in a number of ways on and off the ice.  Now he preaches the importance of versatility to young players coming up through the Penguins system.
Good luck being just a center with scoring line potential on the Pittsburgh Penguins.  The perfect storm that saw Crosby and Malkin out of the lineup at the same time in 2011 hopefully — for hockey's sake — won't happen very often.
Jeffrey knows that, and he has for years.
"I'm probably most comfortable at center because that's where I've played most of my career, but I understand the situation here," he said. "I've been shuffled around between center and wing, and I'm comfortable with that as well. The [coaching staff] has worked with me a lot with video and stuff after practice in helping and developing my game as a winger."
Jeffrey still needs to improve his play along the boards on breakouts and in the offensive zone, but he's proven he can be the ultimate 'Swiss Army knife' that can be used in any situation when called upon.
The coaching staffs knows that about Jeffrey.   They didn't know what they had in Tangradi, Boychuk, or Bennett.  It's easy to see how a situation like this might send mixed signals to a young player who feels like he's playing well and do everything asked of him, yet finds himself in the press box.
On Friday night against Florida, after two weeks as a healthy scratch, Jeffrey got the call to serve as fourth line center.
"As a fourth line we want to puck possess and also keep teams hemmed in their own zone," he said before the game.  "We [should be] wearing the other team down.  Some of it's physical, but you have to be able to hold onto the puck, get pucks into their zone, and create [offense] when you're in there as well."
Jeffrey only received 9:23 of ice time against the Panthers, but this shift in the third period showed he understood his job description for the night:
Evgeni Malkin won't be in the lineup on Sunday against Tampa Bay which should mean Jeffrey finally gets a chance to build some momentum off his impressive, albeit limited performance two nights ago.
Jeffrey will likely start the evening as third line center, but Penguins coach Dan Bylsma hinted that he might see time between Neal and Bennett as well.
Dustin Jeffrey doesn't care who he plays with. He doesn't care if he has to wear pink skate laces in Croatia.
He just wants to play in games.
He wants an opportunity.
___________________________________________