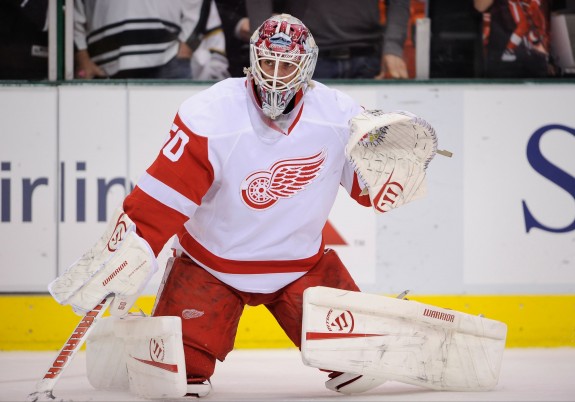 Jonas Gustavsson has been a solid backup for the Detroit Red Wings during the past three seasons. Last year, he compiled a 16-5-4 record and was instrumental in helping the Red Wings secure a 23rd consecutive playoff berth.
However, the problem with Gustavsson is he rarely is healthy enough to get any sort of consistency. The Swedish goalie suffered his second injury of the season during the Red Wings' 5-3 loss to Boston on Sunday after already missing 37 games with a shoulder injury.
Babcock said Gustavsson got injured in second period. Likely in collision with Lucic. Mrazek being recalled.

— Ansar Khan (@AnsarKhanMLive) March 8, 2015
However, it isn't just this season that Gustavsson has failed to stay healthy. Despite posting a great record last year, he still missed 23 games due to various injuries. When he's healthy, he's at the top of the list as far as backup goalies go, and he could probably could be the starter on a number of teams right now. But he isn't worth the risk anymore.
The Red Wings re-signed Gustavsson to a one-year $1.85 million deal last summer. I thought the Red Wings might give Petr Mrazek full-time backup duties this season, but they opted to sign Gustavsson and give Mrazek one more year in the AHL.
Mrazek is the Future
I've said this a million times, but Mrazek is the future of the Red Wings organization, and it's time he gets a full-time roster spot with Detroit. He has nothing left to prove in the AHL, as he has been key in helping the Grand Rapids Griffins win 10 of their past 11 games.
Mrazek's stats with the Red Wings this year don't look all that appealing — 2.55 GAA and .909 save percentage — but he helped Detroit get 13 wins this season, and he did it while making 11 consecutive starts when both Jimmy Howard and Gustavsson were injured.
Plus, he's only 23 years old, which means he has a lot of developing to do and he's less injury prone. Goalies tend to last longer in the league as well, since the position doesn't require as much strain on the body as being a skater. So, Red Wings fans will enjoy Mrazek's services for many years.
Gustavsson's time in Detroit was great, but it's time to end the experiment and look toward the future.
Subscribe to our Red Wings stories to get email updates every time a new story is published.
Tom Mitsos is a Detroit Red Wings and Grand Rapids Griffins staff writer for The Hockey Writers. You can follow him on Twitter @tom_mitsos.