I love hockey. I enjoy being a part of the game working as a timekeeper at the local community rink on some nights and weekends. Even while I am sitting in a lonely timekeeper's box while freezing my butt off, the game still warms me.
Sitting from my vantage point, I see a lot. There are some kids that still come out to play when the junior or bantam teams are on summer break. No matter what's going on in the summer, these kids find the time & commitment to improve their game through a single game of pick-up hockey, and it was great to see some serious skills. There is also a mix of co-ed players in the B-to-D divisions of the Adult Safe League. There were some good moments, not-so-good moments (see full-line brawls) and plenty of high scoring results, those poor goalies. And I've also had an opportunity to timekeep atom, novice and peewee kids on some fast paced 3-on-3 contests. Believe me, these kids skate quick and I wish them the best of luck in whatever they want to do in their future.
Believe me, there is absolute pressure when it comes to working as a hockey timekeeper. First, you have to check the rosters to make sure they are legit and that no suspended players can play. Next, you have to register them on the official scoresheet on paper. Then finally, track the scores and penalties and put them all in an online site for scorekeepers to keep score. Now, trying doing that all at once, and with only 15 minutes to spare before the next game breaks out. I usually work 3-4 games on average a night and it gets real busy.
Total focus and concentration are key to making sure recording the game is close to perfect as possible. I respect the timekeepers and on-ice officials for their hard work and dedication to the game of hockey. The pressure not to screw up is always on the back of our minds. One slip-up, and the game could cost an entire team.
Clockgate Exhibit One
Take a look at this video. What's wrong here?
At 1.8 seconds, the clock mysteriously stopped. Drew Doughty scored and the Kings got away with a 3-2 victory over the Blue Jackets. Any explanations for this glitch?
According to the NHL, VP of Hockey Operations Colin Campbell said the goal shouldn't have counted. However, the final result won't change. Six months after the incident occurred, the error was attributed as human. Mistakes happen.
According to Dean Lombardi, GM of the Los Angeles Kings, "…clocks are sophisticated instruments that calculate time…"
According to Scott Howson, former GM of the Colubus Blue Jackets, "…to have the result altered unfairly stings."
According to Anaheim Ducks Coach Bruce Boudeau:
The Kings were able to keep their victory. This extra point would prove to be useful down the road…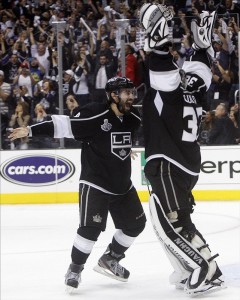 Clockgate Exhibit Two
Take a look this next video. Do you feel his wrath yet?
Maybe it was the (lack-of) technology back in 1990 that prevented the timekeeper from properly counting the goal when the clock ticked down to zero. Remember, this happened at the old Boston Garden, once the NHL's mecca of hockey arena standards. From the video, which doesn't lie, here were the facts:
Blackhawks Captain Dirk Graham did score with 2-3 seconds left on the clock. The goal would have forced overtime but it didn't happen.
Referee Andy vanHellemond didn't blow the whistle because the green light prematurely came on, long before the clock ticked down to zero.
The red light never came on. Bruins win 5-4.
Instead of the clock stopping in Columbus/LA's case, it was the green light that prematurely went on before the end of the game, thus causing the confusion and Blackhawks Coach Mike Keenan's subsequent fury at the timekeeper. Keenan accused Bruins GM Harry Sinden's Boston Garden staff of "cheating." Even so, the Hawks players admitted that they may have deserved the loss for blowing a 3-0 lead heading into the third period. Unfortunately, this debacle was a just another series of unfortunate events.
How ironic that this game featured the same two teams that met in this year's Stanley Cup Final which ended without any glitch.
A former novice/atom player, timekeeper and fan of the game, Peter has lived and breathed hockey throughout his life, covering hockey happenings in Edmonton, Vancouver, and currently in Saskatchewan. He is now a contributing writer for the Hockey Writers.