While his agent hasn't said that they have officially requested a trade, the Tobias Rieder situation with the Coyotes may be headed in that direction.
Rieder's agent Darren Ferris told Arizonasports.com's Craig Morgan that a trade might be the only way that the situation gets resolved. "I think it would be best for both parties if they just traded him," Ferris wrote. "He is really disappointed with them."
Rieder is currently skating with Team Europe at the World Cup, but he's without a new contract. He's reported to be seeking a two-year deal worth $5 million. The Coyotes are reportedly looking for something closer to $2.2 million annually.
"It's unfortunate that a good kid gets treated this way," Ferris wrote. "He never balked at the defensive role they made him play, and they don't seem to value the intangibles he brings to the team."
Chayka told Morgan that the Coyotes do not plan on trading Rieder.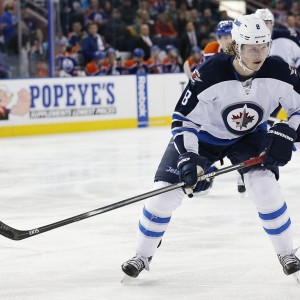 Red Wings Made an Offer for Jacob Trouba
If last season's Jonathan Drouin situation taught us anything, it's that the Jacob Trouba situation will have updates almost daily and most of them are going to be dead ends or notes on situations long past.
File this there.
TSN's Darren Dreger talked on TSN 1200 Wednesday and noted that the Detroit Red Wings made an offer for Trouba over the summer that never came to fruition.
"I know that Cheveldayoff received several offers during the summer," Dreger said. "I know that one came from Detroit. I'm told that it involved two of their higher-level forwards, and Holland wasn't willing or able to stomach that. As much as the Detroit Red Wings need defense, they can't move out the multiple pieces of scoring, otherwise, they fill one hole and dig another.
"But none of the offers that were made on Trouba were obviously good enough, or we wouldn't be having this conversation. Perhaps he'd be on to greener pastures, from his mindset."
It's an interesting note since multiple reports from insiders this week have indicated that Jets are looking for a left-shot defenseman of similar age and ability in exchange for Trouba. As with almost any trade, they likely want that, but if the right package comes across the table, a deal could be done quickly.
Nick Schultz Out of Commission
Nick Schultz, 34-year-old defenseman for the Philadelphia Flyers, will miss up to a week of play with a lower-body injury, the team confirmed Wednesday.
He suffered the injury during Tuesday's preseason game against the New York Islanders. The injury shouldn't force Schultz out of any regular season games with the team not opening the season until Oct. 14 against the Los Angles Kings.
Additionally, the Flyers released Mark Dekanich, Chris McCarthy, Maxim Lamarche, Martin Ouellette, Jesper Pettersson, Steve Swavely and Kevin Sundher from training camp.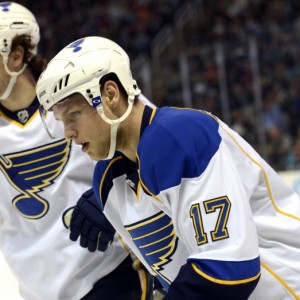 Sobotka Details
As was talked about Wednesday, Vladimir Sobotka won't be returning to the St. Louis Blues despite discussions this summer and last summer that he would return to the NHL. Those discussions included Sobotka and his agent publicly stating that the forward would like to return to the league.
Instead, Sobotka will play for Avangard Omsk in the KHL. "The situation with Sobotka developed exactly as we expected," said Avangard president Vladimir Shalaev. "In the summer, we talked about the fact that Vladimir is our team's player because he has a valid contract with Avangard for another year."
The situation is complicated. There is a way for Sobotka to get out of his deal, according to reports, but it would prove to be a costly move.
"It's complicated to say the least with the Russians," Blues general manager Doug Armstrong told Jeremy Rutherford of the St. Louis Post-Dispatch. "We want [Sobotka] back. The conversation was he wants to come back, but as I said, it's more complicated than I was led to believe over the summer and that part's disappointing."
To get out of the deal, Darren Pang reports that Sobotka would need to pay two-thirds of the $4 million deal he's on this season. That's a steep price tag just to get out of his KHL contract and it does not appear that he will be paying it.
ECHL All-Star Game
The ECHL announced the format of the 2017 ECHL All-Star Classic Wednesday.
The game will feature ECHL All-Stars taking on the Adirondack Thunder in Adirondack. The game will be played in two 25-minute halves with a skills competition serving as something akin to a half-time show. The score of the first-half, played five-on-five, will carry into the skills competition where the teams will compete in fastest skater, hardest shot and skills relay competitions with one goal awarded to the winner of each contest.
Those goals carry into the second half of the game, which will be a little strange. The second half will feature 10 minutes of five-on-five, then four-on-four starting the first whistle after the 15-minute mark. At the first whistle after the 10-minute mark, the teams transfer to three-on-three format. That continues into overtime, if required. If it goes beyond the ECHL's standard overtime format, the two sides will partake in a three-man shootout.
Odds and Ends
– It's weird to see people take their gloves off and high-five on the ice. Just in case you were wondering.
It appears that high-fiving will be the Red Wings' thing this year pic.twitter.com/yXJA13LC5d

— Pete Blackburn (@PeteBlackburn) September 29, 2016