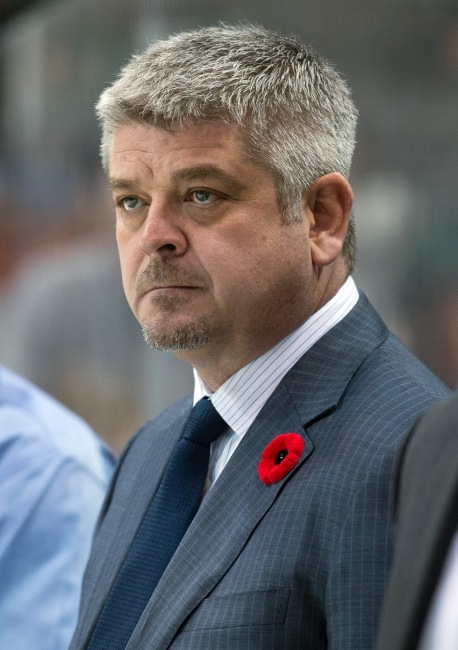 When it comes to finding a job in the hockey world, much like in the normal working world, sometimes it's more about who you know than what you know.
This exact train of thought is starting to come into play in an interesting way for NHL coach Todd McLellan.
McLellan, who was the head coach of the San Jose Sharks from 2008 until recently being fired at the conclusion of the 2015 season, is arguably the second most sought-after bench boss available in the open market, behind only Mike Babcock. With three seasons under his tutelage where the Sharks won the Pacific Division, and four where they finished with over 100 points in the standings, it's quite easy to see why.
While there are, understandably, a number of teams chasing Babcock, the Edmonton Oilers are apparently not one of those teams. Reports are starting to circulate that McLellan is the primary target for newly-minted Oilers general manager Peter Chiarelli.
Why are the Oilers seemingly passing on Babcock, who has already coached his way to a Stanley Cup championship and two Olympic gold medals, in favour of McLellan? It's safe to say that connections are starting to play an increasingly large part.
McLellan is currently head coach of Team Canada at the 2015 IIHF World Championship, happening right now in the Czech Republic. The Canadians are a perfect 6-0 so far, and have scored the most goals of any team in the tournament. Their two leading scorers? Taylor Hall and Jordan Eberle, who just so happen to be forwards with the Edmonton Oilers.
Both Hall and Eberle have eight points through six games. They're playing on the team's top line, with Sidney Crosby playing up their middle, and seem to be forging quite a positive relationship with McLellan.
As reported by the Edmonton Sun's Terry Jones:
"He's been great," said Hall of the coach who parted ways from the Sharks just prior to catching his flight overseas to begin this challenge.

Hall agreed that they saw a lot about what McLellan was all about when Canada was down 3-0 after the first period to Sweden in what turned out to be a 6-4 win.

"He pushed all the right buttons. What he said in the first intermission certainly resonated with our group. We have a lot of respect for him and I think that's really shining through."

Obviously, admitted Hall, the thought has occurred to him that McLellan night be his next NHL coach.

"That's definitely a possibility. You don't know what he's thinking but I saw Peter Chiarelli. I don't know if they interviewed but he's a great coach. I have a ton of respect for what he teaches and I've learned a lot so far."

…

"I've been impressed," said Eberle, who, like Hall, has played for Tom Renney, Ralph Krueger, Dallas Eakins, Craig MacTavish/Todd Nelson and Nelson in his five years as an Oiler.

"In a short term event like this, sometimes the coaches can be a little light hearted, but so far McLellan has been on track and on the ball every step of the way.

"He showed us what he's all about when we went down by three to Sweden and he kind of rallied us. I have nothing but positive things to say so far.
With Chiarelli and Craig MacTavish (the Oilers' former GM who is going to be sticking around with the team in a different capacity) currently in the Czech Republic watching the tournament unfold, there's no doubt that they're keeping a watchful eye over both their prized youngsters as well as McLellan. If the Canadian team continues to succeed, and the two Oilers forwards continue to thrive and play some of the best hockey of their careers so far, that could end up being the final determining factor in Edmonton's search for a new head coach.
Derek Neumeier primarily covers the Dallas Stars, but also other various topics related to the sport of hockey. A Journalism graduate of Mount Royal University, Derek also writes for Defending Big D, and has done previous work with the Edmonton Oilers as a communications intern and Hockey Canada as a freelance writer. You can follow him on Twitter at @Derek_N_NHL