Christopher Ralph is a sportswriter with a focus on hockey prospects, the entry draft, as well as occasional Flames coverage here at THW.
NHL GMs and their respective scouting teams made a mockery of the most brilliantly done mock drafts – my Three Round Mega Mock Draft included. I did manage to tie Bob McKenzie of TSN in correctly naming 25 out of the 30 prospects taken in the first round.
The Ducks look to be the big winners on Day 1, committing grand theft larceny in nabbing Cam Fowler in the 12th slot – I had him ranked 3rd overall. He will make the retirement of Scott Niedermayer an easier pill to swallow. Picking up my 7th ranked prospect, Emerson Etem, at 29th was shear brilliance, with a splash of luck, bringing the Californian kid home.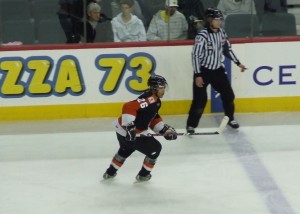 The following are 10 players are key players to watch on Day 2 of the draft. Some should be snatched up early, while it will be curious to see where some will land. The first five were the leftovers from my Top 30 and you can click on name to view detailed Full Potential Prospect Profile:
1. John MacFarland – Plays well in International play, but underwhelming OHL season. He was, however, a monster at the Scouting Combine.
2. Kirill Kabanov – Who wants to play Russian Roulette?
3. Tyler Toffoli – With his NHL ready elite shot, how long will it take announcers to coin the phrase "Holy Toffoli goes top shelf!"
4. Jordan Weal – Will the Blackhawks use one of five second round draft picks to nab the Patrick Kane, albeit somewhat slower, clone?
5. Tyler Pitlick – The top two-way forward remaining. I will already proclaim him a second round steal.
6. Calvin Pikard – Who thought Chet's brother would be picked after Mark Visentin, who was perhaps the biggest surprise pick of the first round, by the Coyotes.
7. Jon Merrill – I had him ranked 31st in my Top 100 Prospect Rankings, but other scouting services had him much higher – ISS had him at 11th.
8. Justin Faulk – Some might think he's undersized as a blueliner, but he has been described as a "pitbull on ice." He has perhaps the best slapshot in the draft.
9. Johan Larsson – He had an unbelievable WJC-U18s; 2-way smooth talented center.
10. Teemu Pulkinnen – Injury-riddled season was somewhat redeemed by outstanding WJC-U18s in which he was the top scorer. Will the Wild be able to snag him to match him up with partner-in-crime, Mikael Granlund, who he excels playing with.
Follow along with the draft today by referring to my Top 100 Prospect Rankings.
As a bonus, here are some of my personal favourite dark horse prospects, who might just be available beyond the first round:
– Mackenzie, Matt – D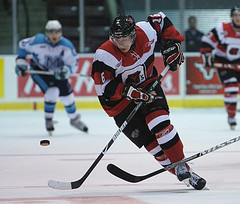 – Kuehnhackl, Tom – F
– Gauthier-Leduc, Jerome – D
– Silas, Stephen, D
– Rutkowski, Troy – D
– Macek, Brooks, C
– Bunz, Tyler, G
– Bournival, Michael, F
– Thomas, Christian – F
– Ohman, Victor – F
Who and when (will they move up, that is) will the Calgary Flames and Toronto Maple Leafs finally select in the 2010 Entry Draft?
*For all the latest prospect and draft news and Day 2 coverage,  follow me on Twitter: The Hockey Spy
Chris is THW's senior draft/prospect analyst and a Managing Editor. Watch for "The Next Ones" Prospect Profile series, exclusive rankings, mock drafts, as well as the annual THW NHL Entry Draft Guide. Follow @ChrisRalphYQ on Twitter as he infiltrates, dissects and analyzes all happenings of hockey prospects and the NHL entry draft. Email: cralph[at]thehockeywriters[dot]com