And with the 5th overall selection in the 2010 NHL Entry Draft, the New York Islanders proudly select Nino Niederreiter…
Taylor Hall, Tyler Seguin, Erik Gudbranson and Ryan Johansen were picked prior to "El Nino" in that order. Cam Fowler was still available at the 5th pick, and many fans were starting to get excited about the possibility of drafting one of the most top-rated defenseman. However he dropped out of the top-10 and ended up being chosen by the Anaheim Ducks with the 12th overall selection.
If Fowler was passed on by the four teams before the Islanders, as well as six more that followed, there has to be a reason. Fans should have faith in the team's scouting staff as they have done an excellent job since Garth Snow was named General Manager.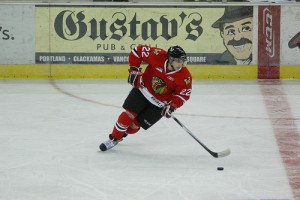 Nino Niederreiter is a 6'2 left wing that weighs in around 205 pounds. He adds size to the Islanders line-up at the forward position and may continue to grow at the age of 17. He turns 18 this September. In 65 games played with the WHL Portland Winterhawks, Nino posted 36 goals, 24 assists and 60 points. He amassed 68 PIMs and was a strong performer in their playoff run as well, scoring 16 points in 13 games played, an even 8 goals and 8 assists. He also led the league with six game-winning goals scored by a rookie. Internationally, the Swiss sniper led his team in the World Junior Championships with 10 points, scoring 6 goals and 4 assists in 7 games played. He was named to the all-star team in the tournament as well.
Although anything is possible, Isles fans should expect him back in the WHL for at least another year since he only has one season under his belt with the Portland Winterhawks. After a few years of development, Niederreiter may develop into a dominant power-forward. He is known for his quick hands, creativity and reliable two-way play.
For a prospect profile on Niederreiter, check out this YouTube video: http://www.youtube.com/watch?v=NttaHPDiOU4
The first round has yet to conclude, allowing a possible scenario involving the Islanders and another team completing a trade in which they grab another late first round pick. If this were to happen, I was personally hoping for the Isles to find a way to snag the hard-hitting blue liner, Dylan McIlrath…leave it to the New York Rangers to take that possibility away from me.  For now, El Nino is the Isles sole first round choice; a solid one at that.