With the Draft Lottery quickly approaching, commencing on April 18th, we will soon know who will own the coveted 1st overall pick in this ever important draft. Then, about two months later, the real deal will go down.
Each year, people speculate throughout the entire year of who the top prospects are for the upcoming draft. Draft rankings are continuously revised and updated, giving hockey fans all over the world a sense of who the most coveted players will be.
This Spring, there are two other world players who have been deemed 'generational talents'. After that, there is another level of three spectacular prospects. In all, it's definitely an above average year for forwards, both in top end potential, and depth.
With relatively every draft eligible prospect now done their regular season and into playoffs, we will look at the Top 30 Forwards for the 2015 NHL Draft.
Also, check out the Top 15 Defensemen and Top 5 Goalies for the 2015 NHL Draft.
The player's midterm ranking by Central Scouting is in parenthesis.
The Big Two:
1: Connor McDavid (1)
The unanimous number one prospect not only in this year's draft, but perhaps since Sidney Crosby. McDavid is no doubt a generational talent. He lit up the OHL this year with the Erie Otters, finishing third in league scoring despite missing 21 games. He scored 44 goals and 76 assists for 120 points in just 47 games, not to mention leading the World Juniors in scoring with 11 points in 7 games en route to a Gold Medal. There are virtually no downfalls to his games, while his greatest assets are likely his skating and his hockey sense.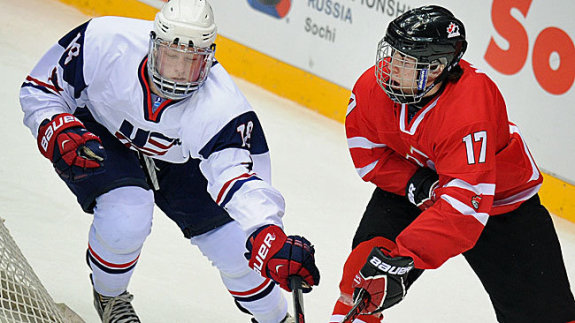 2: Jack Eichel (2)
The only player who could be mentioned in the same breathe as McDavid is Eichel. Jack Eichel tore up the NCAA in his freshman season at Boston University, leading it in scoring with 67 points in 38 games, good enough to be a finalist for the Hobey Baker Award as the NCAA's top player. Eichel is a mature, strong power forward. Like McDavid, he possesses unparalleled hockey IQ and combines that with his ridiculous skill set to be an absolute force whenever he's on the ice. He'd likely be a first overall pick in any draft without McDavid.
The Next Three:
3: Dylan Strome (5)
Strome raced up the scoring leaderboard even without McDavid as he led the OHL with 129 points in 68 games this year. Strome is already 6'3 and brings top end speed and strength to make himself very tough to remove form the puck. He has great vision and always seems to find a lane to sneak through.
4: Mitch Marner (7)
The runner up in the OHL scoring race, he has 126 points in 63 games. Marner possesses incredible skill and has already drawn comparisons to Patrick Kane. His only knock is his size, as he's listed at 5'11 and 155 pounds. He's a very creative skater and stickhandler, and is a strong two-way player. A dynamic offensive threat.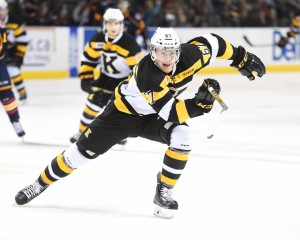 5: Lawson Crouse (4)
Crouse is already 6'4 and 212 pounds and possessed an NHL quality shot. He is strong and knows how to use his size to his advantage. A big bodied net front presence, he has quick hands and is great at finding rebounds. Won't put up huge numbers, but you'll notice him each and every game.
[yop_poll id="29″]
Rest of the Top 10:
6: Mikko Rantanen (2 Eu.)
The top ranked International Forward by NHL Central Scouting, Rantanen impressed at the 2015 World Juniors, leading Finland in scoring with four goals. He's highly skilled with incredible hockey sense, soft hands and great skating as well. Needs to become more physical for the North American game.
7: Matthew Barzal (9)
Barzal's offensive production has been hurt the past two seasons as a result of a couple injuries, but there's lots to suggest he's a top end prospect. A creative playmaker with exceptional skating, he must get bigger and stronger to reach his potential.
8: Timo Meier (12)
An all around solid prospect who had the size and skill to both put up exceptional scoring totals as well as play in any role necessary. He has a quick, hard shot and the size to play a physical game too. Very good hands, like his countryman Nikolaj Ehlers.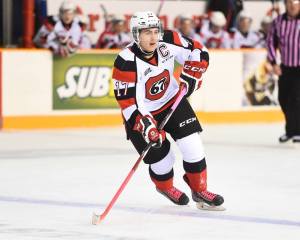 9: Travis Konecny (26)
An underrated prospect, in my eyes. Konecny comes with terrific skating ability, a lightning fast release that comes with power, and creative hands. He plays with the intensity to win every puck battle. A noticeably smart player too, he's the full package.
10: Pavel Zacha (8)
The first overall in the CHL Import Draft, Zacha has a slow transition to the North American game. Zacha is a big body with quick feet and a good shot. He has quick acceleration and good puck handling. Also has the ability to play a physical game
Best of the Rest:
11: Nicholas Merkley (13)
72GP, 20G, 70A, 90PTS for the Kelowna Rockets of the WHL
12: Jansen Harkins (18)
70GP, 20G, 59A, 79PTS for the Prince George Cougars of the WHL
13: Kyle Connor (14)
52GP, 29G, 40A, 69PtS for the Youngstown Phantoms of the USHL
14: Jordan Greenway (22)
22GP, 5G, 15A, 20PTS for the U.S. National Development Team of the USHL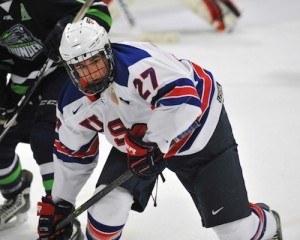 15: Colin White (27)
20GP, 4G, 13A, 17PTS for the U.S. National Development Team of the USHL
16: Paul Bittner (19)
66GP, 34G, 37A, 71PTS for the Portland Winterhawks of the WHL
17: Michael Spacek (4 Eu.)
40GP, 5G, 7A, 12PTS for Pardubice HC of the Czech League
18: Daniel Sprong (20)
68GP, 39G, 49A, 88PTS for the Charlottetown Islanders of the QMJHL
19: Nicolas Roy (25)
68GP, 16A, 34A, 50PTS for the Chicoutimi Sagueneens of the QMJHL
20: Jake DeBrusk (24)
72GP, 42G, 39A, 81PTS for the Swift Current Broncos of the WHL
21: Evgeny Svechnikov (21)
55GP, 32G, 46A, 78PTS for the Cape Breton Screaming Eagles of the QMJHL
22: Jens Looke (3 Eu.)
43GP, 2G, 4A, 6PTS for Brynas IF Gavle of the SHL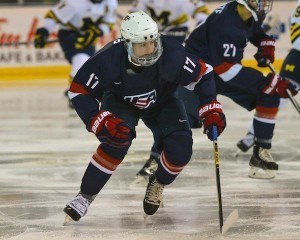 23: Jeremy Bracco (36)
24GP, 14G, 18A, 32PTS for the U.S. National Development Team of the USHL
24: Filip Chlapik (17)
64GP, 33G, 42A, 75PTS for the Charlottetown Islanders of the QMJHL
25: Brock Boeser (28)
53GP, 31G, 29A, 60PTS for the Waterloo Black Hawks of the USHL
26: Dennis Yan (35)
59GP, 33G, 31A, 64PTS for the Shawinigan Cataractes of the QMJHL
27: Anthony Beauvillier (49)
67GP, 42G, 52A, 94PTS for the Shawinigan Cataractes of the QMJHL
28: Blake Speers (44)
57GP, 24G, 43A, 67PTS for the Sault Ste. Marie Greyhounds of the OHL
29: Adam Musil (32)
66GP, 15G, 24A, 39PTS for the Red Deer Rebels of the WHL
30: Brendan Warren (34)
20GP, 7G, 6A, 13PTS for the U.S. National Development Team of the USHL
Contributor for the Toronto Maple Leafs and Prospects. Scout with the Oakville Blades of the OJHL. For questions, concerns, or comments, contact me at devinslawson123@hotmail.com or on twitter @SlawsonTHW.