The Boston Bruins picked an off day in the Stanley Cup playoffs to announce their new management structure.  The announcement was made by president Weston Adams, who led off with this statement:
"If you're going to be strong on the ice, you've got to be strong in the office."
Hap Emms to be GM
There were three main components to the restructuring of the Bruins' management suite.  The principle move was to install Leighton (Hap) Emms as general manager.
Former general manager Lynn Patrick was kicked upstairs into the newly created position of administrative vice-president.  There was no description of Patrick's duties other than Adams saying he will take care of the "executive" side of the operation.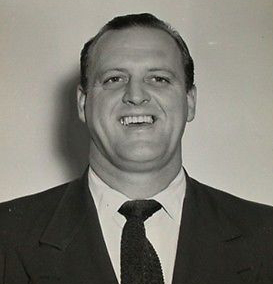 Former GM Lynn Patrick.
Milt Schmidt will remain as coach and assistant general manager.  Adams said Schmidt and Emms will handle  hockey operations.  He termed the realignment as "a team of four."
Adams was asked when Boston fans could expect a return to prominence by their beloved Bruins.
"Only a madman would answer that question.  There are so many factors involved.  But we're going to work hard to get there soon.  Boston fans certainly deserve it."
Emms: A life in hockey
The 60-year-old Emms is the owner-manager of the Boston junior team in Niagara Falls.  His team is currently engaged in the OHA Junior A playoffs, so he was not present at the press conference.
Emms has spent a life in hockey.  He played his junior hockey in his hometown of Barrie before turning professional with the Stratford Nationals of the Can-Am league in 1926-27.  He also played 14 games in the NHL that season with the Montreal Maroons, but failed to register a point.
He was sold to the New York Americans in May of 1930, along with Frank Carson, Red Dutton and Mike Neville for $35,000.  He went from the Americans to Detroit and Boston before being sent back to New York, where he finished his NHL career in 1938.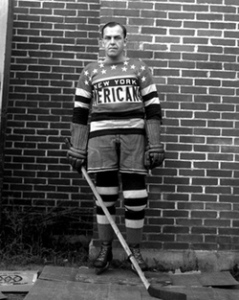 His first coaching stint was with Omaha of the old American Hockey Association in 1939-40, where he did double-duty as a player and bench boss.
After three years in Omaha and couple more with the St. Louis Flyers of the AHL, he returned to his hometown to take over the Barrie Flyers.  Thus began a successful junior coaching career there and subsequently  in Niagara Falls.  His Flyers are odds-on favourites to capture the Memorial Cup this season, which would be a fitting send-off for the OHA icon.
Emms has said that his son Paul will take over his management role with Niagara Falls.
Wings bring in subs for game three
With their injury list growing, the Detroit Red Wings have called in reinforcements for the third game in their semi-final series with the Chicago Black Hawks.
Larry Jeffrey, Gary Bergman and Val Fonteyne are out of commission for tonight, although there is a slight chance that Fonteyne could suit up if he shows dramatic improvement by game time.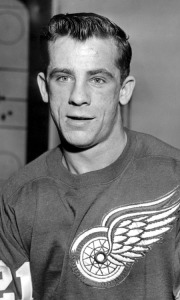 That means that young Pit Martin will draw back into the Detroit lineup, and he will be joined on the forward line by Irv Spencer, who has been recalled from Pittsburgh of the AHL.  The Red Wings also called up defenceman Bob Wall from Memphis of the CPHL to take Bergman's spot.
Spencer will be particularly valuable, since he can play either forward or defence, if needed.
Detroit coach Sid Abel said he brought in Wall and Spencer because he intends to continue to use four lines against the Black Hawks.
Abel was asked about the possibility that Chicago will employ a rougher style of play in game three.
"I hope they do because they'll take penalties and we have a pretty good power play.  In any case, they're not going to abuse our big men and we've got a lot of them.
"I expect they'll come out charging.  If we can hold them off for the first charge, we should be all right.  I'll drop a man back to guard against it.
"We usually play well on Chicago ice.  The configuration of the rink is much like ours."
For Chicago to have any chance in the series, they must win tonight.  That will require better efforts from several players, most notably the "Scooter Line" of Stan Mikita, Ken Wharram and Doug Mohns.  The Wings have done a great job of neutralizing that threesome in the first two games.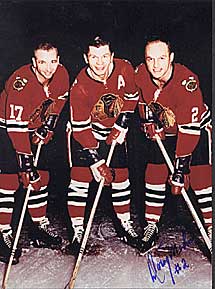 The only Hawks who are sub-par physically are defenceman Pierre Pilote and centre Phil Esposito.  Pilote is still bothered by a painful rib injury he suffered in the last week of the season.  Esposito wrenched his back in his hotel room just before game two.
Habs to go with Gump
The Montreal Canadiens will start Gump Worsley in goal tonight in the third game of their semi-final series with the Toronto Maple Leafs tonight at Maple Leaf Gardens.
Worsley will replace Charlie Hodge, who was injured when hit in the groin with a shot in the first period of game two.  Hodge finished the game, but the injury worsened over the past two days and he has been hospitalized.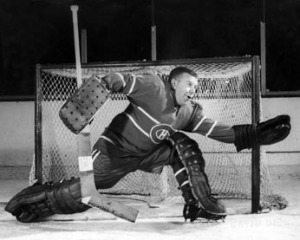 Coach Toe Blake was happy to be able to rely on the veteran Worsley, especially with Hodge's immediate future in doubt.
"I can't give you anything definite on Hodge.  I was surprised when the injury flared up.
"But we're lucky to have Gump.  He's no spare goaltender but a major leaguer who has been great for us in the clutch.  Our fellows have confidence in him, he has fitted in well with the boys and they'll be giving it a little extra to help him.
"You know, Sammy (Canadiens GM Sam Pollock) and I often look back to that June day when we gambled and left him off our protected list.  We were really sweating until the Leafs drafted Terry Sawchuk.  If they didn't get him we lose Gump and think of what a fix we'd be in now.  We were lucky."
Marlies eliminate Petes, head to finals
The Toronto Marlboros had a tough time doing it, but they finally eliminated the Peterborough Pets with a 4-1 win last night in Peterborough.  The game was the eighth in their best-of-seven OHA semi-final series, with the series having been even with three wins each and one game tied.
Barry Watson was the spark plug for Toronto with two goals.  Gerry Meehan and Al Osborne added singles.  Leo Thiffault had the only Peterborough goal.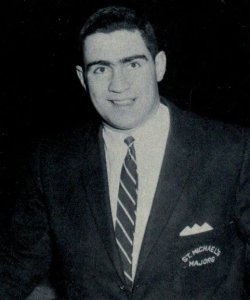 Marlies coach Jim Gregory said it was a team effort all the way.
"Gerry Desjardins played well and I think some people underrate him.  My big line of Brit Selby, Paul Laurent and Mike Corrigan checked their top players of Andre Lacroix, Thiffault and Grant and let the other line of Watson, Osborne and Byers do the scoring."
Toronto now advances to play Niagara Falls in the OHA final series.
Retired police detective, involved in hockey at all levels for over 50 years. Member of Society for International Hockey Research and presently a video analyst for the leader in advanced hockey analytics (we work exclusively for 2 NHL clubs, and provide advice on an ad hoc basis to many other clients). Currently the Assistant General Manager for the Pelham Pirates of the Greater Ontario Junior Hockey League. Previously owned the Faceoff computer hockey simulation and also provided all player ratings for the EA Sports series of NHL computer games from the late 90's into the mid 2000's.